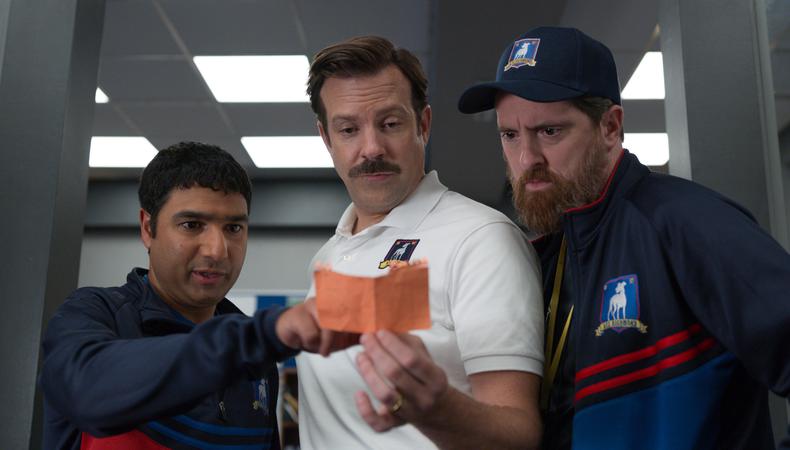 The following content has been sponsored by Apple TV+.
The ensemble cast of "Ted Lasso" proves that great acting is all about teamwork—much like on a premier British football league team. Jason Sudeikis, the comedy's Emmy Award–nominated co-creator and leading man, says the reason for the show's success is simple: "Nobody was a dick."
In a remote panel discussion moderated by "Ted Lasso" superfan Yvette Nicole Brown (Emmy-nominated for "A Black Lady Sketch Show"), Sudeikis explains how the camaraderie audiences see onscreen stemmed from mutual respect and cohesion on set. "We had no dust-ups on-camera, no dust-ups in the writer's room. We just gave space to people to give a damn," he remembers. "That's what I'm most proud of, is what a group endeavor it is."
Sudeikis is joined by co-creator Bill Lawrence and seven fellow cast members to discuss their takes on the loveable cast of characters that make up "Ted Lasso" and why the show has resonated so powerfully with audiences. The series has earned 20 nominations, including outstanding comedy, at the upcoming 73rd Primetime Emmy Awards, breaking the record for most nods for a freshman season of a comedy.
"What I am very proud of, and think is very good about the show, is that it is about something," says Brett Goldstein, who both writes for the show and brings to life aging football captain Roy Kent. Kindness and optimism are as integral to "Ted Lasso" as its rapid-fire humor, he adds. "Everyone has struggles, and being positive and kind and sharing all this stuff is hard and it takes work. And I think this show actually does all that in its storytelling."
Juno Temple, who plays team publicist Keeley Jones, discusses one of her first experiences delivering comedy and her on- and off-camera relationship with female co-star Hannah Waddingham. "Women love women, and they're allowed to be best friends and support each other," she says. "And the joy of that relationship on-camera was so important... it's [a storyline] women around the world have really appreciated."
Asked what drew her to Rebecca Welton, the football team's owner, Waddingham mentions the character's heart, revealed under steely layers of "pretend strength," as she calls it. "As a woman who is 6-foot-2 in heels myself, you are consistently misunderstood upon immediate meeting. To play something where you get to unravel that and prove that it's the person inside that has their ups and downs and their strong moments and their terrible moments...it was all over the script. And I just thought, I swear to God, I'm going to rugby tackle anyone to the ground for this effing part."
Phil Dunster, meanwhile, speaks to being the cast member who is the least like his character: nastily narcissistic footballer Jamie Tartt. "There's huge amounts of layers that, as soon as you read the scripts, you can see where it's going," he explains. "It's a great thing the show is curious about.... Why is it people are the way that they are?"
Nick Mohammed, who plays waterboy–turned–assistant coach Nathan Shelley, saw a similar growth in his character arc as Season 1 unfolded. "That whole uncovering of his confidence, you definitely see it in Nate's journey, but I think you see it in every character. Ted touches people in a very particular way, he brings out the good in them.... It was a delight to sort of allow him to grow in that little way."
The team also reveals certain cast members were originally auditioned for different roles, including Mohammed for the role of team director of communications Leslie Higgins, which went to Jeremy Swift thanks to a self-tape. Asked how he manages to steal entire scenes with only a reaction shot, Swift pulls back the curtain on his process: "I have a big face! So even if it's a small thought, it's [on] a big face."
Co-creator Brendan Hunt and Goldstein talk about their experience participating both in the writers' room and on-camera in character, while multiple cast members mention that the "Ted Lasso" writing team brilliantly began incorporating individual actors' strengths into their characters. "If you keep your ears open, little things reveal themselves," says Sudeikis mischievously.
As for Sudeikis, playing the titular role, the actor-creator says he knows Ted on an intimate, emotional level. "The best parts of me are in there. And some of the worst parts!"
Listen to Brown's conversation with the "Ted Lasso" team in full here. For more on the award-winning Apple TV+ show, click here.