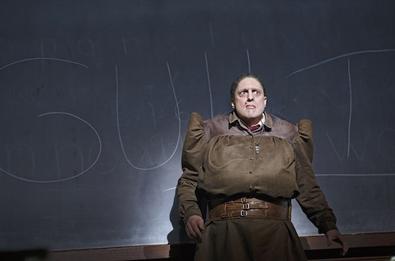 When it comes to musical theater, sometimes it's good to be bad! Sinister, cruel, or just plain creepy, here are 15 musical theater bad guys who we simply love to hate.
Javert, "Les Misérables"
Considered the antagonist of this profound and sweeping musical, Javert's tragedy is that he isn't inherently evil. He hunts hero Jean Valjean relentlessly, yes, but this police inspector's pursuit is righteous in his own eyes. The audience may loathe Javert's mission, but Jean Valjean himself guides us towards sympathy for the badly misguided villain.
Caiaphas, "Jesus Christ Superstar"
This 45-year-old hit from Andrew Lloyd Webber and Tim Rice retells familiar Gospels—specifically the life and ultimate crucifixion of Jesus Christ— through rock and roll music and passionately styled lyrics. High priest Caiaphas becomes one of the story's villains when he condemns Christ as a threat, famously singing "This Jesus Must Die."
Scar, "The Lion King"
One of Disney's best bad guys, Simba's evil uncle Scar is made just as sinister in the mega hit Broadway musical from director Julie Taymor. John Vickery originated the mean role in 1997, snarling signature song "The Madness of King Scar" about his paranoid pursuit of the lion throne.
Audrey II, "Little Shop of Horrors"
There's a lot to love about this 1980s musical black comedy, including its villainous main character, a giant venus flytrap that feeds on human flesh. Audrey II is manipulative, bloodthirsty, and demanding (did we mention that it can speak?), and songs like "Feed Me (Git It)" make it the ultimate—wait for it—plantagonist.
Mrs. Lovett, "Sweeney Todd"
The murderous accomplice to Stephen Sondheim's "demon barber of Fleet Street," Mrs. Lovett bakes (and sells) meat pies from the flesh of Todd's hapless victims. As if that isn't dark enough, Lovett's secret love for the title character leads her into a web of lies, ultimately leading to the musical's bloody and tragic conclusion.
Mr. Applegate, "Damn Yankees"
A modern retelling of the famous "Faust" legend, "Damn Yankees" follows realtor and Baseball fan Joe Boyd as he sells his soul for the sake of his hometown team. Applegate embodies the devil here, playing the role as a smooth (if slimy) salesman, and convincing Joe to trade his eternal self to become a Washington senator's long ball hitter.
Bill Sikes, "Oliver!"
Sikes' haunting solo sums it up pretty well: "Strong men tremble when they hear it! They've got cause enough to fear it! It's much blacker than they smear it! Nobody mentions…my name." This cold-hearted criminal stalks the streets in the musical "Oliver!" and earns his cruel reputation through even more cruel deeds.
Miss Hannigan, "Annie"
We're glad she's not our caretaker, but we still love everything about Miss Hannigan. Famously played by Carol Burnett in the 1982 movie, Hannigan runs the sparse home for girls out of which Little Orphan Annie escapes. At best, Hannigan is a drunk. At worst, she's a serious criminal, so it's ultimately satisfying to see the musical's young heroine prevail.
Captain Hook, "Peter Pan"
This eccentric pirate is one of our favorite villains, and not just for his fashion sense. Hook is a snarling, cartoonish bad guy with a serious fear of gators, and antagonizes the Lost Boys through lively musical numbers including "Pirate Song," "Hook's Tango," and "Hook's Tarantella.
Macavity, "Cats"
The big bad cat of Andrew Lloyd Webber's classic musical, Macavity (the "mystery cat") appears on stage with a chaotic orchestral crash—a villainous entrance if ever there was one. The sneaky feline operates a plot to kidnap the sage Old Deuteronomy, and, as the "Cats" chorus sings, "when they reach the scene of crime…Macavity's not there!"
Caldwell B. Cladwell, "Urinetown"
A caricature of real-life political corruption, "Urinetown" introduces a world where it's a "Privilege to Pee," and pay-per-use public toilets offer the only relief. As the President of the oppressive "Urine Good Company," Cladwell is and at the forefront of the abusive practice and inspires a revolution led by hero Bobby Strong.
Mrs. Meers, "Thoroughly Modern Millie"
Hotel owner Mrs. Meers is as bad as they come in this classic musical; in addition to hosting young actors as tenants, Meers runs a slavery ring through a sweatshop in Asia. She is ruled by jealousy and greed, and sings "They Don't Know," an ode to her under-appreciated theatrical talent: "I won't stand by while critics praise ya. You're getting shipped to Southeast Asia!"
Madame Morrible, "Wicked"
This bad headmistress is one of the main antagonists of "Wicked," and one of the most fun characters to watch. Morrible tricks Elphaba into using her sorcery skills for evil early on in the musical, and is behind the deadly tornado that brings Dorothy to Oz. Morrible's deeds eventually catch up to her and she is sent off to prison, but not before showing her truly evil colors.
Child Catcher, "Chitty Chitty Bang Bang"
Though a minor role in this classic children's musical, this evildoer's actions are the stuff of major nightmares. Thought to be modeled after the German Gestapo, the Child Catcher prowls the Vulgarian streets, snatching up children and locking them away. As if his name's not bad enough, the character's signature song "Kiddy-Widdy-Winkies" pushes the role into very creepy territory.
Miss Trunchbull, "Matilda the Musical"
The books of Roald Dahl are littered with villains, but evil headmistress Miss Trunchbull must be one of the worst. The hammer-throwing, child-hating monster threatens terrified students with "The Chokey," and terrorizes Matilda (and others) with her snarling, over-the-top antics. Conceived as a man in drag for the book's musical adaptation, Trunchbull is one of Broadway's best bad characters.
Inspired by this post? Check out our theater audition listings!