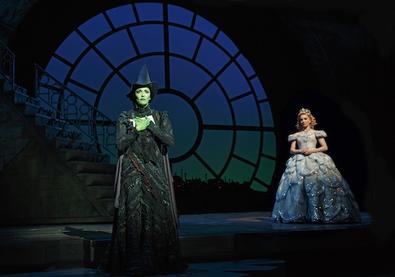 "Mamma Mia!" held its final Broadway curtain call this past Saturday after 14 years and well over 5,000 historical performances. Do you know which other Broadway shows have enjoyed similarly impressive stretches? These are 11 of the Great White Way's longest running shows. And here's to keeping a good thing going!
"The Phantom of the Opera"
A worldwide phenomenon and Broadway's longest running musical, "Phantom" opened in 1988 to rave reviews and multiple awards, and has stood the test of time ever since. The epic Andrew Lloyd Webber masterpiece is still playing at Broadway's Majestic Theatre (clocking in at over 10,000 performances) and is wowing new audiences a generation removed from the show's first fans.
"Chicago"
Though Broadway's original 1975 production may have closed after a (relatively) short two years, the current revival of "Chicago" has been jazzing it up at Broadway's Ambassador Theatre since 1996. The latest iteration has won numerous awards in its 19-year life, and has featured dozens of star turns (Bebe Neuwirth, James Naughton, and Ann Reinking headlined the original cast) and celebrity guest stars have included Jerry Springer, Wendy Williams, Usher, and many more.
"Cats"
Another iconic Webber musical, "Cats" was an instant classic when it debuted on Broadway in 1982. The highly visual, lyrical, and musically driven show based on T.S. Eliot's poetry collection "Old Possum's Book of Practical Cats" was unlike anything Broadway had seen before, and ran for an impressive 18 years before closing in 2000. Fun fact: Elaine Paige, famous for her role as the original Grizabella, was brought into the London cast at the last minute to replace an injured Judi Dench.
"The Lion King"
This wildly popular Disney Theatrical musical directed by Julie Taymor redefined Broadway when it debuted in 1997, wowing audiences of adults and children by creating an animal-filled savannah through life-size puppets and gorgeous African-inspired costumes. Broadway's highest-grossing musical to date with over $1 billion earned and counting, this family musical will probably not be going anywhere anytime soon. "The Lion King" is, well, King.
"Les Misérables"
Before the current revival (now playing at the Imperial Theatre), the original "Les Mis" enjoyed a record-breaking Broadway run from 1987 to 2003—that's 16 years if you're counting. The epic musical based on Victor Hugo's novel of the same name opened on Broadway with Colm Wilkinson as the lead role of former prisoner Jean Valjean and Terrence Mann as Javert. Also in the original Broadway production? A 9-year-old Lea Michele joined in 1995 in her first major role of Young Cosette.
"A Chorus Line"
Beyond original when it debuted in 1975, "A Chorus Line" took Broadway by storm despite its minimalist sets and costumes. The Michael Bennett-helmed production was based on real-life interviews with Broadway dancers, and took audiences behind the scenes into the hearts and minds of the performers themselves. "A Chorus Line" enjoyed over 6,000 performances at the Shubert Theatre before closing in 1990.
"Oh! Calcutta!"
This scandalous theatrical revue found mild success when it opened on Broadway in 1971—the production closed after a year and a half and just over 1,000 performance and came back strong four years later with a highly successful revival at the Edison Theatre. The 1976 production ran for over a decade, closing in 1989, and boasted nearly 6,000 curtain calls. Perhaps it was all in the timing: Scenes of full nudity and explicit topics might have played slightly better to the early 1980s audience.
"Mamma Mia!"
Broadway is sad to see "Mamma Mia!" go; this heartwarming and family-friendly musical based on the songs of ABBA featured colorful costumes and characters along with jukebox tunes that got audiences on their feet for over a decade. The show opened in October 2001, at a time when the Sept. 11 terrorist attacks left New Yorkers and tourists alike craving upbeat excuses to celebrate the city. With 5,773 performances under its (sequined) belt, the musical made history as Broadway's eighth longest-running production.
"Beauty and the Beast"
Another smash success from Disney, "Beauty and the Beast" opened in 1994 and ran for 13 years before closing to make way for "The Little Mermaid." The crowd-pleasing musical based on the animated film has enjoyed multiple national and international tours in addition to its 5,461 performances on Broadway, and also paved the way for the numerous Disney musicals that followed. More importantly, its kid-friendly content served as the first Broadway experience for many families and children who would go on to appreciate all that New York theater has to offer.
"Rent"
In addition to holding strong on Broadway for over 12 years, Jonathan Larson's rock musical defined a whole generation of Broadway fans and created a new theatrical genre that holds strong today. Though in many ways "Rent" was a product of its time—the HIV/AIDS epidemic was at its height during the time of its creation, and the "bohemian" culture of Alphabet City ostensibly no longer exists—the musical's core message of creativity, friendship, and acceptance carried the musical through over a decade of cultural changes and over 5,000 performances from 1996 to 2008.
"Wicked"
Stephen Schwartz knocked it out of the park with this original, family-friendly musical based on Gregory Maguire's popular 1995 novel of the same name. (Very) smart Broadway casting put Kristin Chenoweth in one of her best roles to date as the bubbly Glinda, Idina Menzel as the heroic (and green-faced) Elphaba, and Norbert Leo Butz as Elphaba's love interest Fiyero in the original production, and numerous actors have made star turns in the same roles ever since. "Wicked" opened on Broadway in 2003 and is nearing its five-thousandth performance.
Inspired by this post? Check out our Broadway audition listings!