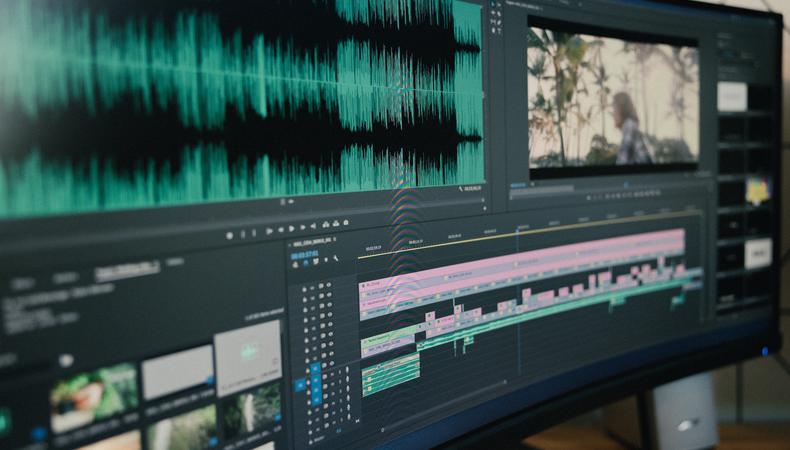 Pursuing a career in film can often feel like a leap of faith. Competition is fierce and not just for movie stars. New filmmakers pursuing post-production work can find it difficult to book enough gigs to sustain themselves and for those lucky few with strong training from a recognized school, there is a catch-22. Universities and film programs can provide only so much experience. Good bookings require hands-on experience on real film sets. For those still seeking to break through, getting those first few gigs can be difficult.
Enter the multihyphenate approach. Filmmakers who find the process of making films endlessly fascinating are drawn to learn every position and try every tool. The career benefits are immediately appreciable. With more skill sets, the more you can offer to a client or production and the more likely you'll be booked. But there's more to it than that. In the end, film careers require passion. Maintaining a sense of play, exploration, and discovery is vital to weathering the inevitable curveballs and setbacks of working in the industry. Seeking out new experiences and identifying as a multihyphenate isn't just good business sense. It's a rewarding approach toward the art of filmmaking.
Here are several industry professionals sharing their own experience holding different positions on a project or over their career.
Lorin Askill, Director/Editor for Exile
"Editing came first, so it always informed my directorial work. I love the experience of cutting other people's work because I can be more objective and hopefully elevate the vision. I get a different satisfaction from both disciplines and feel like the experience of doing one makes the other stronger."
Midge Costin, Sound Effects Editor on "Armageddon" and Director of "Making Waves: The Art of Cinematic Sound"
"[D]oing sound was the last thing I thought I would do because I would have panic attacks when I would do sound...I came out of film school and I wanted to be a picture editor so I assistant edited. Then a friend of mine called up and said, 'Midge they need new guys who can cut 16mm, effects and dialogue, so I lowered myself to take a sound job because I needed the money. And so now I'm a sound effects editor and I'm thinking about how I feel about story, character and plot points as it comes to sound. It intrigued me and then one job led to another and suddenly there was something very exciting about sound. I found myself feeling I was born to do sound."
Dan Bucatinsky, Executive Producer, Writer, and Emmy-award Winning Actor on "Scandal"
"I learned very early on, out of necessity, that to just put all my eggs in one basket was certainly never going to serve me...Some of it has to do with just trying to make a living any way that I can. Some of it has to do with just wanting to express various aspects of being an entertainment content maker or creative person...[W]hat we may consider to be bad luck or pitfalls, any of those things that happened to us over the course of our careers, especially in the entertainment business, are so often the opportunity for growth in another way."
Jordan Graham, Director, Editor, Writer, Producer, and Cinematographer for "Sator"
"The sound of the film was very important. That is, to me, my biggest accomplishment on the film because that was the one thing I was the most uncomfortable with. Everything besides my grandmother speaking in the film—everything you hear—is something I did in post production. Every little rustle of cloth, every little click, every little breath. A lot of the characters breathing in the film is my breathing. So every little thing that you hear I did in post. It took me a year and four months to do just that process alone. I had to learn how to do 5.1 mixing too, which I had never done before."
Justin Simien, Writer, Director, Editor, Producer, and Creator of "Dear White People"
"It is a holistic process in my head. I start planning the scenes and thinking about the performances while I'm writing them and I'm still writing them when I'm in the scene, directing the performances...Instead of going into a room as half of yourself or a third of yourself or an eighth of yourself, go into every room as yourself. Do the things that you want to do because you are clear on why you're doing them...You should be thinking about the marketplace, you have to...[but] most importantly, do you."
Joanne Hock, Director and Cinematographer for the documentary "Purple Dreams"
"Film-making is not a glamorous profession. You have to get over that or you won't last a week in the industry. I knew what I wanted to do when I was twelve years old... [After] many years in the film industry, I'm writing and directing feature length documentaries and movies...Thirty years ago, I was told that women don't run camera and don't direct. I pushed back, worked hard, learned the craft and I've been a cinematographer and director ever since."
Christopher Boyes, Academy Award winner for both Sound Mixing and Sound Editing
"In a perfect world, I'll take on a movie where I'm both the sound supervisor and the re-recording mixer. I kind of see that as a holistic approach to working on films...It's such a different industry now than it was when I started out and it's really kind of inexpensive to get going...In many ways, you can kind of blur the two worlds and start to play with recording, designing, editing, and mixing sounds."
Looking for remote work? Backstage has got you covered! Click here for auditions you can do from home!