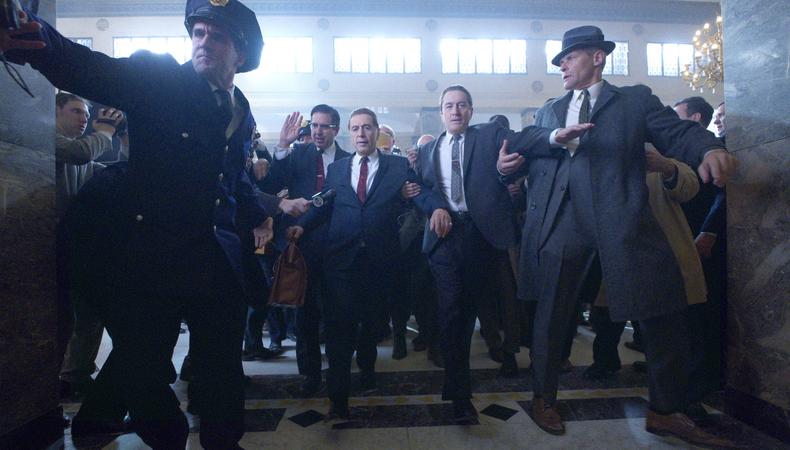 With this Year in Review, we at Backstage have picked through the weeds and found 2019's true gems of the best big- and small-screen ensemble work. And don't worry: We've got you covered with everything else you need to know this awards season right here.
Distributed by: Netflix
Directed by: Martin Scorsese
Written by: Steven Zaillian
Casting by: Ellen Lewis
Cast: Bobby Cannavale, Robert De Niro, Stephen Graham, Harvey Keitel, Stephanie Kurtzuba, Sebastian Maniscalco, Al Pacino, Anna Paquin, Joe Pesci, Jesse Plemons, Ray Romano
Robert De Niro has joked that thanks to the de-aging technology used in "The Irishman," he could continue to have a viable acting career for the next 20 years. After watching him in nearly every frame of Martin Scorsese's three-and-a-half-hour organized crime epic, you're going to hope he does, too.
Why Al Pacino Thinks Auditioning Today Is Harder Than It Used to Be
The true story based on hit man Frank Sheeran's life (as relayed in Charles Brandt's 2004 book "I Heard You Paint Houses: Frank 'The Irishman' Sheeran & Closing the Case on Jimmy Hoffa") follows De Niro's Sheeran from his days as a truck driver in the 1950s to his unlikely involvement with Joe Pesci's Russell Bufalino of the Bufalino crime family. Climbing the ranks from low-grade mule to one of the Pennsylvania mobsters' top right hands, he eventually befriends Al Pacino's Jimmy Hoffa and becomes his personal guard, only to be caught between divided loyalties when Hoffa refuses to play by the Bufalinos' rules.
It's a decades-sprawling tale brought to vivid life by never-before-seen motion-capture technology. The 76-year-old De Niro plays Sheeran from his 30s through his 80s, with Pesci and Pacino also embodying younger versions of themselves, conveying the physical and psychological toll that time's slow march demands.
De Niro's performance, while violent, may go down as one of his most heartbreaking. Between bouts of swinging-pendulum anger and affection, his Sheeran is subdued and introspective; the two-time Oscar winner and Scorsese favorite knows that the eyes can't hide even the hardest of feelings. "The Irishman" is riddled with bloodshed, but it's a slow burn, and De Niro capably fans its flame.
With Pacino, on the other hand, you get exactly what you expect from the masterful actor—and it's exactly what you want, too. Few can play hair-trigger hot-headedness and larger-than-life machismo like this Oscar winner, and in his debut collaboration with genre master Scorsese, his take on union leader Hoffa is one for the books. Whether delivering one of his iconic rally speeches, picking a literal fist fight with a political adversary, or monologuing to Sheeran's audience of one, he's simply unforgettable, stealing his every scene.
And that leaves Pesci, who makes us remember just how cherished a presence he is onscreen. Never one to boil, Pesci's Bufalino keeps his sinister powers on simmer, a conductor of crime even when you can't see him doing it. The trick to Pesci's performance, however, is that he makes you feel for the man despite the monstrosity. It's no surprise, considering he won an Oscar for "Goodfellas," another of his several projects with Scorsese, that "The Irishman" marks the 76-year-old actor's dazzling return to form.
Aside from the main trio, this film is stuffed with one of the best—and flashiest—ensembles of the year. Harvey Keitel, Ray Romano, and Bobby Cannavale round out a who's-who of New York acting vets; Stephanie Kurtzuba makes a case for being the go-to mobster wife from here to eternity; and Sebastian Maniscalco makes one for casting more standups as scene-stealers. For their limited screen time, both Jesse Plemons and Anna Paquin could offer college credit for their lessons in how to sell a gesture or a look.
But even with one of the year's most impressive acting lineups at his back, it's De Niro's show, and we're just lucky enough to witness it. "The Irishman" is certainly a contender for picture, script, and direction, and any ballot this awards season would be remiss to not include the screen icon on the leading actor ticket.
This story originally appeared in the Nov. 13 issue of Backstage Magazine. Subscribe here.
Want more? Stay in the loop with everything you need to know this awards season right here!