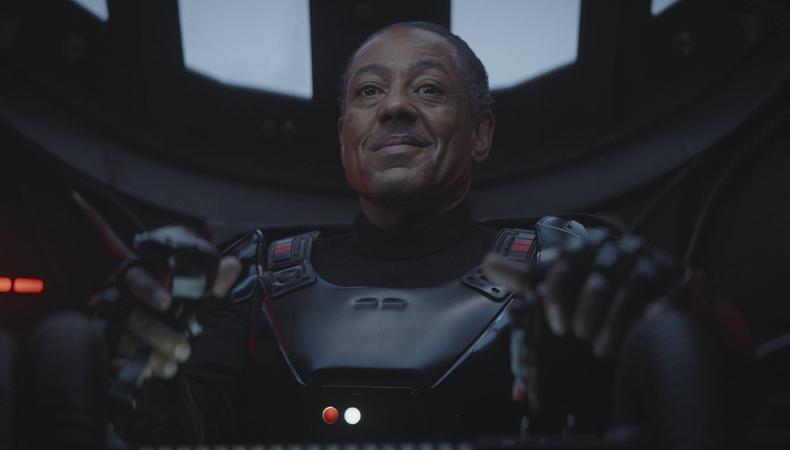 As we look back at 2020, we at Backstage have pinpointed the year's best big- and small-screen ensemble work for your SAG Awards consideration and beyond. For more voting guides and roundups, we've got you covered here.
MAIN CAST: Gina Carano, Rosario Dawson, Giancarlo Esposito, Werner Herzog, Temuera Morrison, Nick Nolte, Pedro Pascal, Katee Sackhoff, Amy Sedaris, Emily Swallow, Taika Waititi, Carl Weathers, Ming-Na Wen
CASTING BY: Sarah Finn
CREATED BY: Jon Favreau
DISTRIBUTED BY: Disney+
There's no denying that the Force is strong with "The Mandalorian" on Disney+. Audience expectations were high when the first live-action series in the "Star Wars" franchise debuted on the new streaming platform in 2019. And so far, the show has exceeded those expectations—thanks to a combination of action, adventure, heart, and fun references to intriguing lore from the "Star Wars" universe.
Those pieces alone, though, aren't what make the Western-inspired sci-fi drama unforgettable. A venture like this needs a charismatic cast to bring everything together. The show's talented ensemble does just that, telling a succession of wandering, wonderful new stories in a galaxy far, far away.
The show's foundation is the bond between the titular Mandalorian, played by Pedro Pascal, and the Child (aka "Baby Yoda"). Mando is a bounty hunter who, in Season 1, took a job to find and deliver the Child to the remnants of the sinister Empire but ultimately went back on the agreement and decided to keep the impish creature under his protection. Pascal delivers a brilliantly physical performance while spending the majority of the action in full, glinting armor, showcasing the many ways that actors can express themselves without using their faces. The adorable Child steals scene after scene thanks to expert puppeteers that convey his every tiny expression and movement. Together, the two form a pair you can't help but root for as Mando's quest to reunite the Child with his kind, and avoid those bent on his capture, takes them on adventures ranging from whimsical to terrifying.
But what makes "The Mandalorian" truly shine are the people that Mando and the Child encounter all across the galaxy in each of the show's episodes (or "chapters"). From our first introduction to Carl Weathers' bounty hunter leader Greef Karga, Werner Herzog's greedy so-called Client, Nick Nolte's gruff Kuiil, and Taika Waititi's hilariously forthright droid, IG-11, we can't wait for each character to cross paths with our heroes later in the story. Even more memorable faces appear, including Amy Sedaris as brusque mechanic Peli Motto, Gina Carano as kickass warrior Cara Dune, Giancarlo Esposito as the sinister Moff Gideon, Ming-Na Wen as the deadly Fennec Shand, and Emily Swallow as the mysterious Armorer. Their performances run the gamut, providing comic relief or grim menace as needed, while laying the groundwork for future chapters.
Even in their brief appearances, you become attached to each actor on "The Mandalorian." Whether they're heroic, nefarious, or some combination of the two, you can't help but smile whenever a beloved character returns to the screen—or cheer when multiple characters converge. The uniformly strong acting continued in Season 2 with appearances of other figures from the "Star Wars" canon, including Timothy Olyphant's sheriff Cobb Vanth, Katee Sackhoff's ruthless Bo-Katan Kryze, Rosario Dawson's Jedi Ahsoka Tano, and Temuera Morrison, returning from the prequel films.
That the series' strongest moments often feature these otherwise disjointed characters working together as a team is proof of the cast's prowess. The emotions they make you feel as you sit on the edge of your seat, enjoying each week's layered and thrilling story, can only be achieved with such a group of actors. Clearly, this is the Way.
This story originally appeared in the Jan. 20 issue of Backstage Magazine. Subscribe here.
Want more? Stay in the loop with everything you need to know this awards season right here!