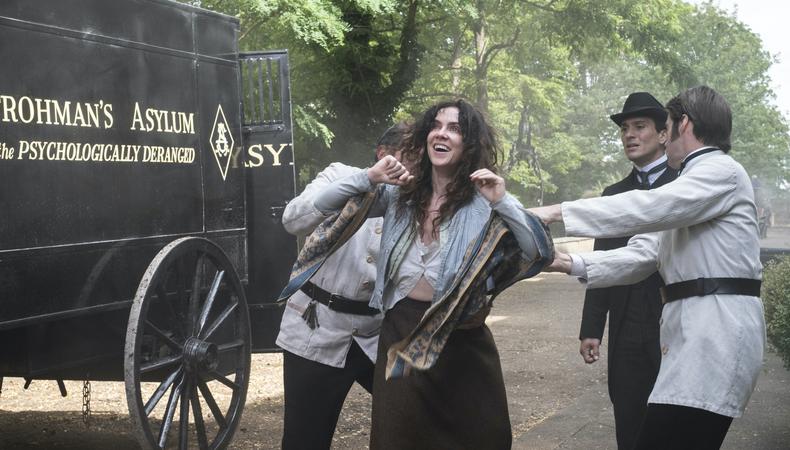 The following Career Dispatch essay was written by Amy Manson, who stars on the new HBO series "The Nevers," which premiered April 11. New episodes air Sundays.
I never take for granted the people I've met, the roads I've travelled, the places I've seen, and the words I've spoken in the job that I do every day. I wake up grateful for another opportunity to try harder, to listen more, to love myself more, to be grateful for the lessons I've learned and continue to learn. Staying curious and having fun in my work are pastimes I keep at the forefront of my mind (not to mention figuring out how to get over the fear of falling flat on my face).
I learned very early on in my career to grow a thick skin with regards to rejection. I also gained the understanding that it's never a personal attack on my personality or self-worth. The universe always has other plans—much bigger plans for me, it turns out, in the form of the character Maladie on the HBO show "The Nevers." It premiered in the U.S. on April 11th.
Maladie is the gift that keeps on giving. She is the most complicated, exhausting, painful, and resilient vigilante I have ever played. The weight of her traumas that fuel her resentment and need for revenge against the patriarchy scare the society she is ostracised from. The system has failed her, and she won't hesitate on taking revenge where it's needed. I spent months honing my craft and deciding what tools I needed to use daily to get me into Maladie's headspace—which is that of psychosis and/or mania at every given moment.
Every character (also known as a person) is always made up of layers of what they've gone through. My favorite part of the process of building a character is trying to understand why a person behaves the way they do; what makes them tick; why they are fighting for what they are fighting for in life; how they fit into the world they were born into.

And "The Nevers" is my favorite production I've been a part of to date. I've learned more about my process of building a character, my work ethic, and the process of "being me" on this job over all my other jobs combined. "The Nevers" is such a beautiful ensemble of a cast and crew. I'm grateful for the time I've been gifted to be around these artists daily.
It's a tough industry mentally and physically to excel in, and as the years pass, I'm understanding that the downtime from the business is as important and relevant as the preparation and work itself. I read, exercise, speak to friends and family daily—so much more now than I did starting out in my career—and I definitely think those things are imperative to me as far as keeping a happy and healthy mental state; especially whilst being in the headspace of Maladie, who takes me to seriously dark places.
READ: How To Get Cast on 'Euphoria'
I think it's important to keep the chat surrounding mental health awareness alive and immediate. I work for a few mental health charities in my spare time. During the first lockdown, I lived alone in a tiny pod in the Highlands of Scotland, helping to rebuild the Badaguish Respite Care Centre for the families of children with mental health difficulties. It was a rewarding four months and really changed my thoughts on why I'm part of this industry at all.
Telling stories for other people's escapism is a gift no actor should ever take for granted. On and off the field, it's always crucial that we are doing the work to help other people understand they are not alone in their search for contentment, joy, and sanity.

Looking for remote work? Backstage has got you covered! Click here for auditions you can do from home!