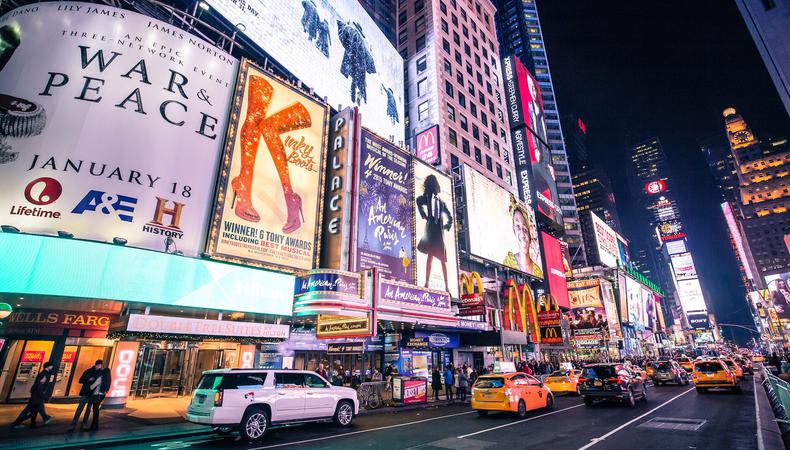 Despite industry calls for diversity, white actors continue to get more roles with higher pay, than BIPOC actors, according to a new study. The Asian American Performers Action Coalition, an advocacy group focused on advocating for diversity in the American theater, has released the findings of their newest demographic study, called "The Visibility Report: Racial Representation on New York City Stages."
The study encompasses productions on Broadway and at the 18 largest Off-Broadway theater companies in New York City in the 2017–18 season. It found that white actors were cast 61.5% of the time, versus 23.2% for Black actors, 6.9% for Asian American actors, 6.1% for Latinx actors, 2% for MENA actors, and 0.2% for Indigenous Actors. In relation to their population in NYC, white actors are overrepresented on NYC's stages, as non-Hispanic whites make up 32.1% of NYC's population.
The 2017–18 season was the season where "The Band's Visit," a show set in the Middle East, won best musical at the Tony Awards. And "Once on This Island," which featured a majority Black cast, won best revival of a musical.
"Such examples often serve as the poster child of diversity for a particular season, encouraging a false sense of progress," said AAPAC in a joint statement. "But when we look at the season as a whole, larger patterns of inequities are revealed, deeply entrenched within the system: White actors continued to overrepresent by almost double their respective population size…. White supremacy has been so normalized that inequities aren't even perceived as such."
AAPAC has been releasing these demographic studies of NYC theater since 2011. This year, for the first time, they have included a section on the economic effect of underrepresentation for BIPOC actors. They found that Off-Broadway, because actors are paid based on the size of the venue they are performing in, and because BIPOC actors were more likely to be relegated to smaller theaters, that on average white actors made $1.70 for every $1 that a BIPOC actor made. AAPAC calls this practice of putting BIPOC stories on smaller stages "redlining."
It also identified Roundabout Theatre Company, which owns three Broadway houses and two Off-Broadway houses, as the biggest offender, saying, "For every $1 the Roundabout spent on BIPOC actors, they spent an estimated $6.09 on white actors."
It's not just actors; the study also tabulated the demographics for playwrights and directors. It found that 79.1% of all theater produced was by white writers; with 9.6% by Black writers, 6.2% by Asian-American writers, 2.8% by MENA writers, 2.3% by Latinx writers, and none by Indigenous writers. Those numbers were consistent across Broadway and Off-Broadway. Meanwhile, 85.5% of shows were directed by white directors, while 14.4% of shows were overseen by BIPOC directors.
The study also found no correlation between BIPOC writers hiring BIPOC actors, noting that out of all the shows that had at least one BIPOC writer, 32.4% of them had a cast that consisted of 50% or more white actors. Black writers were more likely than any other BIPOC groups to feature members of their own race in their shows.
In comparison to past AAPAC demographic studies, BIPOC actors saw a five-point gain in the 2017–18 season, but continue to be underrepresented in NYC in comparison to their majority status in the city.
This study comes out at a time when the American theater is undergoing a racial reckoning, with many artists coming forward to speak publicly about the inequities they have faced, and many theater companies and producers promising to improve. The We See You, White American Theatre campaign released a 29-page list of demands to theater producers, including one that required that every production be composed at least 50% by BIPOC actors.
"The biggest question is: What, now, are theatre companies and producers going to do with this information to create the change that needs to happen?" said AAPAC. "We hope that our work will continue to be used to tip the theatre industry towards an equitable future—one where BIPOC artists, leaders, administrators, and even patrons, are an equal part of the stage story and accurately reflect the story of America. More than ever, we demand visibility."
AAPAC is chaired by actors Pun Bandhu and Julienne Hanzelka Kim. Its steering committee includes actors Cindy Cheung, Angel Desai, Christine Toy Johnson, Peter Kim, Julienne Hanzelka Kim, Kenneth Lee, Eileen Rivera, and Nandita Shenoy. It recently won the 2020 Obie Award for its advocacy work. The 2020 AAPAC report was supported by the American Theatre Wing.