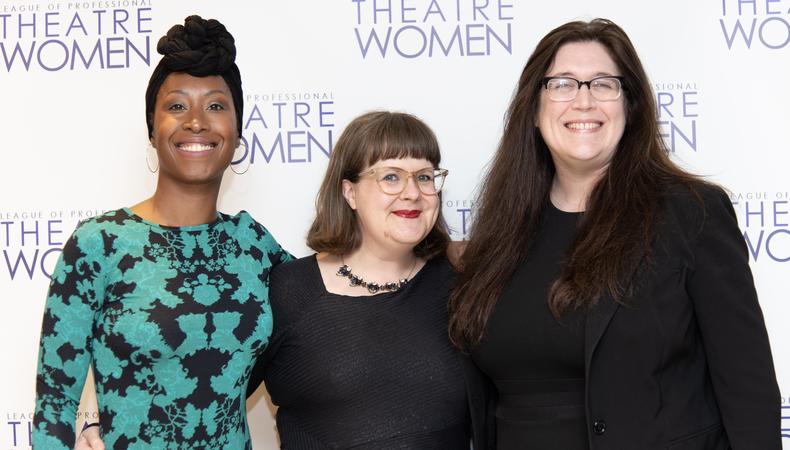 The road to gender parity in the arts is a long one; in New York City and across the country, for example, theater companies still employ a majority-male staff, particularly in high-level positions. Continuing to pave that road toward equality, and celebrate how far the theater community has come, is the League of Professional Theatre Women, which March 25 held their annual Theatre Women Awards—the only awards ceremony dedicated to promoting the visibility of female stage artists across all disciplines.
Hosted by actor and commentator Nancy Giles, the 2019 ceremony held at The Sheen Center for Thought & Culture featured stage legends among its presenters as well as award recipients. Sarah Ruhl introduced Lee Reynolds Award winner Karen Zacarías, Christine Jones presented Mimi Lien with the Ruth Morley Award, and the evening's final recipient, director-choreographer Graciela Daniele, was introduced by Michael John LaChiusa.
READ: How Broadway Has Changed for Women—and the Work That Still Needs to Be Done
Earning this year's LPTW Lucille Lortel Visionary Award was the Kilroys, the feminist advocacy group best known for releasing an annual list of under-produced plays by female, trans, and non-binary writers. Accepting the honor from presenter Lisa Rothe were original Kilroy members Zakiyyah Alexander, Joy Meads, and Kelly Miller. Their signature hashtag, #parityraid, complements the League's ongoing initiatives, including #OneMoreConversation, #ChangetheStage, and now, #roadtoparity.
First launched in 1986, the LPTW is led by co-presidents Kelli Lynn Harrison and Catherine Porter, and now includes hundreds of female theater makers in its membership. For more information on the Theatre Women Awards and the org's many other programs, visit www.theatrewomen.org.