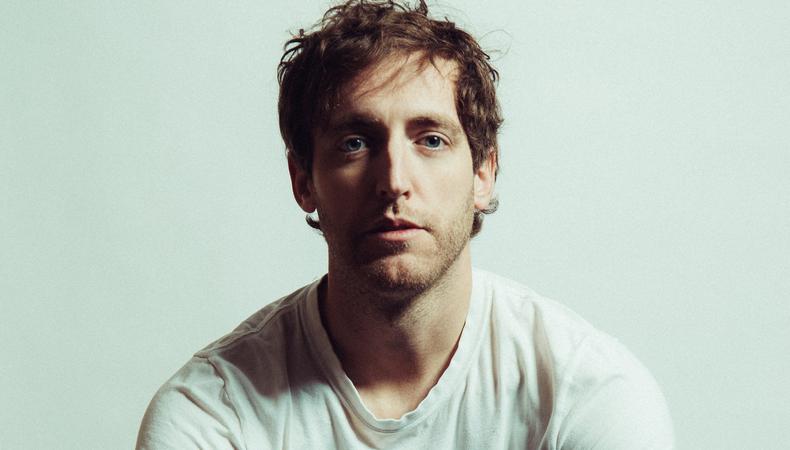 The following interview for Backstage's on-camera series The Slate was compiled in part by Backstage readers just like you! Follow us on Twitter (@Backstage) and Instagram (@backstagecast) to stay in the loop on upcoming interviews and to submit your questions.
After leaping to television screens in homes across America as "the Verizon guy" and becoming a favorite of prestige pay-cable comedy on HBO's "Silicon Valley" (for which he earned an Emmy nomination in 2016), Thomas Middleditch is following up his best-known gigs with a new adventure altogether: a multicamera network sitcom. He'll star on Chuck Lorre's CBS comedy "B Positive" as Drew, a divorced dad who needs a kidney, alongside Broadway's Annaleigh Ashford as Gina, his unlikely donor. But TV is only a small part of his career in the arts. Sitting with Backstage for an Instagram Live interview, Middleditch talked about his experiences being, among other things, a Twitch star, a scam victim, and an octopus. (More on that last one later.)
He hopes that "B Positive" will introduce him to a new audience.
"I was prepared to have some time off, but basically, Chuck Lorre and the co-creator, Marco Pennette, they just reached out to me and said, 'Hey, you want to do this thing?' And I figured it was a way to tell a story to a different, new audience that might not know [me]. This may come as a shock, but most of America doesn't actually have HBO! I took this as an opportunity to say, 'Hey, here's a whole new audience. Let's see if I can bring them entertainment as well.' "
Remember: "There's no pay-to-play with a SAG card."
"I was walking dogs in Chicago, and a guy drove up to me, and he was like, 'Hey, man, can I have five bucks for parking?' I gave it to him, and he was like, 'Thanks, man. I'll remember this. What's your number? I'll hook you up. What do you do?' And I was like, 'Well, I dog-walk, but I'm also an actor.' Long story short, he ended up scamming me out of all this money because he kept promising me he was going to get me my SAG card. Don't trust anyone that says, 'I'm going to get you your SAG card. I know people.' There's no pay-to-play with a SAG card."
He encourages actors to stay busy and make their own opportunities.
"Especially now, there are so few actors and creators, really, that just sit there and wait for stuff. That's not really what happens. Basically, you have to be hustling all the time on multiple different fronts. I don't believe in luck, but there is a certain element of serendipity to this business. There are certain things that are beyond your control: what you look like, what place you are in your career, given a certain amount of time. But you can increase the odds of things coming your way, or you running into things by doing more things. Any agent will tell you it's an easier sell for them if you act, you write, you've created all this stuff, you have all this content that you've made that they can see as opposed to, 'Trust me, he or she is great.' I always think of [being] an octopus, with your eight arms out there dangling in the sea, trying to get your, I don't know, crustaceans or whatever. And if you're not using all eight arms, you're kind of being a shitty octopus. So use all the bits. Even now, I have things—I can go, 'I've got that!' It's an awful way to live. It only breeds anxiety and panic, but it's the artist's way in entertainment. You just cannot rest on your laurels."
Successful actors can come from anywhere.
"If you're endeavoring to go down this road, you need a healthy dose of delusion…. When I say [that], it's like, I was a kid in this mountain town in British Columbia. You know what I'm saying? Literally in the woods. But it was a fortunate town to be in because it had a pretty thriving arts community. A lot of my peers ended up going to fancy Canadian theater schools like George Brown [College] and National Theatre School [of Canada] and whatnot, so it wasn't insane. But to go from there to end up in Hollywood, there's a lot of in-between."
Christopher Nolan once caught him at his clumsiest.
"I managed to get an audition for 'Interstellar.' I didn't know it was 'Interstellar' at the time. I was just like, 'It's Christopher Nolan! Holy crap!' And the scene that you get is not in the movie at all. I remember I couldn't make sense of it. I go and I do it, and I'm like, 'I can't believe it's you.' And he goes, 'Thanks for coming in.' I'm like, 'Dude, thanks for seeing me!' And then as I leave, going to the door—it's completely flat, the ground. There's no transition; it's not carpet to floor, just carpet. And I just trip. I don't know what happened. I just sort of fell. So I was like, 'Bye, thank you for your time,' and I walked normally, and then just fell through the doorway. If he was looking for a new IRL Peter Sellers, maybe I could've gotten it…. I don't think I'm on his radar anymore."
Want to hear more from Middleditch? Watch our full interview below, and follow us on Instagram: @backstagecast.
This story originally appeared in the Nov. 12 issue of Backstage Magazine. Subscribe here.
Looking for remote work? Backstage has got you covered! Click here for auditions you can do from home!