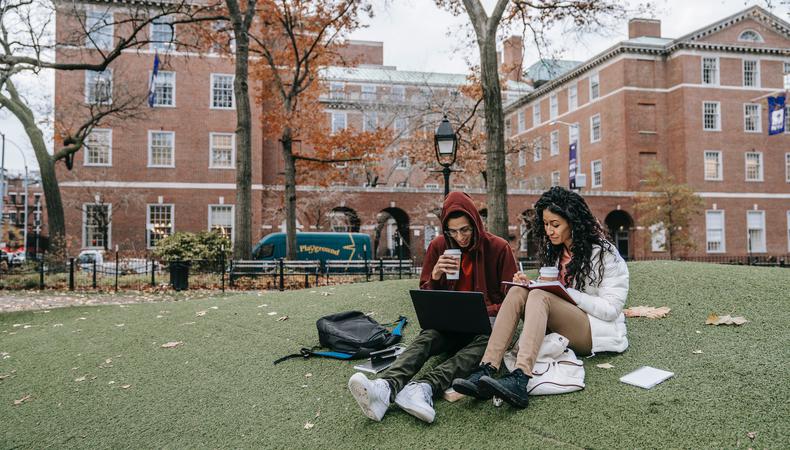 The college application process can be stressful and taxing for aspiring theater majors, who not only must write personal essays but also often have to audition.
College auditions are odd in that you're not auditioning for a role. You're seeking admission and the opportunity to learn. You're presenting yourself—introducing yourself—as an interesting, charismatic, arts-passionate individual and offering a glimpse at your process-in-the-making on how you take on character. College audition committees—potentially your future professors—are attuned to your between, how your transition from self to the role you put on reveals your energy, determination, and confidence.
In an effort to help college students get over the audition hurdle, I asked for advice from colleagues (and award-winning professional actors) at two leading college theater programs: Cindy Gold, professor and head of acting at Northwestern University, and McCaela Donovan, assistant director of the school of theatre at Boston University. Both have witnessed the highs and lows of the college audition process.
Here are three tips to help you succeed with college auditions by choosing the right material.
1. Do your research.
It's not uncommon for the same pieces to circulate in the audition room. As brilliant as your take may be, it's difficult to distinguish yourself if you're performing yet another piece by Adam Szymkowicz ("Pretty Theft," again?) or selections from "Gruesome Playground Injuries," "How to Defend Yourself," "Dance Nation," "This is Our Youth," "Red Speedo," or "Dog Sees God." "To Be or Not to Be" or "O Romeo, O Romeo" are all-time great monologues but it'll be an uphill battle to win over your listener with these easily recognizable Shakespearean pieces. If your tastes and interests skew toward the Elizabethan or Jacobean period, opt for a contemporary of Shakespeare such as Thomas Kyd or Ben Jonson.
McCaela Donovan advises students to "take the time to do the research" for something more suitable for them. She suggests, "find an actor that has a similar essence to you and see what they've done, then see who their understudies were (because those actors are not usually well known and probably have their website and résumé out there)" to identify potential plays. For this reason, Donovan recommends avoiding Pulitzer Prize-winning plays and, instead, exploring Pulitzer runner-ups which are "less overdone." Generally speaking, it'll be difficult to stand out from the pack if your selection was the result of an online search for "free monologues for high school students" rather than independent research to discover a less widely available and more uniquely you piece. Take the time to explore.
2. Make the old, new again.
Actors who keep presenting the same audition material eventually "get stale," according to Cindy Gold. If a student is struggling to find a new piece and, therefore, must keep repeating a monologue, Gold advises that they reinvent their approach in a manner similar to actors in long-running shows. Citing Laban's eight efforts alongside "the standard objective/obstacle/tactic work," she notes that changing one part of the given circumstances can bring a whole new meaning. Gold further recommends playing with atmosphere: "If an actor decides it's dark and stormy, or sunny and sweaty, all sorts of new ideas are awakened."
3. Reveal your energies.
Since the audition is more about you than the piece that you choose, it's important to make selections that offer a sense of you. Show your range. Donovan recommends avoiding "choosing two pieces that explore the same kind of energy (for example, two characters who are very violent, or depressed, or hyperactive)." If you make choices that "highlight two different facets of your own energy," Donovan adds, then you will give the audition committee "an idea of the way your creative mind works."
Looking for remote work? Backstage has got you covered! Click here for auditions you can do from home!
The views expressed in this article are solely that of the individual(s) providing them,
and do not necessarily reflect the opinions of Backstage or its staff.