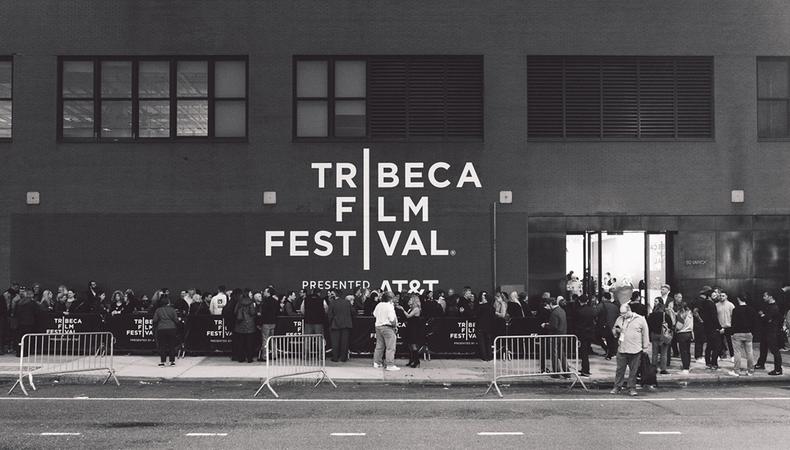 Single tickets are officially on sale for this year's Tribeca Film Festival, presented by AT&T, and we've got the insiders' guide to all the must-see programming, from the buzziest red-carpet events to the best underground film shorts and digital series by the most exciting emerging creators and storytellers you haven't heard of—yet.
The 2019 edition of the Tribeca Film Festival kicks off this year on April 24 and runs through May 5. A New York City tradition now in its 18th year, the Festival is much more than film; it's a celebration of storytelling in all its forms.
Here's how to tackle this can't-miss series of events for the New York creative community, where upcoming and established storytellers can both inspire and be inspired.
READ: How to Find a Producer for Your Film, TV, or Theater Project
Lights, Camera, Beacon
It's always a treat to take in a show at the historic Beacon Theatre, one of New York City's most iconic venues. This year, the Tribeca Film Festival lights up the Beacon marquee with some of the most beloved names in entertainment.
After a 40th anniversary screening of "Apocalypse Now: Final Cut," a never-before-seen restored version of the Vietnam War epic, legendary director Francis Ford Coppola will sit down to reflect on his cinematic masterpiece and discuss its elaborate restoration. The centerpiece of this year's Tribeca Talks features longtime filmmaking partners Martin Scorsese and Robert De Niro getting together on stage at the Beacon for a conversation reflecting on their decades-long working relationship from "Mean Streets" to their upcoming "The Irishman."
A 35-year anniversary screening of the classic rock mockumentary "This Is Spinal Tap" will be followed by a reunion of stars and creators Christopher Guest, Michael McKean, Harry Shearer, and Rob Reiner in a special musical tribute to their fictional counterparts and a conversation. Plus, don't miss the premiere episode of "Wu-Tang Clan: Of Mics And Men" an upcoming four-part Showtime series about one of the most influential hip hop groups of all time, followed by a reunion with all nine living members: RZA, GZA, Inspectah Deck, U-God, Ghostface Killah, Method Man, Raekwon da Chef, Cappadonna, and Masta Killa.
Digital Revolution: Tribeca New Online Work
Tribeca can bring out the established lions of the show business industry, but it also knows how to discover emerging talent, and that increasingly means looking beyond feature film into new ways of storytelling. The two-part Tribeca New Online Work (N.O.W). Showcase, sponsored by HBO, highlights independent creators who use digital platforms and screens of all sizes as an exhibition space to tell their stories, including the one you are using to read this right now. It's one of the most innovative sections of the Festival, where you can get in on the ground floor and discover tomorrow's critical darlings today. Previous N.O.W. selections have gone on to win awards and achieve network pickup, including "High Maintenance" from creators Katja Blichfeld and Ben Sinclair.
This year's slate includes episodic, short form and documentary work from up-and-coming and seasoned filmmakers in two showcases: Headspace, a collision of sci-fi, documentary, drama, and comedy in a collection of works that push boundaries, and Reality Check, highlighting unique personalities at the center of universal themes like parenthood, sexuality, and aging. N.O.W. will also host two special screenings highlighting digital documentaries from Topic Studios and The New York Times' Op-Docs.
READ: 4 Simple Steps for Finding Film Festivals
Going Long on Shorts
The perennially popular Shorts Program continues the Tribeca Film Festival's tradition of discovering talent and is known for premiering films that have gone on to be recognized at the Oscars, including Domee Shi's Pixar animated short "Bao," which premiered at last year's Festival and won the 2019 Academy Award.
This year the Festival's Shorts slate includes 11 different programs organized by theme, including its flagship New York–themed selections entitled Streetwise, comedy (Funhouse), and sci-fi (Down to Earth). Among the new programs are the music-focused On Tour, the female-focused No Shortcuts documentary slate, and curated especially for late-night, the aptly-named WTF.
Ready to plan your festival experience? Check out the Film Guide here to browse the full selection of 103 feature films, along with all the Beacon Theatre events, N.O.W. selections, Shorts Program picks, and more at this year's Tribeca Film Festival.
If you're not sure where to start, the indispensable TRIBECA APP (for iPhone and Android) puts the entire Festival in your pocket. Its DISCOVER tool is your personal film and event selection assistant. Check out the tool online and in the app for recommendations customized to your tastes and interests, bookmark your favorites, and then purchase tickets with the click of a button.