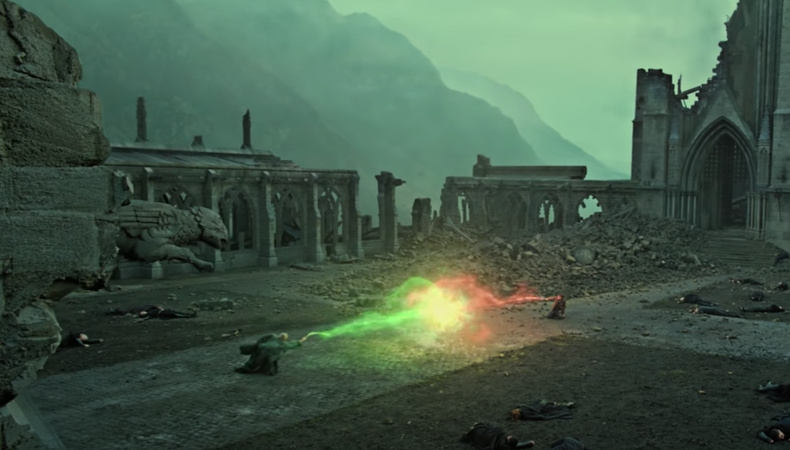 Looking for a new perspective? Here we talk to more of the top professionals in the field to bring you the latest career advice!
A fantastic beast flies off the pages of a book to appear for the first time on the big screen. An animated classic is given new life with a combination of live-action. In both of these instances and many more, a VFX supervisor like Tim Burke can be found behind the scenes, making films feel like one cohesive environment where viewers don't think twice about the interactions between characters whether real or not.
Burke's impressive résumé includes films like "Gladiator," "Hannibal," seven of the "Harry Potter" films, and the two "Fantastic Beasts" films. Currently, he's the VFX supervisor on Disney's live-action "The Little Mermaid."
If your dream career is in the magical world of visual effects, take a look at the advice Burke shared with Backstage.
How did you get started in visual effects?
I started over 33 years ago working as a designer in a video facility, predominantly working in television. I got my hands on some of the very early digital technology made by a U.K. company called Quantel and started learning how to digitally paint and composite on the job. This led to work in high-end commercials in the early 1990s as there was no digital VFX film industry in the U.K. at that time. Working in commercials gave me lots of exposure to many different techniques like blue screen, motion control, and CG animation. I got used to working with directors looking over my shoulder 12 hours a day.
The knowledge and experience of different film and visual effects techniques led to a move into film when I, along with two colleagues, were asked to set up Mill Film for Ridley and Tony Scott. This gave me an amazing opportunity to work with two of the most creative filmmakers working at that time, supervising films and television series for both of them on a regular basis. The company itself was folded in 2002 and I chose to go freelance, having already been asked to work on the third "Harry Potter" film as the production VFX supervisor. From there I simply carried on working. At one point I was supervising three of the "Harry Potter" films at the same time. It was crazy how much work we got through, but the "Harry Potter" films were the birth of the British VFX industry and I'm proud to have been part of that.

What was your first production job?
My first job was actually in live television creating graphics that were played out live on air. That was a great way to learn about hitting deadlines. Sometimes I'd still be working on the image 30 seconds before it had to be played. My first film job was as a digital supervisor and VFX compositor at Mill Film. My first job working on the production side was as VFX supervisor for Warner Bros.
What training do you have? What training does someone need to become a VFX supervisor?
I studied design at art school and tended to lock myself away in the camera rostrum room doing cell animation. This was in the days before computer graphics! I had a good understanding of film and photography, having built my own darkroom when I was 16 in the family bathroom at home. But my real training was all learned on the job. I threw myself into every challenge presented to me, which ended up with me spending months working on locations all around the world on major feature films.
These days there is a lot of competition. The industry is so massive and there are so many great artists working at all of the facilities. I would say if you want to become a VFX supervisor, you need to work at a VFX facility and try to get as much experience in different disciplines as you can so you get a broad understanding of the whole process. Supervise a show or two in-house, then get yourself out on a film set. Experience it from the production side of things so you start understanding the filmmaking process. What I've learned more than anything is how films are made. They are complex beasts and you need to understand the process in order to be successful at your job.
How do you find work?
I've worked with a few directors on multiple occasions so it's either repeat business or I get a call from one of the studio VFX executives.
What's one thing you wish everyone knew about your work?
The most important thing I'd like everyone to know about my work is that it's a huge team effort. I'm the lucky person at the forefront working with the director, but it really is the whole team that needs to be acknowledged for having created the work. This is not a job you can do on your own. You need the support and talent of hundreds of people with a myriad of different skill sets.
What's the hardest part of your job?
The hardest part is at the very end when there are a handful of shots that just aren't quite as good as they should be, but you've run out of time. That's the part I hate and beat myself up about most!

What skills do you need to become a VFX supervisor?
You need to be calm and creative. You need a level of technical ability that allows you to fully understand the VFX and film making process, good communication skills, and the ability to understand and interpret obscure notes from directors.
What do you look for when hiring?
Good communication skills. Confidence but not arrogance. The ability to perform their job but with a willingness to learn. And a sense of humor—you need it!

Do you have any advice for someone's first day on the job?
Don't distract the director when they're working. Best to speak when spoken to, but always be visible and on hand. And stay calm. There's a long road ahead and whatever you think might be a problem today is nothing compared with the things you'll encounter along the way.

What advice would you give aspiring VFX supervisors?
There's a lot of competition out there. If you really want to be a supervisor, get the facility experience I mentioned and take the plunge and try to get work on the production side of the job. On-set experience is invaluable. It's very easy to get comfortable at a facility and just get into a routine, but it's good to challenge that comfortable routine sometimes.
Want to learn more about working on a film crew? Visit Backstage's crew hub!