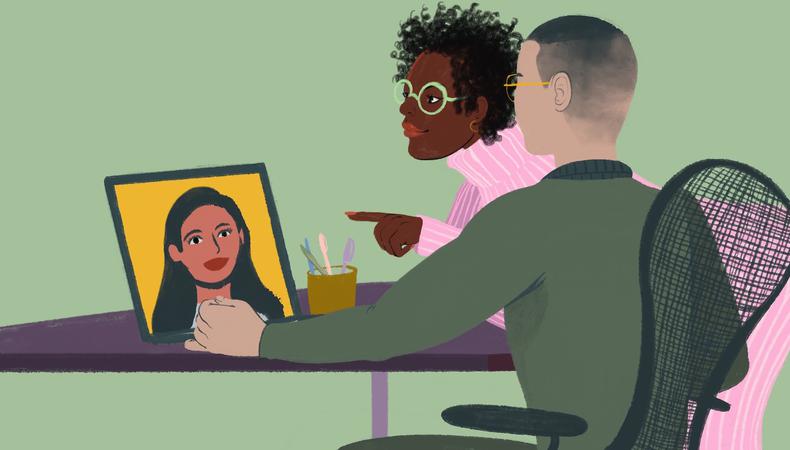 If you look at Victor Vazquez's résumé, you'll see that he's a casting director who has worked on theater productions around the world. But if you look a little closer, you'll see that he's not quite like other theater CDs. He started his own company, X Casting, in 2019, with a mission to create opportunities for underrepresented talent across the entertainment industry. To do so, he runs every aspect of his work with that mission in mind: the projects he works on, the creatives he collaborates with, the casting professionals he hires, and the talent he sees. It's a bold way to approach casting in an industry that's been increasingly forced to reckon with hard data that shows the inequities in representation across mediums; but he believes he's just doing his part.
"Being a casting director is also like being a poet. We have to have the language to talk about other individuals who are not like us."
What changes have you seen happening in the entertainment industry?
Casting professionals all across this country are having conversations. There are committees working to imagine what an anti-racist future looks like in our industry. Actors of color are still underrepresented on stage and screen. Representation is not some do-good task that needs to be checked off. This is the bias of employment practices in casting, and these choices have real impact, like deciding who gets health insurance and who gets to sustain themselves. Changing what's in front of the table starts with changing who is behind the table and what power they yield. Projects need to hire BIPOC casting directors, not just assistants and associates. You have to learn from someone, so it's really about who holds the door open for you; you can't study it. Broadway for Racial Justice just started their training program for BIPOC folks to [become] casting professionals. Training for future CDs is starting to show up, but that's not the only solution.
Where do you look for talent?
As a casting director, my time and focus are investments in other people's careers. I find projects I'm super excited about because I know the artists; I know that they're centering their own identities, and therefore their gravitational force is inviting other artists like them to be actors in their projects. That's art that I'm interested in, beyond Broadway and Off-Broadway, in the small pockets. Being a casting director is also like being a poet. We have to have the language to talk about other individuals who are not like us. That allows me to communicate and advocate for an actor to a director or writer when the opportunity comes.
What advice do you have for actors?
It's all about authenticity. Begin with who you are. I'm most excited about talents that are sure of themselves. The projects that match the person they are will find them. I think that's the opposite of what we've trained actors to be for a long time, which is this blank slate that's able to mold into anything. I don't think that's helpful. Do you want to be a neutral blank palette, or do you want to be an added value, where we know exactly the tools that you come with to a project? That's what's exciting for me about talent that is emerging. Don't worry about all those credits or that your résumé is not fully fleshed [out]. It's all about who you are. Let's start there and lean into that and find you characters that match that, or characters that might be the opposite of that, but that only you can play in an interesting way. Be authentic, and center everything you do around that.
What can an actor expect from auditioning for you?
I always like to open the door to my room myself and facilitate the greeting. I have everybody in the room introduce themselves with their pronouns. By that point, they've already met all of us, and then we turn it over to the talent to introduce themselves and we get to meet them. It allows them to use that introduction however they want. There's a lot of generosity in the room. There's time for questions. There's always a conversation to be had. I always like to ask one or two questions, which becomes an open-ended process of allowing me to know this artist as an actor and how they think. My hope is that actors match that generosity. Some actors have been trained to be polite, to be inauthentic, to be quick, and to not take up too much space. When I ask them an open-ended question and they have a very short answer that doesn't give me any insight into them as an artist or as a person, it makes me feel sad, because I really wanted to make space for them in the room. So often in the tradition of casting, people have made little room for conversations like that to happen, because we've prioritized urgency. What I'm trying to do is disrupt that.
"You can talk about changing what's in front of the table, but it's going to have to start with changing who is behind the table. Projects need to hire BIPOC casting directors."
How do you get attached to the projects you work on?
I'm a mission-based company, and a lot of casting offices don't have a mission. My mission is core to what I do. And then it's alignment with my own individual politics as an individual. My parents are immigrants; I'm a first-generation American. Spanish is my first language. In all of these nontraditional ways, I've had to fit myself into this system. By virtue of the networks that I've had to create throughout my entire life, my collaborators are in alignment with who I am and my values. My mission markets itself, and people approach me. When a project comes to me and there is no representation behind the table, I will say no. I'm not a Band-Aid to a project. I'm not here to make your project anti-racist. My job is centering folks who are already doing that work and then plugging into new systems and new resources in the casting that match their values. I have to be able to share that with the creative team, and they have to be able to share that with me. It makes it very easy to assess the projects I want to do and the kinds of projects that really land on my lap.
What don't actors know about what you do as a CD?
Casting is an arcane industry. It's so mysterious and inaccessible; it leaves room for a lot of misconceptions. Casting is about building professional relationships with individuals who are cheerleaders of artists, and the role of the artist—in this case, the actor—is not to expect to come in once and then book a job or be rejected. If we keep calling you in for projects, it's because we love who you are. For us, it's about maintaining that ongoing working relationship where we can say, all right, you didn't get this this time, but we are inviting you to another audition. We're asking actors to dust themselves off and be the artists we know they are, because we think that this next role is right for them. If this is an ongoing working relationship, it's about finding the right project for you; it's about matching all the million interlocking moments that need to happen in order for an offer to be made. It might take months, it might take years, but our hope is that you can continue to come into the room with the same generosity, spirit, [and] artistry, and with your authenticity intact, and that you don't feel jaded, that you don't feel rejected, that [you feel] our role here is to champion and cheerlead you on. Sometimes that may take years, and that's OK.
What changes within the entertainment industry are you hoping to see in the future?
There's a lot of data that I want to see transformed. In a practical sense, I want to see Black, indigenous, and all actors of color double their representation on television and film and in theater. But for me, it all starts with: Who are the folks telling the stories? It's vital that in the ecosystem of Broadway, Off-Broadway, TV, and film, we see more people behind the camera, behind the table, behind the pen and pencil that are diverse and representative of an America that is not just white. When we allow them to tell their stories, we allow their gravitational forces to invite others like them into their stories. It's very much about allowing nonwhite folks to imagine their worlds and for nonwhite producers to help produce them, and to also have nonwhite casting directors work on those projects. We're looking for equity. One of the central tenets of anti-racist work is decentralizing power. We need to decentralize the power of who gets to tell these stories and how they tell them, period.
This story originally appeared in the Nov. 26 issue of Backstage Magazine. Subscribe here.
Looking for remote work? Backstage has got you covered! Click here for auditions you can do from home!