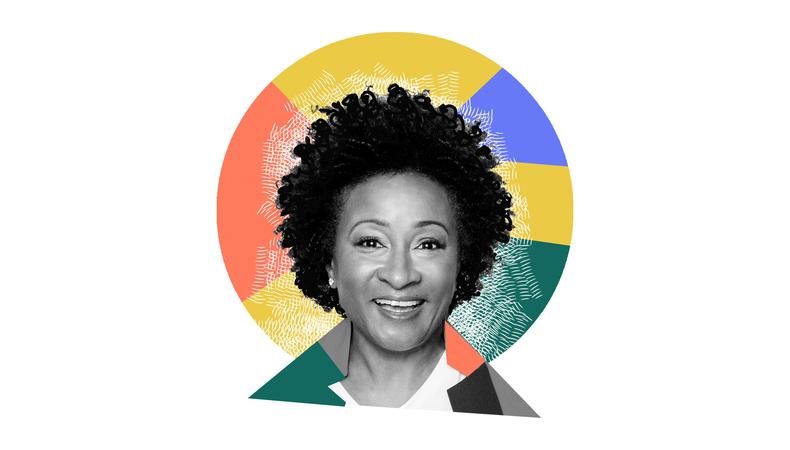 With 10 Emmy nominations and one win under her belt, comedian, writer, actor, and producer Wanda Sykes continues to break ground with the Apple TV+ documentary series "Visible: Out on Television," which she executive produced, and her standout guest star performance as comedian Moms Mabley on Season 3 of "The Marvelous Mrs. Maisel." Here, she discusses a memorable Pepto-Bismol commercial audition and the role she'll never forget.
Tell us about your experience working on "The Marvelous Mrs. Maisel." How did playing a character who was a real person—Moms Mabley—impact the way you prepared for the role?
Luckily, I'm a huge Moms Mabley fan. I don't think I would be doing this if it weren't for her. She was a huge influence for me as a kid. To play her on the Apollo stage, it was such a treat. I felt like I was preparing for this role as a kid. My mom and grandmother would tell me I would walk around the house with a dust rag on my head and would actually do Moms Mabley. I've been waiting for this role. I didn't really have to do that much research or preparing because I'm so familiar with her and her work.
What was it like to step on stage at the Apollo, a venue where you had performed, embodying another influential comedian?
Everything that was going through my head was "Don't screw this up, Wanda. This is important." I so wanted to get it right. That was the pressure I put on myself, because like I said, she means so much to me, so I wanted to do her service and do a good job. And on the Apollo stage, it was really like being in that time, because the way the Palladinos [series creator Amy Sherman-Palladino and executive producer Daniel Palladino] go about it, they don't hold back on extras. It felt like a full house, and everyone dressed in that era. It was like being in front of an Apollo crowd.
"My mom and grandmother would tell me I would walk around the house with a dustrag on my head and would actually do Moms Mabley. I've been waiting for this role."
Was there anything that surprised you or that you learned through the process of reporting and filming "Visible"?
It was so much information. It was a lot of footage. It was trying to find a way to make it feel current. Because a lot of it was the Army trials [1954's Army-McCarthy hearings] and stuff, so it was looking at it like, "We're looking at a lot of old white guys right now.'' We're talking about being visible and inclusion, so we need to mix this up with people of color and women, as far as people who are relevant today. That's what we all wanted to do, anyway. As far as other interviews we needed to get and reaching out to those people and getting them involved, everything started to come together. [Fellow executive producers] Ryan [White] and Jess [Hargrave] and Wilson [Cruz], they did an excellent job putting it all together.
How did you get your first big break? How did that impact your career?
I think my first big break was when Chris Rock was touring and he was preparing for "Bring the Pain" and I got to open for him at Caroline's comedy club in New York for a weekend. I had bumped into Chris in the clubs from time to time before then. He never really got a chance to see my set. So, he got to see me that whole weekend and he was like, "Man, you're really funny. You're really good." After "Bring the Pain" blew up, he got a talk show. I got a call to submit some writing samples to do the show and I did, and I got the gig, and I think everything took off from there. That was going to college again for me, because I learned so much working on that show. Those are skills I still use today as a producer. That was a huge break for me.
What advice do you have for creatives looking to launch their own writing projects?
We have a lot of time on our hands right now. For me, I need stimulus. I need things to draw from. It's one thing to sit home and have time to read and watch things that you never would've watched before—that's great. I know a lot of people are lonely right now, so it's also a good time to create some characters and it gives you something to work on and to escape from this reality that we're in right now. That's the beautiful thing about art: You can create any world that you want. I'm hoping when we get out of this, we're going to see some good sci-fi stuff or some character-driven stories. I don't know if people actually want to see stories of us going through this, but then again, it could be very interesting and exciting to see how you get to the place where you're yelling at an old man in Costco because he wants you to wear a mask.
What advice would you give your younger self?
I would have said to follow your passion from the jump. Don't be afraid; don't play it safe. Then again, maybe I did it the right way, because maybe I wasn't mature enough to start back then. If I had to go back, in college, I probably would've gone to be a theater major or something like that instead of business marketing, because I knew what I wanted to do. At least it was there, the desire was there. I made the safe decision: Let me get a degree I could use down the road if this stuff doesn't pan out. I would say [to] take a chance. Always bet on yourself.
"I know a lot of people are lonely right now so it's also a good time to create some characters and it gives you something to work on and to escape from this reality that we're in right now."
How did you first get your SAG-AFTRA card?
I believe I got the offer to be in "Nutty Professor II," and that was it. I remember going down to the office to sign up. I had my offer letter. Boom. For an Eddie Murphy movie—how crazy is that?
What is your worst audition horror story?
I think it was for a Pepto-Bismol commercial. It was a mother-daughter relationship. I hate auditioning—I hate auditioning to this day. I'm reading the sides, and the casting director literally snatched the sides out of my hand and said, "Good day." Not, "thank you," just, "good day," and [she] snatched them out of my hand. That was pretty bad. Maybe she was gassy. Maybe she was having a bad day.
What's the wildest thing you've ever done to get a role?
I wish I was that bold, where I could put myself out there like that. I have not. You can't be on the fence with something like that. All in or not.
What performance should every actor see and why?
I love Don Cheadle in "Devil in a Blue Dress." He is so menacing. He's this killer, and he has such a pleasant, calm demeanor. I just thought the way he played that was... Man, if I ever got to play a killer, that's how I would do it. He's so matter-of-fact: "This is what I do, man. Why'd you leave her with me, then? You know that's my thing." And Viola Davis in "Fences." If you want to know how to cry, just an ugly cry, that's how you do it.
This story originally appeared in the Aug. 13 issue of Backstage Magazine. Subscribe here.
Looking for remote work? Backstage has got you covered! Click here for auditions you can do from home!