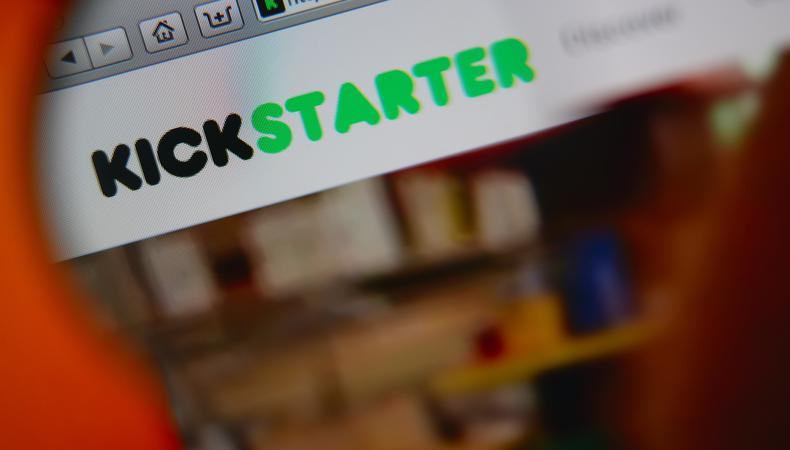 Are you struggling to get your theater project, web series, or film off the ground? Raising money is one of the most challenging aspects of any production, whether it's a one-off fringe performance, an indie movie, or a multi-million dollar film shoot. Here are six great ways to raise money for projects, now let your creativity shine through.
1. Crowdfunding Websites
Websites like Kickstarter and Indiegogo have helped fund hundreds of thousands of projects and have had a huge impact on entrepreneurs and artists alike. Dozens of crowdsourcing sites exist to help launch your projects, and they all follow the same basic model: Donors can browse the site and pledge any amount, often in exchange for some sort of perk or gift.
The success of this method depends on the power of social media; with the opportunity to reach thousands of friends with one Facebook post, it can be easier to get $10 from 200 people than $2,000 from one. Though Kickstarter and Indiegogo lead the field in crowdfunding independent projects, other sites to consider include Seed&Spark, which allows filmmakers to create a wedding registry-style wish list for equipment and other needs, Slated, which connects a global network of investors, filmmakers, and industry pros, and Patreon, which sets up per-episode giving for continuous projects like podcasts and Web series.
Pros: Crowdfunding is popular for a reason! It's an easy way to harness your network and get the word out about new projects.
Cons: Most crowdfunding campaigns depend on family, friends, and other connections for the majority of donations and require a lot of pushing on social media. And remember that the hosting website will take some money off the top to pay for their services—generally 2-9 percent of all donations.
2. Fundraising parties
Car washes and raffles aren't just for the school play. If you're looking to raise a small amount of money (or simply cover gaps in your budget), traditional fundraisers can give you the boost you need. Launch parties, opening night galas, and auctions can all be great ways to bring in money after a production or film premieres. As a bonus, these functions give artists another opportunity to express their creativity and mingle with fans and donors. Looking to fund your project before it begins? Host a house party, raffle, or similar event to share your artistic plans while building your budget.
Pros: Fundraising events are fun to produce and give collaborators, investors, and donors the chance to meet and socialize.
Cons: Private fundraisers cost some money to pull off and are unlikely to bring in all of the funds you need.
3. Grants
Hundreds of artistic grants are awarded to individuals and organizations each year, from small boosts for niche projects to five- or six-figure sums. Organizations like the Brooklyn Arts Council award smaller amounts to 30-40 percent of their Brooklyn-based applicants, while the National Endowment for the Arts offers competitive government-funded grants to prominent writers and theater organizations across the country. Other opportunities to investigate? Theatre Communications Group's Fox Foundation Fellowship, and Film Independent's many grants and awards.
Pros: Aside from the monetary value, earning a grant represents a vote of confidence in the overarching value—monetary, intellectual, emotional, or otherwise—of your work.
Cons: The grant application process can be grueling and competitive, requiring tons of research, preparation, attention to detail, and clarity of purpose.
4. Tax-deductible donations
We've all seen the long lists in the back of our theater programs; every nonprofit theater in the country depends on the generosity of individual and corporate donors. But if you are launching an independent project without 501(c)(3) nonprofit status, you can still find and secure charitable donations by engaging a fiscal sponsor—separate nonprofits that lend their tax-exempt status (and other legal resources) to smaller organizations. Companies like San Francisco's Tides and New York's Fractured Atlas lend fiscal sponsorship to young companies and innovative artistic projects, helping to fund films along with hundreds of independent theater, music, and dance companies.
Pros: The right donor can make a huge difference to a theater company or filmmaker, often without expecting anything—other than your awesome project—in return.
Cons: Since donors are motivated by tax deductions, it is nearly impossible to hook large amounts of money without nonprofit status. If you're not incorporated as a 501(c)(3), fiscal sponsors will take about five percent of your donations in exchange for their tax-exempt status and services.
5. Investors
Unlike donors, investors provide funding with the expectation of returns: their initial investment plus a cut of the project's earnings. This means that if the project makes money (and hopefully it will), they will be paid back before the filmmakers or theater-makers. This is a good option for larger budget projects or when working with high profile talent, and sites like Crowdfundr make it easier than ever to match talent with investors.
Pros: Finding investors is a great way to earn large amounts of money upfront and gain powerful champions for your project.
Cons: Investors are in the business of making money and expect you to be as well, so you'll likely need a body of work—or star name—that will get their attention. And if the project does turn a profit, investors will be seeing that money first.
6. Sponsors and Advertisers
It's no secret that advertisements keep the entertainment industry up and running, but you don't have to be a major network to boost your budget with ad sales. Advertisements can work to your favor on a small (like selling ad space in your theater company programs) or very large scale (like branding your theater like New York's American Airlines Theatre). In the age of viral videos, popular online content can also benefit from corporate sponsorships. Experienced producers are catching on to the "branded Web series," with companies like Subway, IKEA, and Toyota funding entertainingly branded online series as extended commercials for their products. Not ready to reach out to a major brand? Think outside the box and trade branded content for local goods and equipment, like free craft services or use of a location in exchange for integrated product placement.
Pros: Advertisers can provide large upfront funds that do not have to be returned if the project makes money.
Cons: It can be hard to secure this kind of funding without proof of your work or star names behind your project. Advertisers want a return just like investors—more attention on their product or service—so you are accountable for driving traffic towards their brand.
Looking for remote work? Backstage has got you covered! Click here for auditions you can do from home!