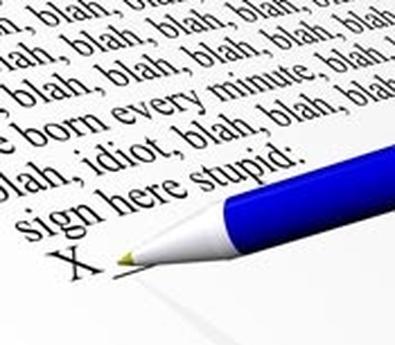 Who doesn't love residuals? Each day holds the promise of my plain old mailbox becoming the magic mailbox. When this former child actor sees those fantastic envelopes emblazoned with the Screen Actors Guild emblem, it's like Christmas and Deal or No Deal rolled up in one. What could be inside? Perhaps a nice payment for DVD sales of a feature or a check for a rerun of an episode of The Facts of Life for a whopping 67 cents.
Let's briefly discuss how those checks that make our mailbox magic are calculated. In the context of SAG television programs and films, the term residuals refers to the money actors receive when a production is reused. After the initial use, which is either the first run in the theatre or on television, the production company or distributor must pay the performers in order to show the motion picture or television program again. For work on a film, residuals are due if the movie appears on video or DVD (including Internet rental and/or download), basic cable, and free or pay television. For work on a television show, residuals are due if a show starts reruns on the same network or is released to video or DVD (including Internet rental and/or download), pay television, broadcast television, or basic cable. All performers hired under or upgraded to a principal-performer agreement whose performance remains in the final product receive residuals. Background actors do not receive them unless they are upgraded to principal performers.
Calculation of residuals is remarkably complex. Residuals are based on formulas that take into account such things as the contract in place during the production, the time spent on the production, the production type, and the market where the product appears, whether it be television, video or DVD, pay television, or basic cable.
Most residuals for SAG motion pictures are calculated as a percentage of the distributor's gross receipts, which basically is the money a film earns after allowing for certain deductions. This share is distributed among eligible performers using a formula that gives weight to the performers who were paid more during the production. Currently, residuals on television broadcasts of movies are 3.6 percent; video and DVD is 4.5 percent on the first million dollars of gross receipts and 5.4 percent thereafter. If the movie's producer is also the distributor, then residuals are calculated based on a percentage of the wholesale price paid for the movie. For DVD and home video, the percentage is applied to 20 percent of gross receipts instead of 100 percent of gross receipts. This formula was agreed to in negotiations between the producers and various unions in the early 1980s, which was before everyone understood how lucrative this source of revenue would be. It is a sore spot for all the major unions to this day.
Residuals are not required for foreign theatrical exhibition, which is usually a secondary use of a film released initially in the United States. However, a performer can be entitled to theatrical foreign royalties, which are collected as a result of laws in other countries that provide for payments to artists in audiovisual works to compensate for private copying (home recording), cable re-transmissions, video rentals, and other uses of such works. A portion of the royalties is allocated to those performers who appear in audiovisual productions that are subject to compensation under local laws.
For television shows, SAG residuals are calculated using a formula that utilizes the number of runs and percentage of minimum rate of compensation for the actor. For example, for reruns in syndication, the actor is paid 40 percent of the applicable minimum rate for the first rerun program, dropping to 30 percent for the second rerun, 25 percent for the third rerun, and so on until it reaches 5 percent for the 12th rerun and beyond. There are also residuals for foreign telecasts of the program; these are arrived at using an entirely different formula based upon the distributor's foreign gross.
If you have not been driven insane yet, there is the touchy issue of residuals for new media. The American Federation of Television and Radio Artists has its deal, but where SAG will end up no one yet knows.
Now what to do with that Facts of Life check for 67 cents? Well, lucky for me, there is a great bar in California's Studio City called Re$iduals that will give any actor a free drink in exchange for a residual check, as long as that check is $1 or less. I raise my dry vodka martini and toast Mrs. Garrett, Natalie, Tootie, and the gang. God bless 'em all.
Send your questions and comments to [email protected]stage.com.