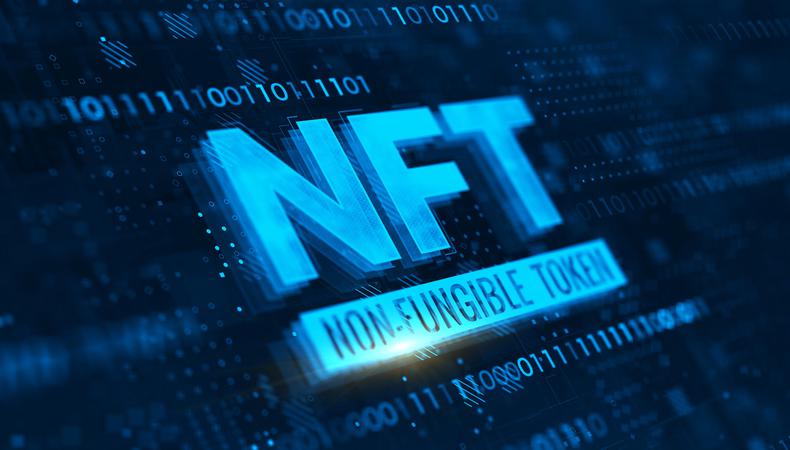 If you've been on the internet lately, you may have heard about something called an NFT, and how a visual artist named Beeple sold one for a record-setting $69 million. Or how an NFT trading card of Lebron James sold for $200,000. But what does it all mean, and why do actors need to care?
Well, let's start with the basics. NFT stands for non-fungible token. They are one-of-a-kind digital objects that people can create, buy, and sell—think of them as digital collectibles. Just like how a first edition of a comic book is one-of-a-kind, an individual NFT is unique. Sure, an NFT can be copied (just as a painting can be copied), but only one person can own the original.
And, contrary to popular assumption, NFTs are not just for art collectors. Anything that can be digitized can become an NFT, such as videos, songs, or pieces of writing (Jack Dorsey turned one of his tweets into an NFT and it sold for $2.9 million).
"The amount of money that's exchanging hands right now is unbelievable…. It's an amazing way to kind of create a monetization opportunity for artists, regardless of their type of art."
Hollywood has started to get in on the action: William Shatner is now selling NFT trading cards of himself. The TV show "American Gods" created NFT trading cards of the characters. The Oscar-nominated documentary "Claude Lanzmann: Spectres of the Shoah" sold 10 first-edition copies of the film as NFTs back in March, becoming the first major motion picture to be sold in this format. Those who purchased the NFTs also got a digital version of the film, an unreleased extended director's cut, and a signed digital film poster. Because NFTs aren't just digital tokens, owning them can also entitle the purchaser to real-life benefits.
More recently, Beacon Pictures announced it's developing the first scripted series financed by cryptocurrency called "Hold on for Dear Life." NFTs originally could only be bought and sold using the Ethereum cryptocurrency, though now you can buy NFTs with your credit card. Beacon said it plans to release an entire episode of the show as an NFT.
Alec Shankman, co-managing partner of A3 Artists Agency, is excited about NFTs and their potential for all creators. That's why A3 recently created an NFT Task Force to help facilitate NFT creation for artists, advising them on how they can create (also known as mint) NFTs and what their NFTs should be. In fact, A3 has already helped some clients figure out their first NFTs (Shankman wouldn't disclose who).
"The amount of money that's exchanging hands right now is unbelievable," Shankman reported. "In certain cases, these projects go live and millions of dollars are exchanged in a matter of five minutes or less. It's an amazing way to kind of create a monetization opportunity for artists, regardless of their type of art."
He sees the technology affecting Hollywood in unexpected ways, beyond film studios releasing their films as NFTs.
"This becomes an interesting way to finance projects," Shankman says. "You can sell bits and pieces of ownership [via an NFT] if you are having trouble getting a traditional studio or financier to finance your project." And artists looking to fund their projects can sell exclusive opportunities and access through NFTs. For example, say, "a major A-list film star is about to release a film as an NFT. The owners of that NFT—maybe they get an opportunity to have lunch with the star, maybe they get the opportunity to do some sort of other really unique never-been-experienced-before situation, because they're one of the very few folks that owns one of these entities."
Shankman also says that it's not just people with large followings who can mint NFTs and get a sizable return. The way he describes it, there's now a large community of NFT collectors who make it their business to scope out new and cool NFTs.
Says Shankman: "They're really active, and they're really hungry for great art. And they're putting together these amazingly large collections of this stuff. And so, in certain cases, it may be that, regardless of what your background is in entertainment, if you're creating art that the already existing community of collectors would appreciate, you're going to be successful anyway."
And unlike a tangible object, every time an NFT is resold, the artist gets a cut of the sale, usually 10%. "There are artists who sell in the current ecosystem, they'll sell their work for $1 apiece," explains Shankman. "And as a frenzy is created around the art, and people are buying and selling and trading and transferring and all that, the value goes up—they just keep making more and more money. And so maybe they'll make $100 on Day 1, but they may make $1 million on Day 2. It gets really interesting."
The one piece of advice Shankman has for any artist looking to mint NFTs is to approach it with authenticity rather than a money-making mentality. The NFT collection community has been using the app Clubhouse, where artists can come talk about their art and build interest.
"It's really important to not come across as doing a 'cash grab,' meaning you don't necessarily really appreciate or believe in or embrace it," advises Shankman. "Not every actor is making $20 million dollars a film or $150,000 an episode, they're doing it for passion. I think as long as you take the same passion that you have for your current craft and apply it toward this, then any outcome is OK. You'll probably just have a really nice experience, regardless of how much money you make."
For anyone looking to mint an NFT, Shankman does have some platforms he recommends, such as Nifty Gateway, MakersPlace, Crypto.com, and ArtGrails—all of which accept traditional currency in addition to crypto.
And Shankman doesn't think NFTs are a fad, though he does think that in the long-term, these digital objects won't go for such eyebrow-raising prices. "The long-term value of this really cool new way to create collectibles for fans...those folks, those collectors have existed forever, and they will exist in perpetuity," he says, adding that he has also purchased and sold NFTs. "There are always fans and collectors, and they're always chasing things that are scarce."
Looking for remote work? Backstage has got you covered! Click here for auditions you can do from home!