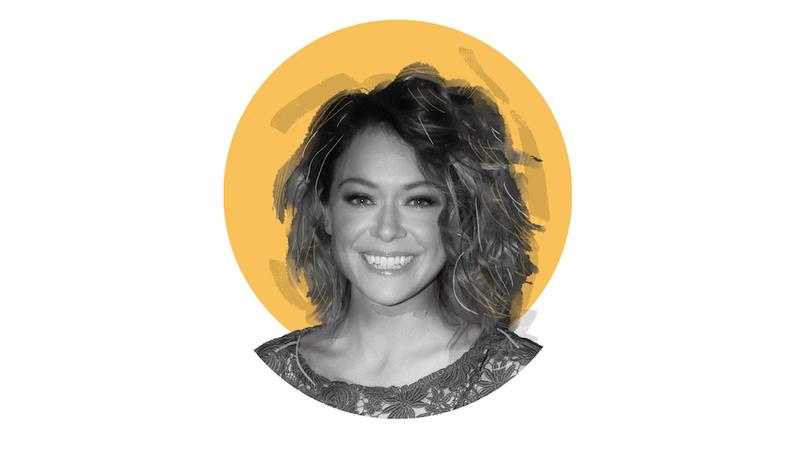 Tatiana Maslany is not afraid of an acting challenge—just look to her work as nearly a dozen characters on the BBC America clone drama "Orphan Black," for which she won a 2016 Emmy Award. But this year has taken the talent to new dramatic heights, both in Broadway's technically exacting "Network," starring opposite Bryan Cranston, and onscreen in the Nicole Kidman-led crime drama "Destroyer."
What have you learned so far from your Broadway debut, "Network"?
It's a process unlike anything I've ever done in a lot of ways. [Director] Ivo van Hove really loves collaborating, but he also has this way of working where he throws you into a situation and you sort of jump before you think too much, and I really appreciate that type of working because it's so unintellectual. It's really physical and gut-first, and then you sort of make sense of it after. It's a huge mechanism. I can't even imagine what it looks like from the audience, but it certainly feels thrilling inside of it.
What did you learn working alongside Nicole Kidman in "Destroyer"?
I loved watching Nicole work, and I loved getting to work off of her. She's so brave and she doesn't do the conventional thing that maybe she could've done. She never does the predictable thing, and I've always admired that about her. I was really happy to get to be part of this piece, which feels like even more of a departure for her.
READ: Tatiana Maslany on Building Characters by Saying Yes
What was your first headshot like?
I had bangs that started at the back of my head and went all the way down to my nose, basically, because my mom had cut them for me. There were these headshots at this young people's theater that made all of us look like God, and we were all forced to wear these jean shirts. I think they kept the jean shirt in the studio. We just kind of put it on so every kid in these photos has a jean shirt that buttons up all the way to their throat. Little did I know that would become in style in the future and I'd be like, "Oh, that's actually a great look."
What is your worst audition story?
I auditioned for a cartoon that was a musical, and I was so excited because it was a combination of two of my absolute favorite things. I went in thinking it would be a booth separated from the auditors and I'd have a little place to be "cartoonian." I got there and it was a fluorescent, office-like room, and they were sitting on a couch about two feet in front of me. I was sitting on a little armchair. I got so embarrassed and I couldn't do anything except just blandly read the lines and stare down at the page. They were like, "Do you have a song prepared?" and I stood up and started singing and staring right into their eyes—I don't know why I stood up. And then I just took my gaze and stared up at the ceiling for the rest of the song. I blew it so bad. I ran out and cried my way home.
How do you typically prepare for auditions?
I really do love auditioning, because I love the fact that it's a space we can claim for ourselves and play a character that maybe we're not even going to get cast as, but it's our 20 minutes to just try something. There's nobody paying you for it; there's nobody watching. I've really tried to make it joyful and fun. It's different for me every time, but I try to relax my body before I go in and breathe as much as possible. I don't like staring at my script. I like to be able to play, so I always go in off-book and ready to try something and go to a sort of place or thing that inspired me about that character.
Did you ever have a survival job?
I was pretty [much] thrown into this business from a very young age. When I started community theater, I started in film at the same time. I'm lucky to have kind of fallen ass-backward into it. There was a point there where I worked as a smoothie slinger and I worked there for two months and then I got a job on "The Messengers," which was this horror movie that was shooting in the town I grew up in. I got to be a ghost in that with Kristen Stewart, so after two months I quit my job and I went back to the [business].
What advice would you offer to your younger self?
You don't have to say yes to everything. "Yes" is a really powerful word in the creative process, and I've always used "yes" in improv or character creation or in scene work. But I do think, especially for young people in this industry, it's so easy to say yes to everything and to feel so grateful to have a job that you don't actually follow your gut when something isn't right. I feel like I've lived a lot and [that] our industry is changing in a lot of ways—and I think it's OK to say no. It's OK to not just be so grateful that you say yes to everything and disregard the voice in you that is saying, "Maybe this isn't the kind of work I want to be participating in."