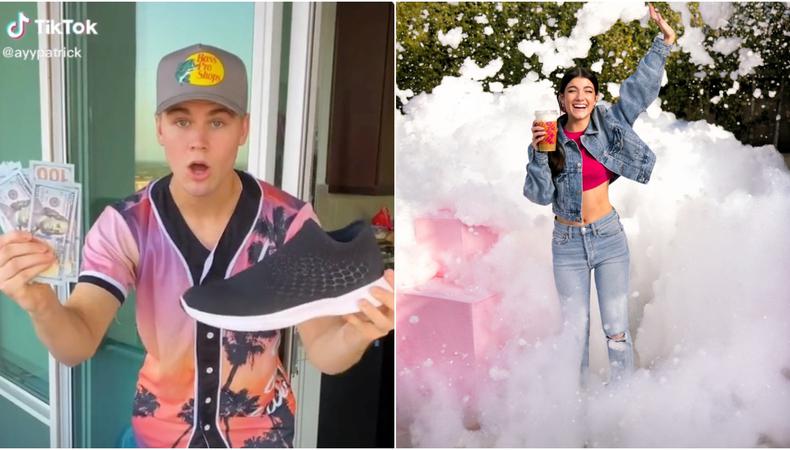 When SAG-AFTRA announced its new influencer agreement in February, it caused quite a stir. Some welcomed the inclusion of a new class of workers into the union. Others were shocked that the union would put social media influencers in the same category as actors and broadcasters. SAG-AFTRA has since released more information about the new agreement, including stipulations about what kind of brands can participate. In short: influencers can work with both union and nonunion brands, and brands do not have to exclusively hire union influencers.
The SAG-AFTRA influencer agreement allows anyone who is paid by an advertiser to advertise products via their individual social media platforms, called "influencer-produced branded content," to be protected by the union. Influencer marketing is on track to be a $15-billion industry by 2022. Any influencer who is a corporation or an LLC can sign the agreement, though the agreement is not available to any influencer duos or groups.
The agreement only covers deals that influencers sign with brands, not with ad agencies, and the pay rates are freely negotiated between the influencer and the advertiser. The new agreement also allows influencers who become SAG-AFTRA members to be covered under the union's pension and health plan; they contribute a portion of their earnings per project to pension and health.
For marketers and brands, the key to understanding the new SAG-AFTRA influencer agreement lies in the unique stipulation that an influencer's business or corporate entity is the signatory on an agreement. The brands and advertisers that hire them do not sign the contract, according to a SAG-AFTRA spokesperson. This makes the process unlike other SAG-AFTRA contracts, which are usually signed between the union and the employer (usually a company). This means that in many instances, brands who hire influencers do not need to worry if their influencers are union or nonunion. It also allows SAG-AFTRA members, such as actors, to work with brands that are not SAG-AFTRA signatories. And once influencers sign the influencer agreement, they can still work with any brands they choose, even if they're nonunion.
But if a brand is already a signatory to the SAG-AFTRA's commercial contract, and they want to hire an influencer, the brand would have to sign a new contract called the influencer waiver. This would allow the brand to negotiate with the influencer on pay rates. The brand would also contribute to the pension and health plan but at an adjusted rate.
Granted, that doesn't mean that the influencer they hire has to be a union member—it just means that the influencer would be protected by a union contract, which stipulates working conditions, such as not being forced to do any stunts or anything "dangerous/hazardous." Both the influencer agreement and the waiver also prohibits "nudity or sexually explicit content, except to the extent such content is necessary to demonstrate the advertiser's product or service."
SAG-AFTRA says that it's open to suggestions for how to change or supplement the influencer agreement. The union does want to eventually be able to cover influencers who work as a group, such as families. And though influencers negotiate pay rates with brands on their own, SAG-AFTRA says the union can provide guidance on negotiations and contracts.
According to entertainment lawyer Anita K. Sharma, whose firm represents more than 45 influencers, there is room for improvement in the influencer agreement. For one, she said, there's a pay gap where white influencers are paid more than BIPOC ones. Having influencers negotiate their own pay rates "is going to keep the status quo, it's not going to improve anything at all," she said. "There's no minimum, there's no scale."
Sharma advised any influencers who are negotiating their own contract to have a payment minimum. "Obviously, don't tell the other side that, but know that you have to be willing to walk away if you're not going to get paid your minimum," she said. She also suggested influencers hire a lawyer who can walk them through their contracts or, at the very least, read the contract they're signing.
Said Sharma, "These influencers starting out are signing things that they're not reading because they're just like, 'Oh, I'm being paid $5,000. Awesome.' And unfortunately, it's happening all the time where they're not getting paid on time. Or the brands are like, 'Oh, can you just give us a couple more Instagram posts,' when that hadn't been agreed to. Just try to protect yourself as best you can by reading the contract, and making sure that the payment terms are clear. Because the contract is ultimately all you have to turn to if something goes wrong."
The SAG-AFTRA influencer agreement is the latest development in an ongoing conversation around influencers unionizing. The UK-based Creator Union and American Influencer Council, which is an invite-only not-for-profit trade organization, has been advocating for unions in order to crack down on exploitative practices and discrimination.
According to SAG-AFTRA, since the launch of the agreement, there has been interest from influencers in joining the union. More information about the influencer agreement can be found on the SAG-AFTRA website.