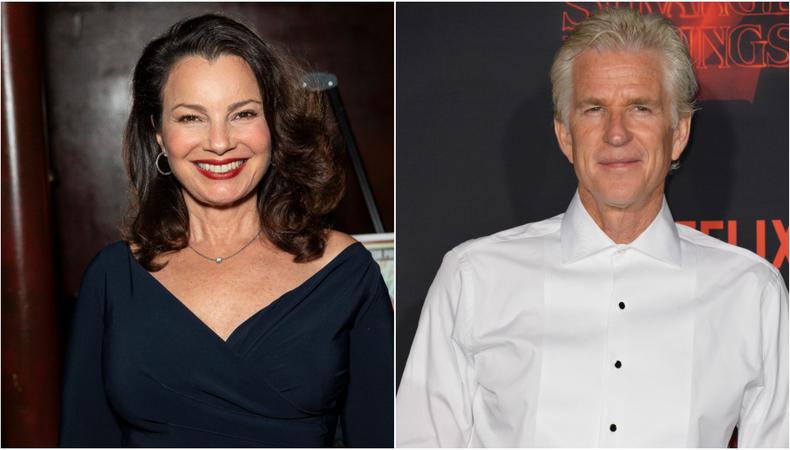 Ballots for the upcoming SAG-AFTRA elections have been mailed out to members. They will vote on who will lead the union nationally, as well as its numerous local chapters. At the top of the ticket is the election for SAG-AFTRA president, and the race this year is between ​​Fran Drescher and Matthew Modine. Read more about what a SAG-AFTRA president does and what these candidates are promising to do for actors in their union.
What does a SAG-AFTRA president do?
The president serves for two years, after which they can run for reelection. As leader of the union, the SAG-AFTRA president oversees union policy and contract negotiations with entertainment studios and producers. They also advocate for the interest of SAG-AFTRA members within the entertainment industry and in national policy. The president also serves as the public spokesperson on behalf of members and becomes the president of the National Board of the union.
Who votes for the SAG-AFTRA president?
Unlike local elections, in which members of SAG-AFTRA vote for the leaders of their local chapter, the races for national president and secretary-treasurer are voted on by the entire SAG-AFTRA membership.
Who is running for SAG-AFTRA president?
There are two candidates running this year: Fran Drescher and Matthew Modine.
Drescher is running with the Unite for Strength party, the current governing party of SAG-AFTRA. Modine is running with Membership First, the opposition party. Although Membership First does not run SAG-AFTRA on a national level, it currently is in charge of the Los Angeles local chapter of the union.
Each presidential candidate also has a running mate who, if elected, would serve as SAG-AFTRA's national secretary-treasurer, overseeing the union's finances.
"On 'The Nanny,' I wore many hats, which prepared me to deal with studios and networks. I know the entry portal for maximum results," said Drescher in a statement. "I founded the Cancer Schmancer Movement. I passed a bill in D.C. by unanimous consent. I am a public diplomacy envoy for health at the U.S. State Department. I can reach across the aisle and get the job done! I will reunite our dysfunctional and divided union. We must reduce infrastructure expenses [and] go virtual to reappropriate for member needs. Streaming must be redefined. Diversity is a priority. I will challenge the status quo."
Drescher is running alongside Anthony Rapp who said in a statement, "Our union's funding is a result of our collective hard work, and as secretary-treasurer, I will act with integrity to safeguard our union's finances."
Meanwhile, Modine has taken a more critical stance toward the union's present leadership, saying in a statement, "I have been here, working [out] our union issues on the national and local boards for four years, and have served on over 16 philanthropic and civic boards. My goal: protect the cornerstones of our union, a thriving health plan, preserving our residuals, enforcing contracts, [and] safeguarding our pensions—and, as an original member of the L.A. Local Sexual Harassment Committee, ensuring safe working conditions for all. Accomplishing this requires greater inclusion, global leadership, transparency, truthfulness, and sustainable prosperity. Joely Fisher and I are prepared to fulfill these goals and respectfully ask for your vote."
Fisher, Modine's running mate, said in a statement, "The current state of our union is unacceptable: the health care disaster, the perverse approach to residuals, the failure to prevent absurd exclusivity provisions, paltry sexual harassment protections, and so much more. It's clear that we need a new direction. I am determined to tackle these big problems and to work with Matthew Modine to lead our organization with truth and transparency."
Unite for Strength vs. Membership First: The Issues
Both candidates support strong work contracts and improving pay rates and residual rates for members, as well as improving health care coverage, advocating for protections against sexual harassment, and for greater diversity and inclusion. But their strategies for accomplishing those measures differ.
Unite for Strength
Drescher, along with Unite for Strength, has been advocating to build on top of what SAG-AFTRA has accomplished under outgoing president Gabrielle Carteris. Per a statement from Carteris, the union's accomplishments during her tenure as president have included "reimagining our commercials contract, securing better streaming residuals, fighting sexual harassment and keeping our members safe, [and] developing intimacy coordinator accreditation to provide protection during intimate work."
In an interview with Deadline, Drescher said that one of her main goals is to unify the union, which she characterizes as being deeply divided. "I see reunification as one great and powerful SAG-AFTRA body as the only way to frontline for empowering and protecting members," she said, "whether it's compensation, residuals, safety protections, enforcement, protections from harassment, legislative advocacy, increasing work opportunities, working with our sister organizations in the industry, expanding work opportunities, [or] making sure our contracts stay ahead of technological changes. As the vanguard of the industry, united we stand."
On its website, Unite for Strength says its visions for the future include "strengthening contract enforcement, improving pay rates (especially in lower-budget new media), and increasing residual streams," as well as "pursuing every option (both governmental and through partnerships) for our members who don't qualify to find quality low-cost insurance."
Membership First
Membership First has positioned itself as the opposition party against Unite for Strength, criticizing the ruling party for "financial mismanagement, lack of foresight, [and] absence of transparency."
The party's biggest criticism is last year's controversial decision to raise the amount that SAG-AFTRA members had to earn to qualify for health insurance, which pushed thousands of people off the SAG-AFTRA Health Plan.
In a campaign video, Modine said that members are "fed up because they're tired of poor contract negotiations. Our members know that the current leadership has compromised their financial security. Our members are disgusted by the treatment of our most senior members and why our union would push members who have contributed to the health plan over the course of their careers off of their own health plan. Members are furious, because they know their residuals are under threat. Background performers haven't had a cost-of-living increase since 1982. Every member of our union has lost a great deal the past decade under the so-called leadership of this administration."
Other proposed measures from Membership First include increasing contributions from studios and producers to the SAG-AFTRA Health Plan, as well as negotiating higher-paying contracts and higher residuals. Membership First also wants to establish a free online casting service and is advocating for more transparency from SAG-AFTRA in regards to negotiations and union decision-making.
Who has endorsed Drescher, and who is backing Modine?
Both Drescher and Modine have enjoyed endorsements from major celebrities.
Tom Hanks, Holland Taylor, Alec Baldwin, Rosario Dawson, and Debra Messing are among the actors who have endorsed Drescher. Hanks said in a statement that "the future of SAG-AFTRA is streaming. Members deserve stronger contracts, more residuals, better protections, and ending unfair exclusivity. I'm supporting Unite for Strength, Fran, Anthony, and their entire team. Your vote matters!"
Whoopi Goldberg, Liam Neeson, Diane Keaton, Mark Hamill, and George Takei are among the actors who have endorsed Modine.
"We are a really strong union, but it doesn't feel like we're strong," said Goldberg in an endorsement video. "There are so many changes that I don't understand. And I don't know why there isn't somewhere to call that says: "Here's why this is happening; here's what this is." So I'm hoping, just for my own edification, that we get somebody in who kind of knows what's going on. You know, I am very happy to say that I'm gonna vote for Matt Modine. I've known him forever, and I just feel like he can get me the information. He can sort of get us back to a union that is representing all of us—the very oldest of us and the very newest of us."
The SAG-AFTRA election ballots will be tabulated on Sept. 2.
If you are a SAG-AFTRA member and have not received your ballot by mail, call 323-549-6458 or email replacementballot@sagaftra.org.