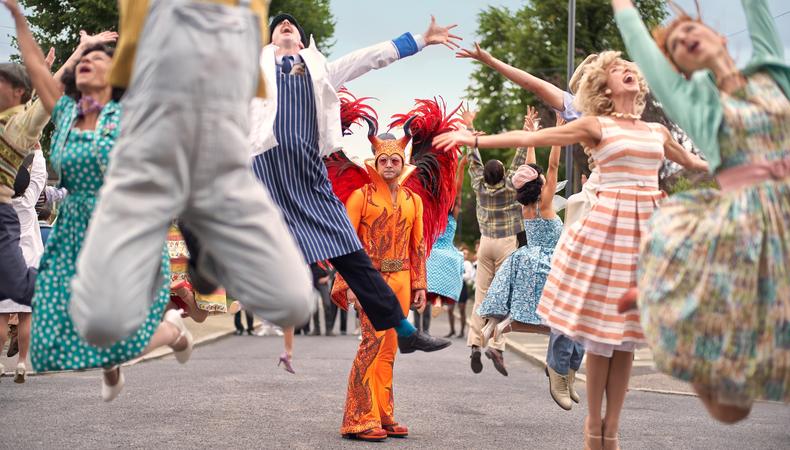 When Elton John first saw the costume designs for "Rocketman," the musical biopic charting his life and career, the only note he gave was: "I wish I'd worn that." For director Dexter Fletcher, the legendary recording artist's reaction sums up the freedom he was given while working on the film.
From the beginning, the biopic was designed not as a factual recreation of pivotal moments from John's life as much as a fanciful musical reimagining of the composer's own hazy recollections. Thus, while costume designer Julian Day had a good eye for the iconic looks he'd be putting on star Taron Egerton, he never felt constricted to merely copying the subject's oft-fabulous ensembles of years past. If anything, John encouraged such creative departures.
"What [John] did is put faith in us, faith in me and the producers and the studio. He, of course, oversaw everything before it happened and had a very strong idea of what was being changed and what I wanted to do," Fletcher, who came on to direct the tail end of last year's "Bohemian Rhapsody" after Bryan Singer's ouster, tells Backstage. "I don't think there are any sort of surprises in there for him. He did watch dailies and rushes. But he's smart. He knows he's the one person who can't be objective about it. So, my job was to get him to trust that he'd gotten the best people for the job."
READ: The Imitation Game: Playing a Real Person in 5 Steps
Part of that job consisted of embracing the project's refusal to be bogged down by accuracy. Taking its cues from the drug-addled, alcohol-infused memories that make up the bulk of the film's storytelling, "Rocketman" liberally embellishes whenever possible. That was baked into Fletcher and screenwriter Lee Hall's choice of genre; they approached the film less as a biopic than a musical, which means the songs are, beyond interludes, plot devices. "I wanted to be able to use the music as a storytelling device, not just as stuff along the way. That means I use the songs not necessarily in chronological order, in the order they were written, but where they help the narrative. It's much, much more imaginative in that way."
That shift in perspective also meant that rather than merely needing a leading man who could impersonate the Grammy, Tony, Oscar, and Golden Globe winner, "Rocketman" required an actor who could really sing—an actor who could, as Fletcher explains, take on the role as if he were slipping into the world of "La La Land," while still offering a nuanced portrayal of a man wrestling with his demons. "The movie really examines the darker side of a man's journey, and that needs huge emotional depths."
But "Rocketman" could never just be the Elton John Show. The musical film also traces two of the singer's most enduring relationships: John's decades-long creative partner Bernie Taupin, played by Jamie Bell, and John Reid, his onetime lover and manager played by Richard Madden (Netflix's "Bodyguard"). Fletcher admits that filling those roles was a challenge. "I said from the outset: I need three Hamlets all on set at once. Because without an Elton who can really push it and go far with this larger-than-life character, you don't have much, and we needed strong actors around him that were going to allow him to really fly [while] matching him with equal strength."
Fletcher uses much the same language to describe his own relationship with the real-life John throughout the filming process, one rooted in mutual admiration and understanding. "I don't think he would've let us move forward if he didn't understand me as a person. It's really been a collaboration in that respect, but at the same time, he and his partner David, who was also involved, have been like, 'You do your thing.' That's what's been one of the most exciting and rewarding aspects of the whole process: to see how they are great nurturers of talent and artistic endeavor. Without that, it would've been nigh impossible."
Want to hear more from the best creators in film, TV, and theater? Get it right here!