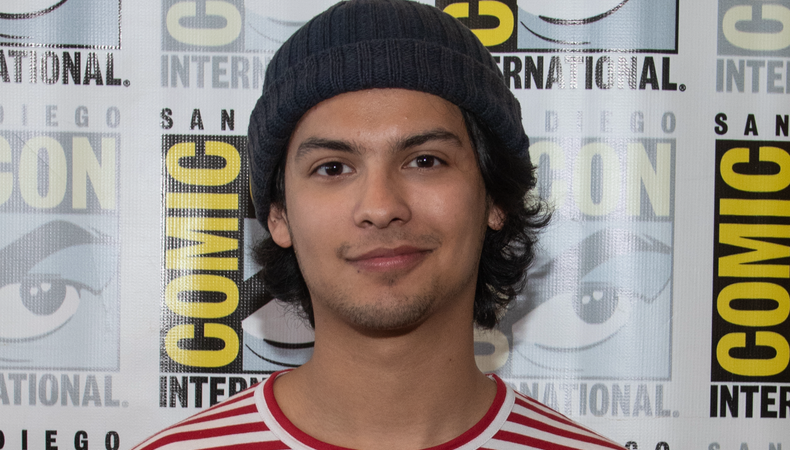 In the Envelope: The Actor's Podcast features in-depth conversations with today's most noteworthy actors and creators. Join host and senior editor Vinnie Mancuso for this guide to living the creative life from those who are doing it every day.
Xolo Maridueña is right on the edge of superstardom. The fifth season of "Cobra Kai," the massively popular "Karate Kid" sequel series, is crane kicking its way on to Netflix on Sept. 9. (Although the show's future is still unconfirmed, quotes from the cast and creators suggest it will run at least six seasons.) After that, the young actor is setting his sights on the upcoming "Blue Beetle," the DC Comics superhero movie that marks a massive leap forward in his career.
All in all, you'd forgive him for being pretty excited—but Maridueña is taking it one step at a time. "There's always got to be room to grow," he says. "You have to be constantly expanding. I hope this is just the beginning."
On this episode of In the Envelope: The Actor's Podcast, Maridueña takes us inside the trajectory of his rising stardom, from the bittersweetness of filming "Cobra Kai" Season 5 to the invaluable lessons he's learned from leading his own superhero film.
After five seasons of playing Miguel Diaz on "Cobra Kai," Maridueña is feeling nostalgic.
"I definitely consider myself someone who's very sentimental and reflective. With 'Cobra Kai,' it's been five years of finding this character and finding this chemistry with everyone. It feels very comfortable to have that security, to know we're doing five of these seasons. But as we get closer to ending the chapter on 'Cobra Kai' and closer to this inevitable ending of the show…unless Dick Wolf takes over and we do 40 of these, the end is inevitable. I can't help but be a little nostalgic. It feels like the end is near, but I know that there's hopefully more. Sometimes that makes me feel bittersweet. It's been such a great time. Five years in, I keep hearing, 'It's so rare to love your cast and crew five years in.' I'm just like, 'Really?' As I embark on this new movie that hopefully will expand longer than five years, I'm like, 'Oh, gosh, I hope it's all the same.' "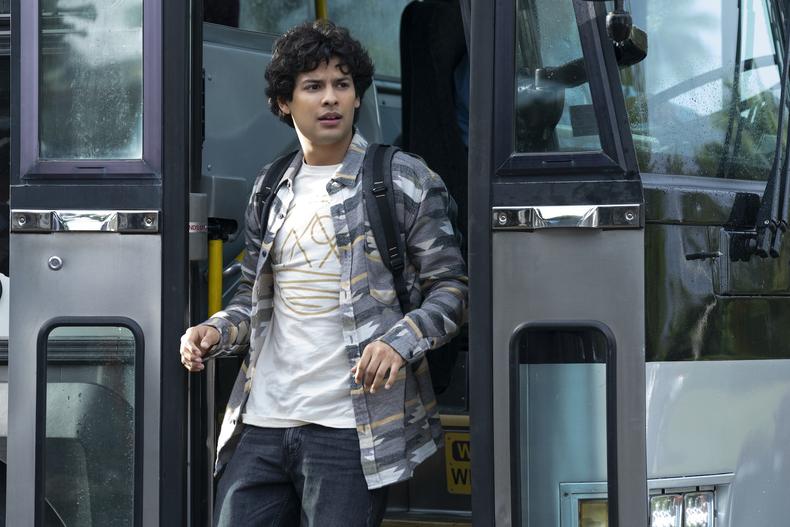 "Cobra Kai" Credit: Curtis Bonds/Netflix
"Blue Beetle" has been a massive step forward not only for his career, but also his approach to acting.
"Since the start of 'Cobra Kai,' I haven't worked on anything else. It's just been 'Cobra Kai.' Working on something after [that] has made me realize: Oh, shoot, there's work that needs to be done. Every character can't feel the same. There's a lot to learn when it comes to playing a new character, and especially one that is not like yourself. That was a pretty uphill process—you have to have a lot of humility. The first couple of times working with the ['Blue Beetle'] producers and the director, they were very blunt about how things were going; and I think that really helped [me] kick into a new gear and really start to find the the tools that'll help me expand on [things like] script analysis, on building characters, being able to just run scenes better—just being able to be the moment. Really, the biggest moment in my recent life has been working on 'Blue Beetle.' And we're, I should just say, working on a different character, aside from me.
Heading into 'Blue Beetle,' I hadn't auditioned. I had the once-in-a-lifetime opportunity to be booked just off of the director believing in me and being like, 'This is the guy; it has to be this guy.' Even now, it's sometimes really hard to wrap my head around that idea that, you know, they have seemingly so much riding on this movie—in this, hopefully, series of movies. How could they not audition me? The only thing that I could think to sum it up to was like: Oh, they liked 'Cobra Kai,' so they probably want something similar to Miguel…. And that couldn't have been further from the truth. I remember doing the chemistry reads and having our producers and the director be like, 'No.' And I can't say anything else about the character. But I think in that conversation, they were like, 'You will learn that it's not the same thing.' And honestly, that's super helpful."
Working with his "Blue Beetle" co-stars Susan Sarandon and George Lopez was its own form of training.
"You get to just be a fly on the wall or get to witness their craft. It's not necessarily like mimicking or trying to replicate it, because you can't. There's no other George Lopez; there's no other Susan Sarandon. All of these people are special and are the way that they are for their own reasons. But it helped [me] figure out like: OK, let me let me try to experiment. It's a little unfortunate—no, I shouldn't say unfortunate—but it's a little daunting to be experimenting on a movie that cost $100 million. That's a very expensive experiment, but to be quite honest, we did it for sure. And, you know I hope that this interview doesn't come back to bite me in the butt. But I honestly have 100% confidence that we did it."
For both "Cobra Kai" and "Blue Beetle," Maridueña relished the chance to portray the authentic Latino experience.
"There have been roles for Latinos [in the past]; I think that the difference is that we're now being represented in a positive light. For the longest time, dude—I was 12 going out for like, little gangbangers. Like, what? There are no other roles I could go out for? With 'Cobra Kai,' and with 'Blue Beetle,' I think it's so refreshing…to portray a character in a positive light. This is a new reality for Latinos. We've seen it with Salma Hayek in 'Eternals'; we saw it with Xochitl Gomez in the newest 'Doctor Strange.' There's been a rise in the world of Latinos in these superhero movies, and it really just makes me so excited to have another way to open the door, hopefully, to more. We want to make the best movie, and we want to make a great film, but the more important thing is opening doors for the next person. As long as we do that, then we've succeeded. No Rotten Tomatoes, no anybody, can take that away from you, when you're actively pushing the needle. I can't say it's on purpose. I can't say I chose these roles specifically, because these are just the roles that I've happened to book, and there's been tons of other roles that I haven't. I'm not at the point in my career just yet where I can be super picky and choosy. But I've had a blessed opportunity playing roles that I really think have not only portrayed the Latino experience in a positive light, but also in one that's pretty authentic."
Listen and subscribe to In the Envelope to hear our full conversation with Maridueña: