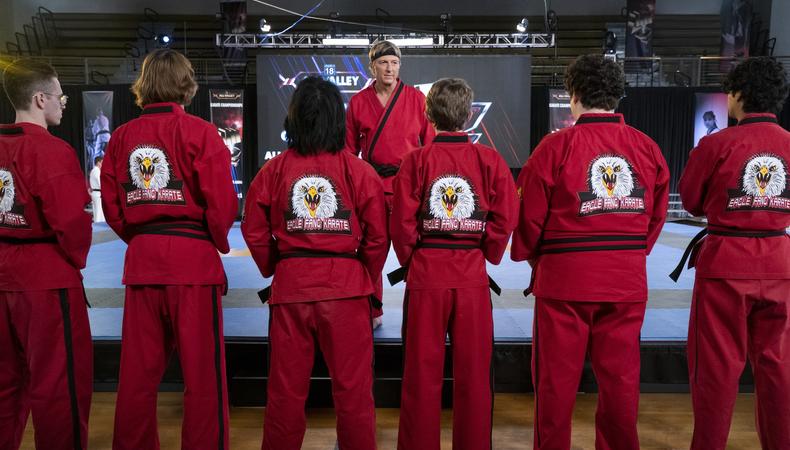 Anxiously awaiting the rematch of rival dojos Cobra Kai and Miyagi-Do Karate? We don't blame you. Filming for Season 5 of Netflix's "Cobra Kai" has already wrapped, which means new episodes should debut sometime soon. While we wait for the new season to drop, we decided to round up some similar projects for actors to check out. From martial arts-inspired jobs to comedy-drama projects, bust out your black belt and apply to these casting calls.
"
Busted
"
"Busted" is a satirical comedy about the superhero recruitment process. The project is casting non-binary, gender-nonconforming Asian talent, aged 18–30, combat skills are a plus for this role; and non-binary, gender non-conforming talent, aged 18–30, to play a comedic character. Shooting takes place on June 19 and one other weekend day in June in Culver City and North Hollywood. Pay is $100 per day.
Want this gig? Apply here.
"
Ruby's Revenge
"
This student film follows a young girl, Ruby, as she fantasizes about what it would be like to be able to defend herself using mixed martial arts to defend herself against bullies. "Ruby's Revenge" is casting two females, aged 15–20, to play stuck-up, popular girls; and two males, aged 14–20, to play troublemakers. Shooting takes place May 13–15 in Atlanta.
Want this gig? Apply here.
Bank Heist Documentary
A documentary about a bank robbery, produced by Emmy-award winners, wants talent for nonspeaking roles in recreation scenes. Roles include the police officer and lead investigator Neil, for white male talent with a tall and broad physique, and a bald or shaved head, aged 35–45, the bank heist hostage Diane, for white female talent, petite with dark brown hair, aged 20–25, plus more. Shooting is in April in Austin as well as the UK and Europe. Talent will be paid $250 per day. Roles working in the UK/Europe will be paid a half-day rate for travel days, plus travel costs and accommodations.
Want this gig? Apply here.
"
Spectacular Spider-Man
"
This student/fan series is the eight-episode story of Peter Parker learning how to become Spider-Man. The project is looking for Latino or Caucasian male talent, aged 30–50, to play Norman Osbourn, a man with a personality disorder; female talent, aged 18–23, to play Peter Parker's best friend; and eight other supporting roles, aged 18–50. Shooting is TBD in L.A./Bakersfield. This is an unpaid gig.
Want this gig? Apply here
Looking for remote work? Backstage has got you covered! Click here for auditions you can do from home!