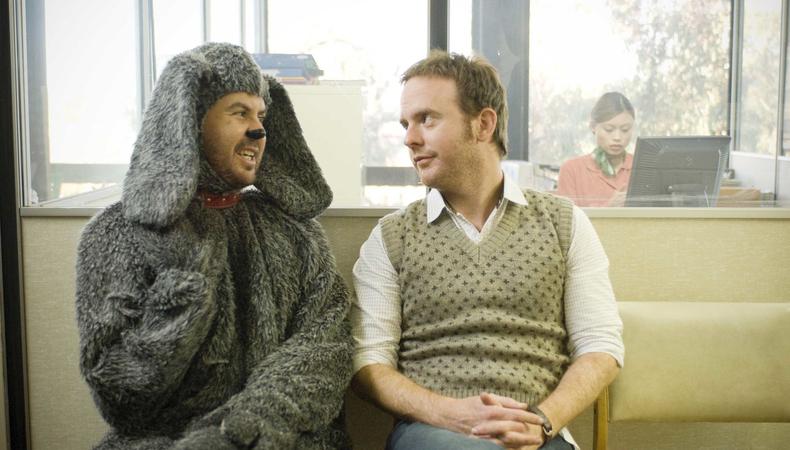 Our industry wouldn't be the extraordinary hive of creativity it is without the brilliance, imagination, and unwavering discipline of screenwriters. Their ability to shine a light on the nuance of the human condition or transport us to worlds we'd otherwise never fathom can't be appreciated enough.
We spoke to award-winning Australian screenwriter Adam Zwar — also a formidable actor in his own right — who's the mastermind behind several hit comedy series such as "Squinters," "Mr Black," and "Wilfred." Here, he shares his experience from working extensively on both sides of the camera and names the three films he would preserve for generations to come.
Having started your career as a journalist, what led you to writing for the screen?
I wrote plays at first, and although I loved that experience, I struggled with how fleeting it was; all you had at the end were reviews and memories. And I understand, on some level, that's theatre's appeal. But I wanted to have something lasting to show for it. So that's why I was driven to make short films, and then a feature film, and then TV. Ironically, I never look back at my old stuff. So maybe I should have stuck with theatre!
"Sharing the same rhythm to the writer is so important in comedy"
Your series have featured some serious acting talent. How involved are you in casting?
I'm always involved — always fighting the good fight. For me, casting is not just about whether someone is a good actor or right for the role; it's whether they get my dialogue, and can they represent it correctly? Do they have the same rhythm in their heads as I do? Because sharing the same rhythm to the writer is so important in comedy. And when you find actors who are simpatico with you, you don't want to let go of them.
When you're wearing your writer's hat, is it challenging to hand your words over to others?
It really is. I haven't dated for a long time, but I guess it's like dating. Someone can come highly recommended, but if you don't share a compatibility, it can be a miserable experience for both actor and writer. If everyone's on the same page, the experience is euphoric.
From the perspective of someone working on both sides of the camera, do you have any insights that might be beneficial to actors?
Rely on your training and be in the moment. Block everything else out. Your job is your character and that's it. If you find yourself giving the writer, director, and producer pages of notes about the script and production, then it's a sign you're frustrated with simply being an actor and you probably need to write, direct, or produce as well. Know that even if you have a persuasive personality and are being paid a lot of money, there is a limit to how much power you'll have from the actor's chair, and it's time to take on other responsibilities.
Speaking of responsibility, if every film were to be erased from history and you were entrusted with choosing three to remain, which ones would you choose and why?
"Casablanca," for the romance, tone, lean storytelling, and sense of history. "This Is Spinal Tap" — it's a lesson in keeping it real while being funny. "Withnail & I," for its portrayal of an actor's life via extraordinary writing.
For any actors who might also want to start writing, what advice would you offer?
When I read scripts from actors, it's clear that they're naturally good at character and dialogue. But the big challenge for them seems to be story structure. So try to read a script a day — and look, simply, at how the writer tells the story. Take notice of dramatic beats and turning points, and how to write to act breaks and endings. This website, TV Writing, is a great resource for emerging TV writers. It's full of scripts, bibles, and pitch documents. Good luck.
For more advice on how to start writing your own material, check out our interview with head of Channel 4 comedy Fiona McDermott and BBC commissioning editor and writer Gregor Sharp. For those based in the UK, we've also got a whole guide to becoming a screenwriter, which shares some wonderful insights specific to the UK market.