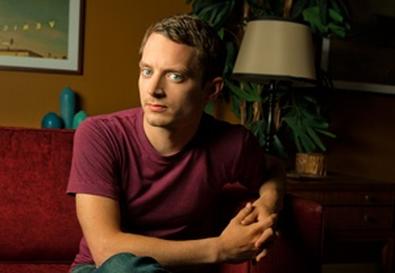 Elijah Wood
has headlined one of the biggest and most beloved movie franchises of all time, worked with some of the greatest actors and filmmakers in the business, and traveled the world for his job. But what really excites him today is the catering truck's lunch option. "Chicken tenders -- awesome!" Wood exclaims.
Wood is on his lunch break during filming of the second season of the hit FX show "
Wilfred
," which premieres June 28. And though he's the star, he waits in line just like everyone else. There's no hint of diva here -- although he does ask for extra sauce -- and it's just one example of how Wood has avoided becoming jaded even after 20 years in the business. He still expresses bright (blue)-eyed enthusiasm about everything from horror films to Scrabble.
On the set of FX's Wilfred (Blaker Gardner)

And he's thrilled to be back on the set of "Wilfred" after almost a year off. "I thought it would be easy to come back, but I had total first-day jitters," Wood says. "It was a funny, first-day-of-school feeling. But within two days, we were right back to where we were." For the uninitiated, "Wilfred" is based on the Australian series of the same name; it follows the adventures of depressed lawyer Ryan (Wood), who sees his neighbor's pet dog Wilfred (show co-creator
Jason Gann
) as a pot-smoking, foulmouthed Australian in a dog suit, while everyone else sees a regular canine. In the increasingly bizarre first season, Ryan and Wilfred forged a relationship that alternated between sweet and abusive -- and viewers tuned in in droves.
Wood says he was a little surprised by the instant success of "Wilfred," which was FX's highest-ranking comedy debut. "I thought it would take time to find an audience," he says. "I think maybe we thought it was stranger than it is."
Wood has defied the odds before. He's one of the few to successfully transition from being a child actor, which he attributes to his family, specifically his mother. "I kind of had humility drilled into me," he says. "I am the person that I am because of my experiences. Never elevating my ego or making me think I was better than anyone else, when I certainly saw examples of that behavior. The difference between someone who loses it and doesn't can largely be attributed to someone who has a solid foundation."
Cementing his status as an adult actor with his starring turn as Frodo in the enormously popular "Rings" franchise could have led to typecasting, but Wood dodged that as well. "I don't know that you can really plan or strategize how to handle such a thing," Wood says. "But after 'Rings' was finished, the last thing I wanted to do was work on anything massive again right away." So he chose smaller movies, such as "Green Street Hooligans" and "Everything Is Illuminated." "For me, choosing work is simply dependent on a gut feeling," he says. "I always felt that as long as I continued to work on movies that were different and diverse, that people's perception of me would continue to shift."
Wood hadn't done series television prior to "Wilfred," save a few voiceovers and a guest spot as a teen on "Homicide: Life on the Street," but he had been actively looking for a television show -- albeit a dramatic one. "Then my manager sent me the script for 'Wilfred' and said it was the funniest thing she'd ever read," Wood says. "And I completely agreed." Wood found the setup reminiscent of works like "Harvey" and even "Calvin and Hobbes" and met with both Gann and showrunner David Zuckerman, whose credits include another series with a talking dog, "Family Guy." From the beginning, Zuckerman says Wood was the leading candidate for the job. "He was one of the only actors who put Jason back on his heels a bit, which is what we needed," he says. "What impressed me was Elijah really wanted the part. There was no sense of 'I'm a movie star; give me the part.' He worked really hard for it, and he was just fantastic."
Considering Wood's impressive filmography, it's somewhat surprising to discover he auditioned for the role. "I tested for the network and producers," he says. "It certainly didn't bother me; I believed in it. If it's between your pride and losing an opportunity, it's silly." He admits he doesn't care for auditioning in general. "I find it nerve-racking, and I've never really gotten used to it. But I do love the gratification of having worked for something. It just feels better."
Gann says he was a fan of Wood's work, but not from the films you might expect. He'd only seen the first "Lord of the Rings" ("Those movies aren't really my sort of thing"), but he had admired Wood in both "The Good Son" and "Sin City." "So I knew him as a 10-year-old boy and a silent killer," Gann says with a laugh. When they met, their chemistry was instant. "When we first read together, it was like meeting family. I feel safe when I'm working with Elijah," he says. "Other people I read off, we were vibrating at two different frequencies. Elijah's filmic sensibilities just tap straight into the truth of the situation. I think the reason that me in a crazy dog suit works is because of how truthfully we play it, and when he invests himself 100 percent emotionally, this world gets created."
Elijah Woods and Jason Gann on the set of FX's Wilfred (Blaker Gardner)

Take the scene being filmed today, which features guest star Dwight Yoakam reprising his role as Bruce, a man from Wilfred's past who sees him as Ryan does. Bruce shows up in Ryan's basement with a briefcase full of secrets about Ryan's new girlfriend. To learn the secrets, Ryan must face off with Bruce in a bizarre competition refereed by Wilfred. In the scene being shot, Yoakam has his arms loaded with books and balances on his right leg, while Wood tickles his left foot with a feather duster. When Yoakam falls over, Wood dumps a bucket of spaghetti on him and celebrates. There are only a couple quick rehearsals, during which the main direction is for Yoakam to "scatter shit more" when he falls. The mood is loose and informal; between setups, Wood and Gann sing "The Greatest Love of All" with revised lyrics. And after just one take -- perhaps to give Yoakam a chance to clean up -- a break is called.
Despite years of film work, Wood says he had no problem adjusting to a television shooting schedule. "The pace is more intense than film, which I really like," he says. "There's not a lot of downtime, so there's this constant sense of momentum, which is wonderful. But it's a different experience to be in people's living rooms every week. And to meet people who watch it as it's happening -- that's very different." One aspect he has struggled with is the non-sequential shooting schedule. "This year we shot something like Episode 1, 2, 5, 3, then 9, with bits of other scripts in between," he says. Of course, Wood famously shot "The Lord of the Rings" trilogy all at once, but at least then he had all the scripts. "There's been a couple moments where they had to print us out pages to show us what came before a scene we were shooting. It's just been a little bit more difficult trying to know what this season will feel like."
(Blaker Gardner)
A few things about Season 2 are certain. Zuckerman will reveal that the season premiere will feature Robin Williams and answer some of the mysteries from the first season's cliffhanger, which raised the question of Ryan's sanity. "It will answer about 90 percent of the questions," Zuckerman says. "But we are also building to another finale this year that I think completely turns the show on its side and opens up a whole new can of what-the-fucks."