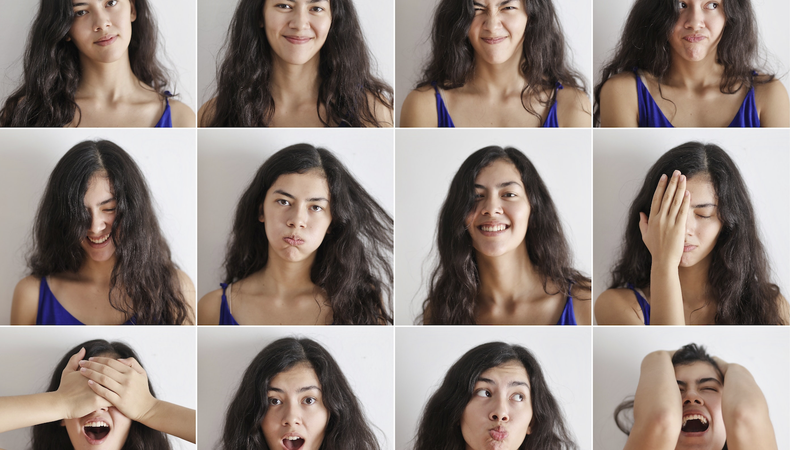 It's a tough time for actors right now, but The Slate – Backstage's live series of classes, seminars, and digital exercises – will help turn time on your hands to your advantage.
There's plenty for actors to learn from the conversation between UK casting directors (CDs) Andrea Clark, Kate Evans, James Pearson and Brendan McNamara. They spoke to Backstage's Hannah Williams about the work of the Casting Directors Association (CDA) during lockdown, what the future holds for castings, and why now is the time to nail your self-tape technique. Here are just some of the takeaways and tips:
Plan, but know that plans might change
James: "There will definitely be a new industry when we come back from this. Take it day by day right now – you can only prepare so much because nobody truly knows if there's going to be a vaccine in three months, a year, or even two. So for actors, don't stress about that – give your focus to what we call 'cleaning the house.' We've done it in our office, we've finally sorted our paperwork, got everything in order. We're preparing ourselves for the new industry but if you plan for something, know you cannot put that in stone because it's changing daily. The entire industry – the entire community – is incredibly supportive of each other right now, which is wonderful. Just remember that, and when it all comes back, keep that attitude because I think it's going to be really important."
Why pre-castings might be good for everyone
Kate: "Castings are going to change. CDs have been on Zoom, WeAudition, and various platforms, and I think the way forward will be pre-castings, so the first round of casting is done on those platforms. That's opening up castings to people outside of London, stopping unnecessary travel for castings. But we're also finding that if we can give clients a pre-casting, they request two or three actors to come in. So, rather than going up for an audition where you're looking at a one-in-12 chance of getting the job, you're going to be coming in for a one-in-two, or one-in-three chance."
Brendon: "Even before COVID, this was on the cards. Producers were looking at environmental sustainability and making the first rounds self-taped rather than dragging people into London. But I think this is going to fast-track that change. You'll be doing a lot more self-tapes now."
Why pre-castings mean nailing self-tapes
Kate: "Now is the time to get good at self-taping. There's all sorts of places where you find information on doing a good self-tape. But learn how to do one quickly. I don't want a tape coming in six days after I've requested it, especially as most castings are quick turnarounds. Get tapes to the casting directors ASAP. Get your tripod, your ring light from Amazon for about 15 quid, because this will be the way forward, definitely. I can't see us going back to doing the things like we used to."
James: "Agreed. For musical theatre, when we get down to the final four or five, we always have to see people together. But I don't think I'll do what we used to do, so you need to get on top of your self-tape game because that is how the industry will come back. I don't want to go to Pineapple Studios or any of these big dance places to hold auditions with hundreds of people around. So, you need to practice self-taping dance and song. For songs, work out which room or environment in your house fits the sounds. Practice in every room – you can be doing that now."
The smaller the project, the quicker it will bounce back
Brendon: "There will definitely be filming in this country in June. But clients are nervous about bigger shoots, obviously because of the numbers of people but also the bigger the financial commitment and insurance and so on. So, I think it will be one- or two-day commercials as opposed to six-week film shoots that get the head start.
At the moment, every advert is filmed at home but going forward, I don't think every script is going to be a COVID script. We have fantasy scripts and comedy scripts. Historical dramas are going to get made again. We just need to figure out how we can work with this and muddle through. But remember, even before all this, productions had tough times or plenty of hassle and grief. You know – visas have to get sorted, children can only work a certain amount of hours, and so on. And things got made. We will get the guidelines, we'll find a way and we'll shoot stuff, don't you worry. I think just, for actors, be hopeful about the industry. Everybody wants to make it work with the guidelines we have. So, we will be back and hopefully we'll be all stronger for this time away.'
What the CDA is doing for actors
Andrea: "Our members are getting involved as much as they can on social media, and doing one-to-ones, casting clinics, jumping on WeAudition. And we've set up a YouTube channel with weekly Q&As where we take your questions from Twitter and put it to a panel. Hopefully, we're answering all those niggly questions!"
What CDs are getting out of one-to-ones
Kate: "I've met a lot of actors who I wouldn't have met. We're still casting, we're still thinking: 'Oh, that person would be great for such and such,' and: 'Why haven't I met that person before?' I've expanded the range of actors I know; I've got new lists and pictures on the wall so that when we go back to work, we can remind ourselves. I've found it exciting and interesting. And it's what all our jobs are about – discovering new talent."
Andrea: "It's interesting, because on Zoom I'm meeting people in their own environment and getting to know them as a person much more than I would in a slightly antiseptic casting environment. I can see their homes and go: 'Oh yes, you're the one that had the Star Trek mug.' There's an instant connection with somebody – it makes people more memorable."
Using this time to make the perfect CV
James: I was a performer for 19 years and I used to believe that CVs and showreels should show everything, but actually, CDs just want to get straight to the business – the most important and relevant stuff. Think about how your CV is laid out and remember – we work in volume, especially in theatre. We recently cast RENT and had 4,500 submissions. We read thousands of CVs and listened to thousands of reels. So, think about the speed and efficiency of your CV because it needs to work in the blink of an eye. I was chatting to someone who said: 'I didn't want to show off by putting highly skilled next to things on my CV.' Well, if you don't then you're not saying you're highly skilled – why would we know otherwise? So we'll move on to the person who does have highly skilled on their CV. You've got to sell yourself. It's the thing we look at to decide if we want you in the room."
Making the right impression
James: "We do a surgery on actors' social media and websites, which is really interesting. We show actors what we can find of them online and they've written back saying: 'Oh my,' and: 'I had no idea – how did you find that?' We're casting directors – if it's out there, we will find it. We should work for MI6.
We also do one on cover letters because that's your first impression. A 'hiya!' ain't going to get you in any room. If you're writing to an agent or a casting director, we want to know that you've done the work – that you've looked into who we are and that you know what we're casting. And agents, especially – oh my gosh. CDs are more-thick skinned. But don't write to an agent, saying: 'Hello agent,' and then put 25 agents in the address box. Find out who they are, find out how they like to be written to, or even if they want to be written to!
CDs are constantly being asked to care about you. You want us to put the time in to finding out who you are, what you can do. But if you don't care about us, you can't ask us to care about you. If you're not putting the time in to write a proper email or even find out the agent's name, if you're not labelling your self-tape correctly when we've asked for that, why should we put the time in for you?"
Be remembered for the right reason
Brendon: "It's coming into the room and doing the business that makes me want to get you in for the next project. It's all about doing strong, professional auditions, even if you don't get the part. If I see you and think you're awesome, it doesn't matter that the director doesn't cast you. I'm going to think of you for the next project or something after that. And it's fine to let us know you're in a production, or check in with us once or twice a year. But don't be emailing us every day."
Andrea: "Or liking every single tweet. Or putting yourself forward for parts on social media."
James: "I would say never, ever communicate with us through social media unless we have specifically said to. Especially private social media. We did have one actor who was submitted by their agent and we'd said: 'Sorry, they're not right for this particular project.' Then the actor wrote to us on Twitter, Instagram, and Facebook. Then emailed and called us. You just start looking crazy. Don't do it."
Kate: "It's easy to get remembered for the wrong things."
Brendon: "And don't get obsessed with one casting. There will be others!"
Being a supporting artist
Brendon: "I've got no problem with actors doing background work. You're going to learn more as an extra than you are pulling pints. And if somebody comes in for a walk-on role, does the job and then a week later I'm casting a feature I think they suit, I'm going to bring them in. I'm an advocate for you. But if you don't want to advertise your extra work, that's fine. It's entirely up to you. But don't shy away from it. It's good money, you can learn a lot and you could get upgraded. There's all that footage of Brad Pitt as an extra in the background of all these movies. The same with Jack Nicholson. You can pick up opportunities that way. If you're doing a good job, your work will stand you in good stead and people will want to work with you."
Surviving the quiet times
Andrea: "What is probably more important is what you don't do. Don't feel you have to be jumping on one-to-ones, webinars, or doing all these things. If you want to sit watching Homes Under the Hammer for 24 hours while eating cake, that is fine. That is totally justifiable. We put these things out here for you to take advantage of but honestly, don't feel like you have to do it all."
Kate: "And your mental health is important. Reach out to people and take time for yourself.'"
James: "Don't let social media give you anxiety that you're not doing this or that. Remember that no one is doing better than you right now. This isn't like when a shoot closes early because they lose the funding or a tour collapses and the rest of the industry goes on. Every single person in our industry, apart from one production of Phantom of the Opera in Singapore, is in the same boat. Nothing is happening. Maybe the odd film here or there, but nothing really. So, absorb that – know you're not being left behind."
Resources: