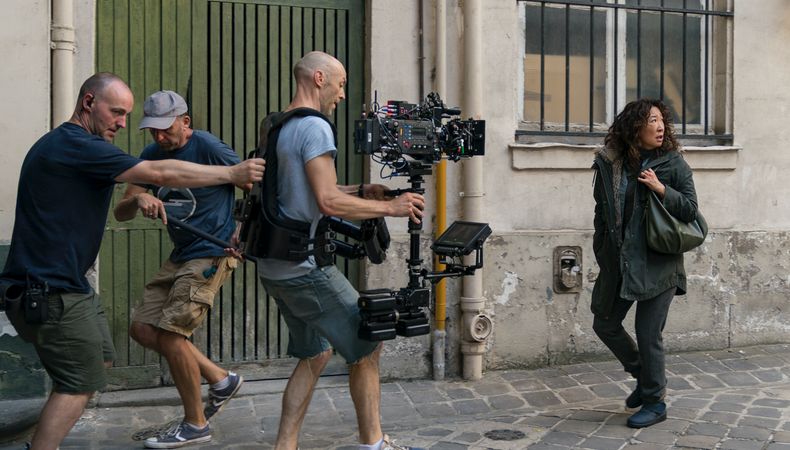 Slowly but surely, the UK's film, television, and commercials industries are inching their way towards getting the cameras rolling again.
A significant move forward came this week with the publication of British Film Commission (BFC) guidance for the safe shooting of film and high-end TV.
They follow guidelines produced last month by the Advertising Producers Association (APA), which represents commercials producers. A coalition of UK broadcasters including the BBC, ITV, Sky, and Channel 4 also published its own TV industry guidance last month.
What do the guidelines say?
Each set of guidelines is different, but common themes run through each of them. All recommend reducing the number of people on set; heightening hygiene precautions; avoiding public transport if possible; maintaining 2m social distance; staggered start times; separating crew into separate cohorts; and encouraging talent to dress themselves where possible.
All three sets of safety guidelines are also likely to make production take longer, and cost more to produce.
As befits the big-budget film and high-end TV industry, the BFC guidance is the most exhaustive and wide-ranging, running to 44 pages. It also recommends that all cast and crew should undertake online Covid-19 training before starting on a job, and says each production should be assigned its own health and safety supervisor.
Its guidance for onscreen talent is also the most detailed. It stresses that UK government guidelines on social distancing – currently 2m apart – should be followed. The BFC also says cast should be in place for as little time as possible, and should try to avoid performing in a face-to-face position. It says productions should consider a testing regime for cast if essential close proximity working is needed.
Shooting 'by end of summer'?
BFC chief executive Adrian Wootton says the guidance provides a "roadmap" for getting production going again, and thinks that some film and high-end TV projects may now begin filming in July or August as a result. He tells us: "We will definitely see shooting…before the end of the summer."
Indeed, shortly after the BFC guidelines were published, news emerged that Mission: Impossible 7 was targeting a September restart, having put production on hold in February. The fact that such a major UK-based feature is gearing up again – with its large cast and crew and complex location and studio shoots – is highly significant.
For now, social distancing rules mean that actors can't work in close proximity, so scripts will have to be adjusted or VFX or camera solutions will have to be applied to make them appear so. "Some things are going to have to be worked around by technology until the guidance changes or there's a vaccine," says Wootton. He notes that the guidance will be updated weekly, and amended whenever government guidelines change.
For major productions, the inability to insure against Covid-19 is also stalling decisions to restart. To help break the deadlock, the industry is currently lobbying government to provide a fund which could be relied upon in cases where a coronavirus outbreak halts production on feature films or TV series.
Meanwhile, the APA's guidance runs to 14 pages, and is practical, manageable and thoughtful. It overlaps in many areas with the BFC, notably in recommending daily temperature testing and keeping talent on set for as short a time as possible.
Compositing actors in post-production?
To comply with social distancing rules, the APA suggests adapting the way that commercials productions work with talent such as using members of the same household; shooting individuals as separate plates and compositing them in post; using screens or barriers to separate talent from each other; and filming talent back-to-back or side-by-side. These sound challenging, but for short commercials may just be possible to implement.
Steve Davies, chief executive of the APA, says the aim of the guidelines is to make sure people are safe on set, and also to demonstrate to agencies and advertisers that shoots can be managed responsibly so they can start making commercials.
Davies says most APA commercials producers are currently working on small shoots only. "They've moved on from Zoom shoots but we've been on the verge for a little while now of the first normal-sized production with the first normal sized crew, and we've just been on that threshold for a little bit too long now.
"I think we need someone to step over it... then I think there will be a flood of other people back into the market."
Meanwhile, the broadcaster guidelines – which span every genre of TV – are 16 pages long, and are complementary to the BFC protocols. They pick out six key areas that producers must take into account before producing, including specifically considering people at higher risk of harm, and the mental health and wellbeing of cast and crew.
Broadcasters including the BBC and Channel 5 are slowly restarting entertainment shoots. The BBC's Peter Crouch: Save Our Summer has reportedly filmed ahead of launching this Saturday, while Channel 5's The Gadget Show is also said to be returning to the studio.
Deadline reported this week that Have I Got News For You and The Graham Norton Show are also aiming to head back to studios in the autumn, while ITV is also hoping to stage the Britain's Got Talent finals for ITV in the autumn. The BBC's Strictly Come Dancing is another show targeting autumn for production.
For now it's baby steps, but the guidelines seem to have set the industry back on the path to production.
More for UK actors and creators? Check out Backstage.