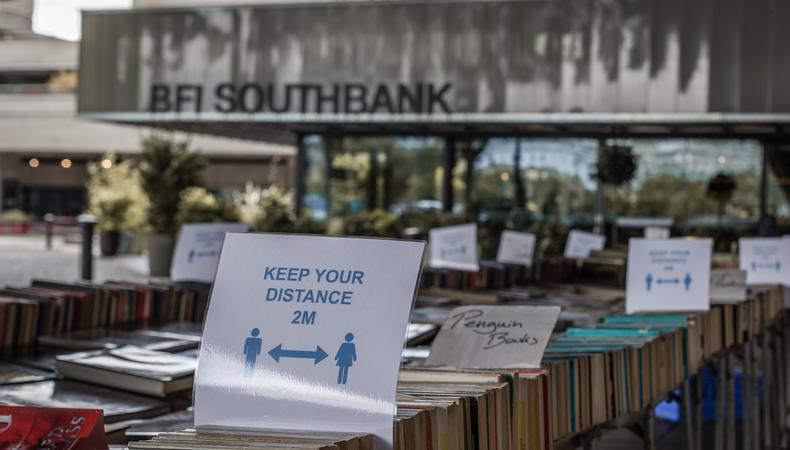 Welcome to Behind the Fest, Backstage's questionnaire series with film festival figures looking for that next big festival hit. Featuring behind-the-scenes insight from the organizers and programmers at Sundance, TIFF, Cannes, and more fests from around the globe, these tips might just hold the key to your indie film success story!
The British Film Institute's London Film Festival strives to showcase the best of the best cinema each year, and in spite of changes due to COVID-19, 2020 is no different. "We're looking for that kind of magic in a film," says Senior LFF Programmer Michael Blythe. "You're looking for that film that speaks to you."
This year's mostly virtual festival takes place Oct. 7–18, 2020 and features films like Francis Lee's "Ammonite," Chloé Zhao's "Nomadland," and from Spike Lee, the HBO concert film "David Byrne's American Utopia."
Backstage asked Blythe about how the audience-focused 64th BFI London Film Festival is speaking to an even wider audience this year. "The festival has so much packed into its days. You can sleep when they're done," he says.
What is the festival's mission and outlook?
BFI London Film Festival has always been and continues to be an audience festival. Probably the biggest thing we do is to bring the best in contemporary world cinema to audiences across London, and in many ways across the rest of the UK. Particularly this year, we're very much an audience-facing festival. I think that really distinguishes us. We have an industry programme as well, and we spent a lot of work over the last few years really building that industry programme and making sure that the film that is greeting the festival gets seen by UK distributors.
What sorts of films do you consider and what goes into evaluating submissions?
This year, we have expanded the programme to incorporate series and episodic work and also VR and XR work. We'll go and visit other festivals that happen throughout the year. We have an open submissions system where filmmakers can send their films and submit to us.
As soon as one festival is finished, we start straight away on the next one. And we just try to see as much work as possible. For us, we really want to be able to see everything so we can choose from the best of the best, but it's kind of a full-time job in terms of researching and viewing throughout the year. We're looking for that kind of magic in a film. You're looking for that film that speaks to you, that you connect with. For us, when we are programming, [it's sometimes] quite an isolated process in that you will often be watching films on your own, but it's really important for us as programmers that we're in constant dialogue and conversation with each other.
It's really important for us that the programmes and the films are able to speak to each other to create something that feels robust, it feels complete, it feels representative. Not just representative of the year in film, but also representative of audiences who come to the festival and see the work.
Any year-round educational resources filmmakers should know about?
One of the things that we do as part of BFI Flare is we have a mentorship scheme in which we pair new and emerging queer filmmaking voices with an established mentor who's been working or more established in the industry. And they work together over a series of a few months and learn from each other. And as part of that programme, the BFI Flare mentees engage with the London Film Festival too. They have access to screenings, filmmaker events, and discussions. It's really a year-round programme that works across both vessels, but as much, it's very focused on BFI Flare. There's also the BFI Film Academy, which is a support network and programme for emerging filmmakers in the UK.
BFI Network is again supporting emerging filmmaking talent. There is the LFF Critics Mentorship Programme, which helps to inspire and develop emerging critics within film. And I think that's an interesting one because that's something that came very much out of a response to wanting more representation in film critics and wanting to see more diversity in the critical voices that we see given space in print or online or TV media. So this year in particular, we've opened up the Critic Mentorship Programme exclusively to add Black critics, which is really important for us to be doing and to be continuing to support that kind of diversity.
Any advice on how audience members and industry professionals can get the most out of LFF?
This year is going to be very different for us...we're largely going to be online, and we have a vastly reduced prep this year in light of COVID. So it's a slightly different prospect, but we're still making sure that we have different events for buyers and sellers.
We have industry events, we have filmmakers screen talk events which are accessible to public audiences, and something that we're endeavoring to do this year with our events programme and talks programme is to make them free access.
What's something you wish more people knew about the fest?
The festival has so much packed into its days. You can sleep when they're done! When you are attending something, just see and access as much as you can. I always say to people, don't worry if the first few films that you click on are sold out.... It's just such a great time to take a risk to see something that's maybe outside of the usual taste, something that you wouldn't normally think of going to see.
NOW CASTING: Voice Actor Needed for UK Commercial + More Roles Casting Right Now
Do you have any advice for early career filmmakers?
It's really important to form a network, to speak to other filmmakers, to build a kind of support system and a system of people who you can learn from, and who you can talk to, and who you can establish a support system and relationship where you can share information, you can kind of build something together. That's really important.
It's fine to do that part in isolation, but you have to have a support system around you of other creatives that are trying to do similar things. It's so important when in those early stages. In terms of submitting to festivals, just the understanding that a festival, particularly a festival like the London Film Festival, receives thousands and thousands of film submissions a year. We see more stuff every year that we like than we have space to programme. There's a million different reasons that go into why a film does or does not make it into a festival. So just persevere, keep trying, don't get put off. Just keep making films, keep submitting films.
What's a favorite film you've seen recently?
A film that really spoke to me this year that's really special is a film called "Rose: A Love Story." It is a first feature from a director named Jennifer Sheridan, and it's written by Matt Stokoe, who's also the star of the film. It is a low-key, intimate horror film, drawing on themes around vampires, but doing something really interesting with it. It's a film about isolation and about self-quarantine, which is interesting in the times that we are living in at the moment. It's a really beautifully made film and an interesting take on genre filmmaking.