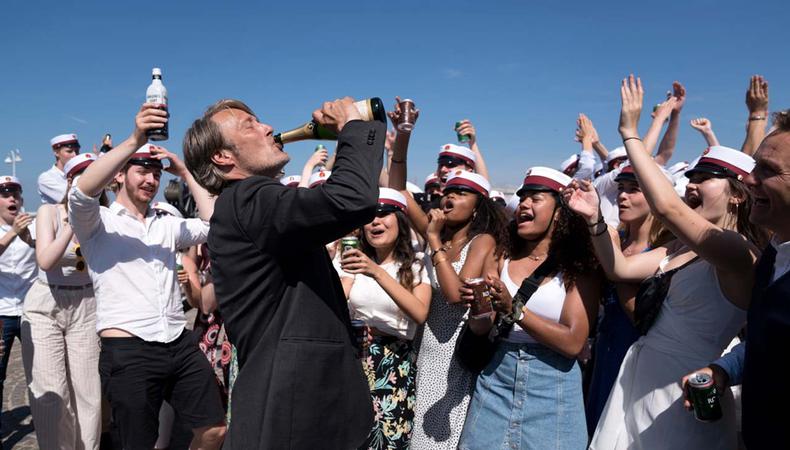 The 64th London Film Festival came to a close 18 October after an unprecedented format change due to the COVID-19 pandemic. But cinephiles were certainly not left wanting with the caliber of films on offer from the British Film Institute (BFI)-produced fest—including Nomadland, One Night in Miami, Ultraviolence, and Herself—both at home and in cinemas across the UK.
The 2020 edition of LFF offered virtual premieres of 50 films, plus eight exclusive physical premieres at London's BFI Southbank and select venues nationwide, with social distancing measures in place, of big ticket features such as Mogul Mowgli, Mangrove, and the Kate Winslet-led Ammonite, co-starring Saoirse Ronan and written and directed by Francis Lee, which was the closing night film. As well as feature films, the 12 day-festival, presented in partnership with American Express, boasted a variety of industry panels, events, and short films, as well as online virtual reality experiences through the completely free LFF Expanded strand.
A virtual ceremony was held on Sunday evening to announce the winners of the festival's inaugural Virtual LFF Audience Awards. "There was never a moment in this utterly crazy year when we considered not delivering a BFI London Film Festival—we know LFF means too much to both filmmakers and audiences," LFF Director Tricia Tuttle said. "So how fitting, then, that we put audiences in control of the Awards this year with our first Virtual LFF Audience Awards. And dammit, don't our audiences have great taste?"
They certainly do. Director and writer Gurinder Chadha presented the Best Film prize to Thomas Vinterberg for his comedic yet melancholic drama Another Round, which saw the Danish filmmaker team up again with his The Hunt star Mads Mikkelsen. The film, which had its world premiere at the 2020 Toronto International Film Festival, features Mikkelsen as one of four male pals who all teach at the same school and together embark on an experiment to see if their lives will improve if they maintain a 0.05% blood alcohol level. "Thank you to the audience at the London Film Festival for bringing this award to us," Vinterberg said upon winning. "We are very proud to receive this from a British audience; it's a great honour. We are so sad that we can't be there."
Best Documentary was presented to Norwegian filmmaker Benjamin Ree for The Painter and the Thief, an emotionally charged film which examines the unlikely friendship between Czech artist Barbora Kysilkova and Karl-Bertil Nordland, the Norwegian man who stole two of her paintings. There were also great offerings in the short film library, including Akinola Davis Jr.'s Lizard and Alana Hicks' Chicken, but British filmmaker Tommy Gillard took the top prize for his comedy short Shuttlecock, combining homoerotic vibes and toxic masculinity on the badminton court. Gillard said, "London Film Festival is my favorite festival and I go every year with my mates and so it's an honour to be included."
Director Cathy Brady was "deeply honoured" to receive the IWC Schaffhausen Filmmaker Bursary for her feature debut Wildfire. She took home the £50,000 Bursary, which awards an outstanding first- or second-time UK writer, director, or writer-director presenting work at the BFI London Film Festival. The film beat out Ammonite and Aleem Khan's After Love for the prize and tells the story of two sisters living on the Irish border whose familial bonds are pushed to breaking point. "Wildfire is a compelling story, expertly told and unlike anything we had seen in UK filmmaking before," said actor-creator Michaela Coel, who helped select the award-winning titles.
"Cathy weaves an emotionally rich, intimate story of two sisters elegantly framed against a wider, politically charged backdrop," Coel said. "Great films make you think and jolt you out of your comfort zone. In the very best way, Wildfire was deliciously uncomfortable!"
Finally, the Virtual LFF Audience Award for Best XR/Immersive Art went to Anna West and David Callanan for their dystopian future narrative To Miss An Ending. The film was made this year under COVID-19 restrictions in Manchester. "Our work itself talks about the scary and unstable times we're living in, and we've really felt that this year," the two British filmmakers said. "This means a lot to us all and the work on show at this festival is a real demonstration of the resilience of our industry."
For more on the BFI London Film Festival, visit their website.