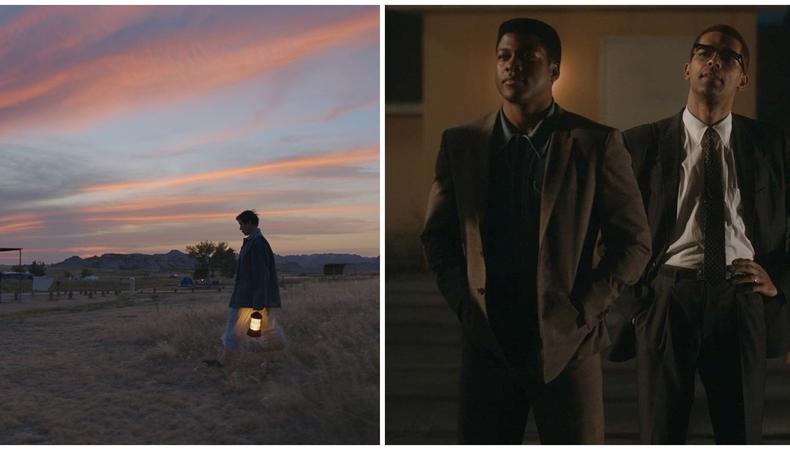 The Toronto International Film Festival ended on Sept. 20 after a special awards ceremony that combined socially distanced and streaming events. The scaled-down 45th iteration of TIFF managed to screen 50 features compared to last year's 333, but that didn't stop the Canadian festival from offering a bustling marketplace for film acquisition and anointing 2021 Oscar hopefuls.
Even in the hybridized, digital version of the festival, the Grolsch People's Choice Award still offers a look at award season glory; this year's coveted first place position went to Searchlight Pictures' "Nomadland" from writer-director-editor Chloé Zhao. The Toronto screening featured leading actor Frances McDormand introducing the project, which is based on Jessica Bruder's work of nonfiction about a woman living out of a van as a modern nomad after her town's economic collapse. Zhao's film also picked up TIFF's Ebert Director Award in addition to the Golden Lion Award at the Venice International Film Festival, marking the first time a film has ever taken home both accolades.
And it is TIFF's People's Choice Award that places "Nomadland" as an awards contender at this early stage of the season. Last year's winner, "Jojo Rabbit," received six Academy Award nominations including for best picture, while the second runner-up in 2019 was "Parasite," which went on to win four Oscars including best picture. Over the last decade, every winner of the TIFF People's Choice Award has gone on to receive an Oscar nomination for best picture.
"Nomadland" screened in Toronto Sept. 11 in collaboration with the festivals of Venice, New York, and Telluride. Although the latter was canceled this year, Zhao's film screened to public audiences at the Rose Bowl Drive in Los Angeles.
The runner-up at this year's People's Choice honors was Regina King's feature film directorial debut, "One Night in Miami," based on the play by Kemp Powers. Kingsley Ben-Adir, Eli Goree, Aldis Hodge, and Leslie Odom Jr. star as Malcolm X, Cassius Clay, Jim Brown, and Sam Cooke, respectively, celebrating one of Clay's boxing wins on a night in 1964. King, fresh off her fourth acting Emmy Award win, is already garnering praise for the film, its directing, and the ensemble cast. Following "One Night in Miami," the second runner-up for TIFF's People's Choice Award was the Canadian drama "Beans" from director Tracey Deer, who also received the Emerging Talent award.
The fest's tribute awards ceremony streamed internationally and was broadcast across Canada on CTV. The one-hour event awarded actors Kate Winslet and Sir Anthony Hopkins with Tribute Actor honors. Both stars had films screening at the festival: Winslet in "Ammonite" opposite Saoirse Ronan and Hopkins in Sony Pictures Classics' "The Father" alongside Olivia Colman. Both titles are likely to be players again throughout the 2020–21 awards season.
Along with its awards, the festival still proved itself a significant force in the film industry markets. "Malcolm & Marie" starring John David Washington and recent Emmy winner Zendaya, "Pieces of a Woman" starring Vanessa Kirby, and "Bruised" featuring Halle Berry as star and director, will all be released on Netflix. (The streaming giant is acquiring titles this year despite sitting out film festivals themselves.) "Another Round" starring Mads Mikkelsen went to Samuel Goldwyn Films, "Good Joe Bell" starring Mark Wahlberg went to Solstice Studios, and "Shadow in the Cloud" starring Chloë Grace Moretz went to Vertical Entertainment and Redbox Entertainment. Neon acquired the Côte d'Ivoire–set drama "Night of the Kings."
Of this year's unusual festival, Artistic Director and Co-Head Cameron Bailey said, "TIFF 2020 was a year we won't soon forget. Over the last 10 days, we have experienced community in the truest sense. The pandemic hit TIFF hard and we responded by going back to our original inspiration—to bring the very best in film to the broadest possible audience and transform the way people see the world through film. We heeded the urgent calls for greater representation of under-represented voices. And we watched as audiences embraced cinema's ability to transport them through screens of all sizes by joining us online from all over this country."
TIFF Executive Director and Co-Head Joana Vicente said in a statement, "In a time where the very future of our beloved art form was in question due to cinema and production shutdowns and film festival cancellations, we have seen a tenacity of spirit." She also mentioned one of the fest's biggest achievements: 46% of all titles screened were either directed, co-directed, or created by women. For more on TIFF, the changes to this year's festival, and year-round programming, visit their official website.