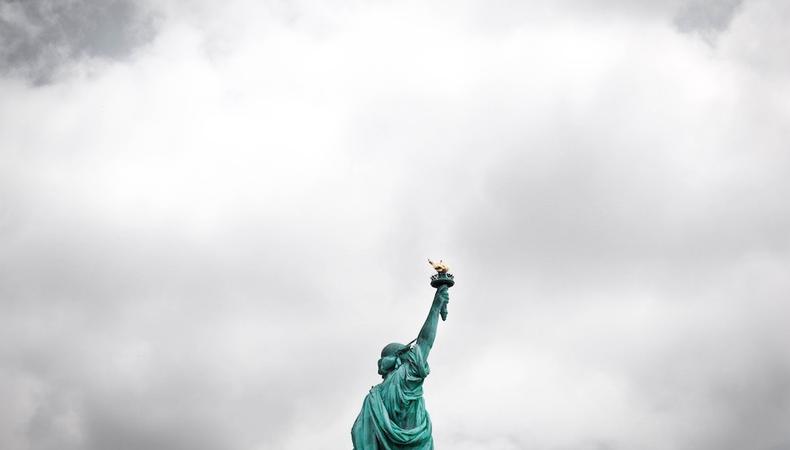 It takes real bravery to be an actor. So imagine being an actor alone in a new country, with a new industry to learn afresh.
London Academy of Music and Dramatic Art graduate Claire Curtis-Ward left her home, friends, and fellow grads, and moved 3,500 miles away to New York. She's not alone in leaving Britain to look for new or alternative opportunities. After Dominic West and Idris Elba made a name for themselves on the other side of the pond it's become an attractive prospect. But what's the difference between London and NYC? What do Americans make of British actors? What draws them there in the first place?
"It was a really tough decision, prompted by a number of things," says Claire. "I left drama school without an agent, it felt like I'd hit a dead end." Claire has dual citizenship because her mum is American, a status that made the decision more straightforward because it allows her to live and work in the United States. That process is fraught with complexity for most and impossible for some. "I am one of the lucky ones and my passport is appealing to agents."
The most common way for other Brits is to study in America, though not necessarily for a full three years. Those who want to stay have the pressure to build a profile of work during training and the following Optional Practical Training (OPT) year ahead of a looming visa application. It's difficult but it can be done.
Claire visited NYC first, taking part in a showcase and working on a British fringe production. "The response was incredibly positive," she says, "and so moving seemed like the right thing to do". But after the excitement of the move came a big learning curve: "It took a year to get a hold on how things work here. There are so many resources to keep you in the know—like Backstage! It keeps you on top of what's happening rather than waiting for a phone call. But you're also dealing with a lot more competition."
Unions are a complication for Brits and another new system to grapple with. US Equity works in a different way to the British system; for instance, there are Equity and Non-Equity jobs and members cannot undertake Non-Equity work. "I came here as nonunion, which had some benefits. But in order to do the projects I wanted I had to build my credits and become a member."
After you've mastered the unions, you'll need to master your accents. Actors have told me they judge when to use what Americans might see as "Britishness" to their advantage. The perception of British actors in America is generally positive, there's the prestige of having trained at a London drama school and the cultural associations with Classical Acting and Shakespeare. However, you didn't move to America to be pigeonholed as a Brit. "There are definitely times where I just walk in with my American accent," says Claire, "it prevents planting a seed with casting directors that I am, at least aurally, foreign".
One place where it's appropriate to use that Britishness is with fellow emigres—schemes like Brits on Broadway, international touring and even transfers like "The Play That Goes Wrong" all require British actors and result in a fluid community of Brits sharing jobs and knowledge. However, Claire mentions another instance where it's vital Brits let go of their telltale reserve. "Business cards, they really are a thing here. You can't be shy about networking, which is hard for a self-effacing Brit".
It's common for American actors to be in and out of training throughout their careers, an attitude that most Brits struggle with. "After graduating in London there's the assumption that the rest of your training will happen on the job". British actors looking to acquire specific skills or refreshing their stage combat work will generally see in-house professionals at a theatre or someone on a production team. In New York and L.A. actors seek out classes on techniques or skills and it's less common to have fight directors, for example, on a production. There's also a blurred line between training and auditions. "Lots of people will take classes with casting directors in the hope of showing their skills and getting cast. It does happen but at the cost of $500."
Otherwise, the casting industry works in the same way: be friendly, be professional, and do the best you can on the day. Interestingly all British actors I know have had new headshots done by American photographers and though the differences are subtle, they do somehow look more American.
However American you look, sound and behave, there's always a part of you that will be forever Blighty. Homesickness is something Brits learn to mediate in their own way; through an excessive consumption of British TV, by following sport, or by paying over the odds for home comforts like Marmite, tea, or Cadbury's chocolate. Claire also missed cheap access to great theatre. "Broadway and Off-Broadway is so expensive, it's hard when you are still trying to watch and learn from great performers." (It's worth mentioning at this point that you'll never appreciate the NHS as much as when you leave it and see how much Americans pay for their healthcare.)
Once you've navigated all of that, Brits have to decide whether to stay. Professionally and personally, it's a difficult decision. For some, the visa is the deciding factor. Claire's lucky that she doesn't have to jump through the hoops of a lengthy and expensive application. America isn't alone in making it difficult—the British government also make foreign artists and producers pay extortionate and arbitrary fees, hire legal representation, and earn a certain amount per year.
For Claire, the move was worth it and it seems like she's there to stay. "I'm really glad I made this choice. I was the youngest in my year at LAMDA, I needed time to be vulnerable in a new place and grow up a bit". Everyone has their own reasons but for many, the appeal of moving somewhere far away is the opportunity to be independent, to connect with new people and to some extent become a new kind of person. Being surrounded by the familiar can support you but some actors find it all too easy to get caught in their safety net. Moving away is a release, an opportunity to assess and restructure your life. It is possible for some actors to do that at home but many won't. "You cannot be codependent here and it makes you bloody strong! I like that. It was tough but for now it has been the right decision."