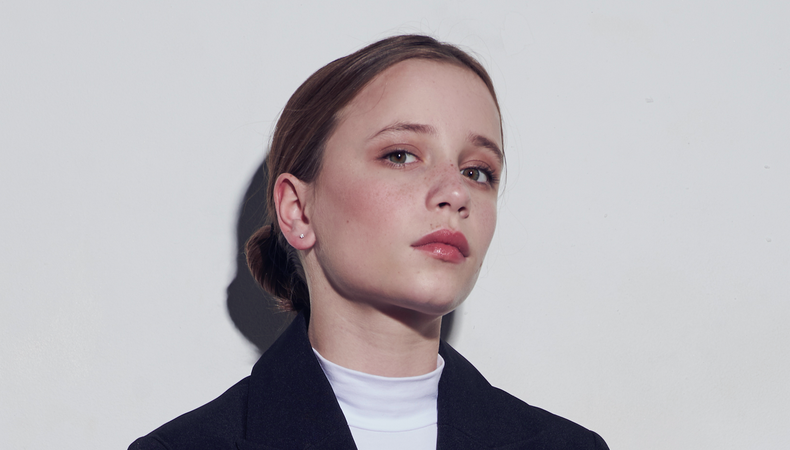 It's hard to believe Dixie Egerickx is only 14 when the past few months have included lead roles in two major feature films, The Secret Garden and Summerland, acting alongside talent like Colin Firth, Julie Walters, Gemma Arterton, and Gugu Mbatha-Raw. And just last year, she was one of a tiny handful of Screen Stars of Tomorrow to have received the accolade before reaching 16. In fact, her career has already spanned stage roles at the National Theatre and the Bridge, and TV roles including Patrick Melrose with Benedict Cumberbatch. Although juggling school-work with a professional career, Egerickx took time out to reflect on her journey into acting and the lessons she's drawn from six years in the business, from how to build believable characters to mastering those audition nerves.
When I was little, I had no plans to act at all. I was doing a couple of extra-curricular activities at the time – playing piano and attending ballet lessons – but I certainly wasn't interested in acting or drama classes. The thought of trying to act in front of my peers at school was mortifying (and still is, somewhat).
It really all began when I was at school, aged 8. A casting director came into my class to speak to a few kids, scouting for girls to go to an open casting for a movie. I talked to her for a little while, and later that day my parents got an email asking me to go in for an audition. I remember arriving at the casting place, sitting in the waiting room, and feeling quite frightened. Of course, there was no reason to be scared and everyone was lovely to me, but seeing all of these other girls around me who looked so similar was an odd experience. I gave it a go nonetheless and ended up really quite enjoying myself. I wasn't cast in that role, but I did get as far as being shortlisted by the director. After that, the casting director asked me to audition for other roles and suggested to my mother that I should get an agent.
When I was 9, a little while after I first started auditioning, I was cast in Oresteia, a West End play. Although it was almost four hours long, the play was amazing, and the cast was phenomenal. Performing professional live theatre is an interesting experience – I've done a couple of other plays since then, and I find the whole process fun. The intense rehearsal period required is very rewarding and enjoyable and allows the whole cast to bond. Since it's live, you have to really know your material and pay full attention to your cues and what is going on around you – you don't want to mess up on stage! Although there's a lot of pressure in that, there's a lot of excitement too. The audience response is so immediate in the theatre, which can be very gratifying after a live performance.
8 UK Acting Agencies for Children You Should Know
Filming is a very different experience. On the one hand, it's relatively low-pressure, since you can always redo your lines if you mess them up, and film certain scenes again if they didn't go too smoothly – although with that comes other responsibilities. You don't want to keep on re-taking scenes and holding up production – filming is generally quite fast-paced, trying to get as many shots done by the end of the day as there is always a schedule that has to be adhered to. Having said this, I do enjoy working in film and TV too – though the gratification of the audience response is delayed as it can take years for a film to reach the cinema!
Although I have only been acting for around six years, I have been incredibly fortunate in being able to work with many brilliant and talented adult actors. On stage with Lia Williams, Elizabeth McGovern, Ben Miles, and Rory Kinnear, and then in TV and film with Geoffrey Rush, Benedict Cumberbatch, Anjelica Huston, Tom Courtenay, Gemma Arterton, and Gugu Mbatha-Raw among many others – and of course, in The Secret Garden with Dame Julie Walters, and Colin Firth. It's virtually impossible not to learn and absorb from those people while working together but I think the most essential lesson that every one of them has taught me is how important it is to respect everyone around you, to remember people's names, and to say thank you – and without the crew doing their job, the cast could never do their own.
Looking for your next screen role? Check out our UK castings
I have been asked quite a bit recently if I have any tips or advice for other kids wanting to get into acting. I find that a hard question to answer as I don't really feel in a position to give advice to anyone at my age. For The Secret Garden, it was a long casting process, and it did not happen overnight! I was seen many times and had chemistry reads with a number of different Colins and Dickons, but throughout it all, I always tried to think how Mary would think. In my life, if I was going through what she went through, how would I respond? Being able to put yourself in the position of the character you are trying to portray is a really useful tool when it comes to giving a "believable" performance. The only other tips I have are to learn your lines before you go to sleep (they stick in your head – it works for me every time) and don't waste your energy on being scared before an audition. The people in the room want you to be great – they want you to be "the one."
The Secret Garden, a Sky Original, is in cinemas and on Sky Cinema now