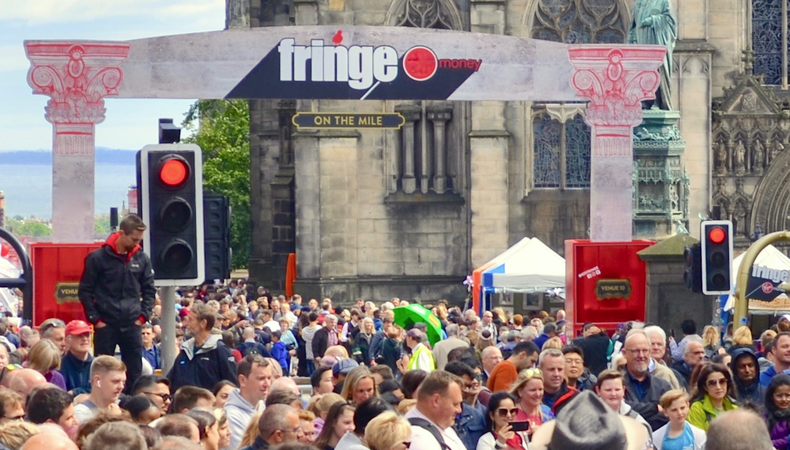 The Edinburgh Festival Fringe 2020 was scrapped this week, in the latest of many cancellations that have dealt blows to the entertainment industry across the UK. So, what next for the companies and artists who planned to present work this year? Having lost its biggest and broadest platform for new talent, how will the live entertainment industry respond? And what happens if measures are lifted and a festival can go ahead in August? Backstage spoke to some of the people that would have made up Fringe 2020 to find out more.
The fallout from the cancellation begins immediately, with artists and companies planning to present work at Fringe 2020 having to "un-produce" shows and recover costs. Director Adam Lenson, who was planning to present new musical Public Domain, is grateful the decision was made "early and decisively" – a cancellation in April at least makes things clear for artists and performers, rather than leaving them with the decision to pull out: "While it is sad for us not to be able to go, it would have been worse to ask us to invest huge amounts of money into a festival that audiences didn't want to attend or didn't feel safe or responsible being a part of."
The Fringe Society has confirmed they will be refunding all participant registration fees and offering the alternative of rolling show registrations forward to the 2021 Fringe. Individual venues are in contact with and supporting shows. For Lenson, venue Underbelly has been honest and supportive: "They have no intention of leaving us to fend for ourselves or to leave us financially lesser for something that wasn't anyone's fault." He adds: "The ethics and clarity from them has been really inspiring."
For others, untangling plans has been less easy. Producer Stephanie Silver's festival accommodation declined a refund on the grounds that they needed to protect the livelihoods of their employees. That means Stephanie is left paying for accommodation she won't be using this August. She says: "My insurance as a small Fringe company does not cover this pandemic. I also am now paying them to pay their employers in a time of financial crisis. Surely that's not right when I haven't even used the service."
Across the industry, people are beginning to reflect on what a year without a Fringe means. For comedian Mark Watson, the Fringe "has many problems but it's the reason a comic like me has a career." He describes how without a Fringe, or the Melbourne or Machynlleth comedy festivals, "there is a big hole." For the theatre industry, Lenson is hopeful that this period of isolation for audiences and makers "is going to lead to huge innovation in the way we can absorb and share stories." He's noticed the theatres and artists sharing archive shows but doesn't think this is the answer: "Liveness and communality need to be maintained at all costs." He adds that although the first attempts at making and sharing live work online might be scrappy, "Innovations and new ways of working and sharing are bound to emerge and I am excited about that."
For all participants, the question hangs in the air: will some kind of Fringe happen if restrictions are lifted? Following the 1 April announcement, news came in that artists had been told by the so-called "big four" venues (Assembly, Underbelly, Pleasance, and Gilded Balloon) that they were determined to press ahead if public health measures are relaxed this summer. Certainly, the language in official statements remains vague, with Assembly saying they are "suspending our 2020 plans for now," without commenting on whether festival shows could or should be hosted at short notice.
After confirming that the Fringe is an "open-access festival" and that they have no power to stop people putting on shows, the Fringe Society suggested that if some sort of festival did take place, they have plans to "ensure we can support that as quickly and as much as we can."
The temptation for artists hungry to perform and keen to make the best of 2020 will be to hold out for a short-notice Fringe this August. However, even if venues are determined to reopen stages in Edinburgh before 2021, it is precarious artists that will carry the risk – as Silver's accommodation nightmare shows. And, as Adam Lenson points out: "Getting people back into the theatre is going to take time." So, even if the government gives the go-ahead to the Fringe, it might not be in time to entice audiences back.