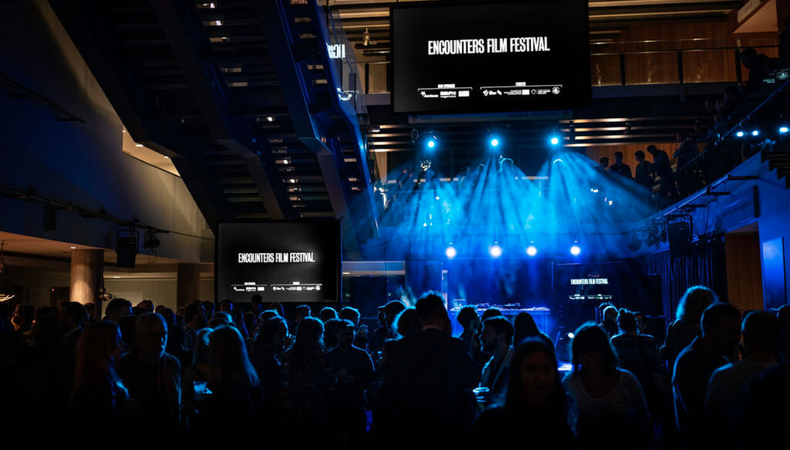 Welcome to Behind the Fest, Backstage's questionnaire series with film festival figures looking for that next big festival hit. Featuring behind-the-scenes insight from the organizers and programmers at Sundance, TIFF, Cannes, and more fests from around the globe, these tips might just hold the key to your indie film success story!
Premiering online all September long, Encounters Film Festival is the leading festival in the UK that focuses on shorts, animation, and virtual reality. From established filmmakers to newcomers, the festival's goal is to nurture talent in the short film industry all the way to prestigious accolades—including all the way to the Academy Awards, as it's an Oscar-qualifying shorts festival.
Encounters features a month-long lineup of short films, industry roundtables, workshops, and filmmaker Q&As. Backstage spoke with the festival's head of programming Ren Scateni about the 2021 virtual lineup and why seeking out bold and experimental approaches to filmmaking is key to Encounters' programming.
Tell us about the beginnings of Encounters Film Festival.
Encounters was initiated as a one-off celebration to mark the centenary of cinema in 1995 and then grew to become the UK's leading exhibitor of international and national short films, as well as animated and immersive audio-visual storytelling. Throughout the years, the festival's mission has always been to nurture emerging talents in the short film industry and showcase their work as part of a vibrant and eclectic festival held annually.
What do programmers such as yourself look for when creating the lineup for this festival?
What interests me the most in a film is the filmmaker's ability to pour their soul into their projects. I'm drawn to compelling stories that give voice to marginalized communities and shed a light on issues that are often overlooked in mainstream cinema. I'm also interested in exploring the liminal space existing between cinema and art, in bringing to the forefront bold and experimental approaches to storytelling and filmmaking.
Talk about the benefits of filmmakers submitting their work to Encounters.
Encounters acts as an official gateway to the world's most prestigious awards, like the Academy Awards, BAFTAs, BIFAs, and the European Film Awards. We're keen for our filmmakers—emerging or more advanced in their career—to progress in the industry and to benefit from every possible professional development.
What advice would you give filmmakers and industry members attending film festivals in general?
My top tip when attending festivals as an industry professional would be to never shy away from an opportunity to connect with other people. This could translate into something as simple as attending networking events, to stirring up a conversation while waiting for a film to start, or right after it ended. You'll never know which connections will come in handy in the future. There's a lot to gain from talking to like-minded people at festivals!
Lastly, do you have a favorite film?
"Ode to Mt. Hayachine" (also known as "The Poem of Hayachine Valley") [from 1982] by Japanese director Haneda Sumiko. It's a poetic and compassionate documentary about the passage of time and the disappearing traditions of rural Japan.