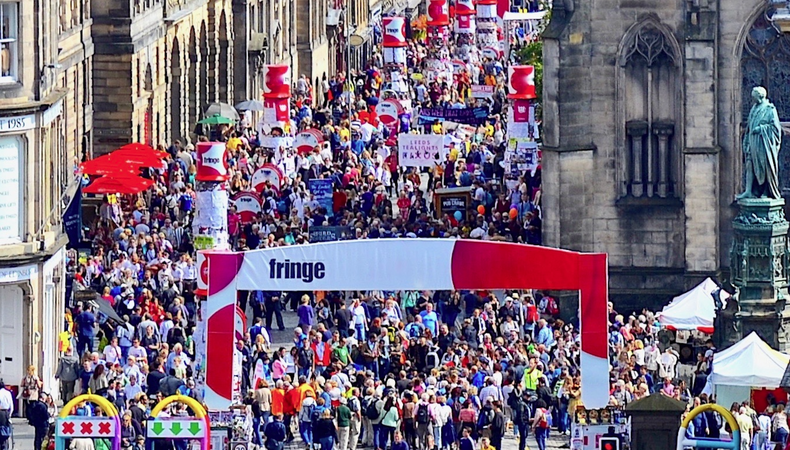 Welcome to our roundup of the key stories from performers' unions and campaign bodies. Four times a year we'll be checking in with Equity, BECTU and others to bring you everything you should know to be a part of the conversation.
Everything Edinburgh Fringe
Although it was the biggest yet, 2019's Edinburgh Fringe saw the festival come under attack from unions and campaigners, with calls to better protect performers from exploitation and harassment, curb the cost of the festival, and offer more support for artists from minority backgrounds. It seems the industry is at last having a frank discussion about the future of the festival, led by campaign group Fair Fringe and union Equity.
Before the festival kicked off, Fair Fringe renewed calls to end exploitative working practices across venues in Edinburgh, claiming that a year after the launch of their campaign people still worked and lived in shameful conditions, with venues and producers becoming "far more secretive" when advertising low or no pay positions.
Equity launched a petition to tackle the spiralling cost of accommodation for Fringe performers, after a survey of members revealed typical rents have risen from around £600– £1200 between 2015–2018 to £800–£2000 this year. Union president Maureen Beattie also spoke out against the harassment of performers, saying artists were "not literally up for grabs." The statements followed reports from individual performers and a record number of harassment incidents reported to Equity over August, many from women harassed while flyering shows. Beattie told the BBC: "It is completely and utterly unacceptable. We are a workforce, and you must respect us."
Performer Travis Alabanza summed up the feeling of the Fringe with an article arguing the Edinburgh Fringe "has a race problem." In their column for the Metro, Alabanza called for the lack of diversity at the month-long festival to be urgently addressed.
READ: Edinburgh Fringe: Calls for Better Actor Protection
Equity makes landmark deals with Netflix and West End
Alongside announcing the first direct agreement between the union and Netflix, Equity scored a "landmark" new deal with the West End, securing performers increased pay and rights. As Netflix moved into their new UK production base, Equity announced an agreement with the streaming giant that sees a minimum rate of £715 per week for performers, covering three months of streaming (with extra pay for content staying on the site for longer periods). Equity's agreed minimum fee will increase by 2% per year for the duration of the three-year agreement.
Equity's new West End Agreement secured an increase in basic pay for members and improved terms of employment. That includes flexible working incorporated into contracts with management having to consider requests "carefully and sympathetically." Under the agreement with the Society of London Theatre (SOLT), basic weekly pay in the largest theatres will go over £700 for the first time, while fees for performers with additional responsibilities like understudies, dance captains, and swings will increase by as much as 44% over the next four years. The agreement also wins Christmas day as a "free day off" without a reduction in salary or holiday entitlement.
RELATED:
Union's battle with HMRC goes on
HMRC's new guidance on tax is a disaster, and the department risks "undermining the incredible success story of the UK's creative industries," according to Equity.
Earlier this summer, the union announced that new tax guidance created with SOLT and UK Theatre was to be signed off by HMRC in 2018 – but "after months of delays by HMRC" the union received a final draft that was "completely different from what had been agreed." Describing the new draft as a "complete bodge and a disaster", Equity general secretary Christine Payne warned: "If this new guidance becomes official, engagers would have no choice but to put [most performers] on to PAYE – not just in film or TV but also in theatre." Equity is to lobby major industry associations and broadcasters to "change this injustice," with Payne calling on all members for support.
After a high-profile test case involving actor Robert Glenister, Payne said tax officials were making a "grab for revenue" and were guided by forces that "do not understand our sector." Read more here.
READ: What Is Equity + Why Should You Care?
Open Door launches new initiative for the Midlands
While the debate over the cost of drama school auditions for those outside London continues, Open Door – the award-winning initiative to help those without the financial resources apply for drama school – has teamed up with theatres in the Midlands for a series of Q&As aiming to inspire and equip young people from the area. The events take place alongside their eight-month intensive course, now in its second year. Applications are open now for aspiring actors aged between 18-26, and those wanting to work in off-stage roles aged 17-26 and based in London, Essex, Sheffield, Rotherham & the east Midlands. Read more here.
Theatres urged to employ more BAME actors
Equity's Minority Ethnic Members Committee has urged theatres to employ more BAME actors instead of employing actors from outside the EU, claiming that BAME performers are "locked out" of castings in favour of those with international profiles. Read more here.
Migrants in Culture Network launched to challenge 'hostile environment'
A network has been established to support migrants working across arts industries, aiming to tackle "discrimination, tokenism and racial profiling" of members. Migrants in Culture describe themselves as a support network and action group that "holds the cultural sector accountable to migrants, citizens of colour, and all other people being impacted by the immigration regime, in our workplaces and neighbourhoods." Read more here.
BECTU gets first female president
Entertainment and broadcast union BECTU elected its first female president earlier this summer, with Philippa Childs taking the reins of the union and setting out the challenges to come. Childs said she was "struck" by a TUC report that found 68% of LGBT people had experienced harassment at work, but said: "We know that change will only come because of trade unions, like BECTU, addressing those issues in the workplace." She also welcomed the news that ITV's new 50:50 initiative would aim to make comedy writing more diverse.
Actors told to call out castings paying in 'exposure'
Equity's annual conference saw the union redouble efforts to stamp out exploitative castings and encourage performers to call out unpaid jobs advertised through social media. A motion at the union's annual representative conference heard member Chris Gallarus argue that exploitative jobs paid in 'exposure' are "constantly" on social media and slipping by maintained casting platforms. Read more here.
For more from Backstage UK, check out the magazine.