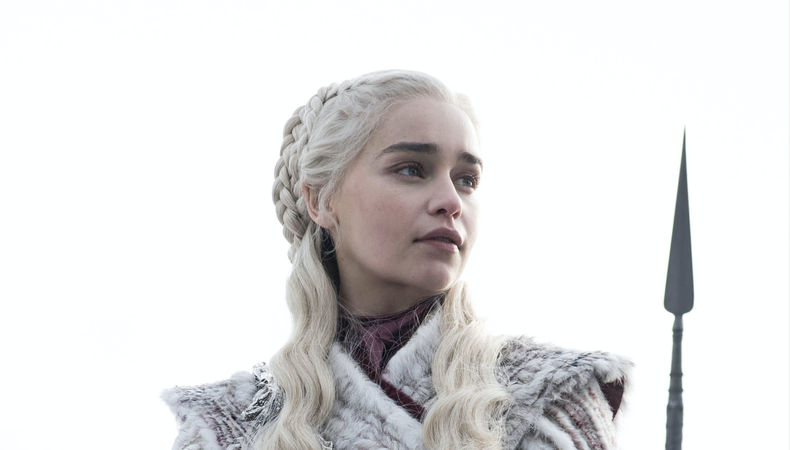 Hello, and welcome back to Week in Review, our roundup of industry-wide news. From stage to screens big and small, we've got you covered. It's everything you need to know and all you can't afford to miss.
From dragons to sonnets: Emilia Clarke to play Victorian poet
Game of Thrones star Emilia Clarke is to play Victorian poet Elizabeth Barrett in a retelling of the epic love story between Barrett and fellow poet Robert Browning. The film, titled Let Me Count The Ways after the love poem by Barrett, is directed by Björn Runge, whose last project The Wife scored an Oscar nomination for star Glenn Close.
BAFTA and Emmy award-winning writer Paula Milne is attached to write the screenplay, which will explore the poet's life as a recluse who suffers from undiagnosed illnesses before a letter from the admiring Browning begins a romance. Renowned before her relationship with Browning, Barrett experienced a second period of artistic success after he encouraged her to publish 44 poems exploring love. Read more here.
READ: Why Emilia Clarke Is an Inspiration for Actors Everywhere
How Himesh Patel won his leading role in Yesterday
Appearing at the premiere of Yesterday, director Danny Boyle revealed how Himesh Patel won the leading role alongside Lily James. Following on from a freak accident that causes the world to forget The Beatles ever existed, Patel's down-on-his-luck character begins to perform hits from the Fab Four and is projected to superstardom when fans believe he wrote the songs.
Boyle said he was struck by the difficulty of finding "that guy" as "these are some of the greatest songs ever written, and people know the original versions. They've got to be performed by somebody that's going to make you think you want to listen to him doing them." Boyle added that the film "would rise or fall" depending on the lead.
Patel, previously known for his role as Tamwar in EastEnders, won the team over with a solo cover of Back in the U.S.S.R, sent to Boyle and casting director Gail Stevens. "I know that song backwards, and yet it felt fresh, like I was hearing it for the first time," Boyle told The Hollywood Reporter at the Tribeca Film Festival. "And he hadn't changed it ­– it wasn't unfaithful or a radical reworking. I thought, 'That's him,' really. Because if [Patel] can make it feel like you know the songs and yet they feel like the first time you heard them, that…delivers the plot."
Abandoned Woody Allen film to get release
Woody Allen's film A Rainy Day in New York is to be released in Europe after Amazon Studios dropped the film last year. The writer-director's 48th film was scrapped when claims against him re-emerged last year in the wake of the Me Too movement. Allegations against Allen are long-running and well-documented, but around the time of the Harvey Weinstein scandal, public attention returned to the 83-year-old, who has repeatedly denied sexual assault allegations.
Now, Allen's completed ensemble romantic comedy is being picked up by an Italian distributor, with other territories believed to be close to deals, including Germany and Spain. A Rainy Day… stars Timothée Chalamet, Elle Fanning and Selena Gomez alongside Jude Law. According to some, the film features a relationship between an older man (Law) and a 15-year-old, played by Fanning who was 19 during filming. Many actors have distanced themselves from the director, including stars Chalamet and Gomez, who donated their fees from A Rainy Day... to Time's Up and other organizations. However, Jude Law has since said Amazon's scrapping of the film was a "terrible shame" and that he'd "love to see it."
READ: Jude Law Defends 'Shelved' Wooldy Allen Film
Pianist biopic announces lead role
Andrew Garfield has boarded Instrumental, a biopic of the acclaimed British pianist and broadcaster James Rhodes. Directed by James Marsh (The Theory Of Everything), the film is based on Rhodes' memoir, exploring how after he stopped playing the piano for a decade, returning to music helped him overcome the legacy of being a victim of sexual abuse as a child and mental and physical health issues. Shooting begins later this year in London. Read more here.
Lyceum Theatre announces its season
Edinburgh's Lyceum Theatre will see Elaine C Smith return to its stage for the first time in 20 years for a gender-swapped adaptation of Brecht's Mr Puntila and His Man Matti. Writer Denise Mina will re-version Brecht's epic comedy about a landowner and his servant in a season that has three world premieres and a 50/50 gender split of writers and directors. Elsewhere, the season includes an adaptation of Solaris, and Inua Ellams' Barber Shop Chronicles. Barefoot in the Park by Neil Simon will be directed by Elizabeth Newman of Pitlochry Festival Theatre and is the first co-production between the two companies. The season closes with Jo Clifford's 1998 adaptation of Life is a Dream directed by Wils Wilson. Read more here.
For more from Backstage UK, check out the magazine.