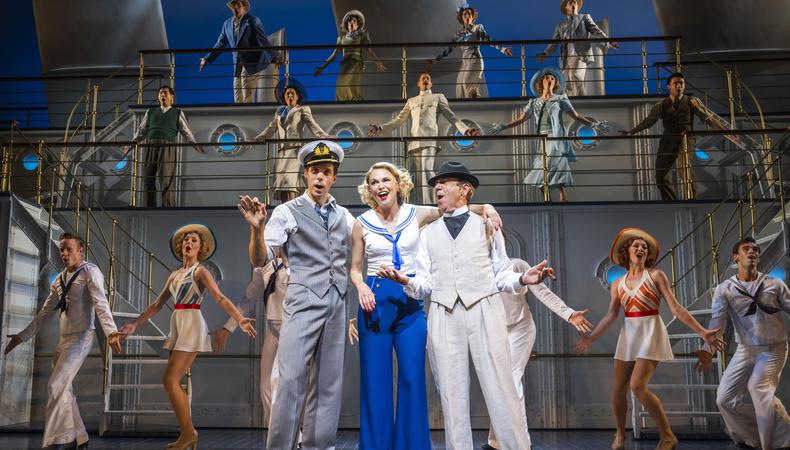 "It's a perfect tonic," says producer and theatre owner Howard Panter of Anything Goes. "A number of people have said to me that our production has reopened the West End." The musical is currently playing to capacity at the Barbican, and he feels its popularity points to an appetite for "shows which are known to give you a good time."
The upbeat stories onstage are a balm for the current health of UK theatre. Arts Council England (ACE) released recent figures that showed an income plunge of nearly 90% in the 12 months since 16 March 2020 among the theatres it funds. Those venues staged fewer than 2,800 performances in 2020–21, compared to 35,000 the previous period.
In some way these numbers merely confirm what everyone knows: It's been a difficult time. But considering earned revenue typically makes up over 60% of a subsidised theatre's total income, it's a stark picture of the impact on the industry's bottom line. Some of this has been mitigated by the Government's £1.57 billion Culture Recovery Fund, but not all.
Newbury's Watermill Theatre is one of ACE's National Portfolio Organisations (NPOs), meaning it receives funding on an ongoing basis. For chief executive Claire Murray, getting audiences back through the doors is not just about safety, but also changing habits. "It's been a long time, and people have discovered other things they want to do. We're all used to getting our entertainment on demand. So for us, it's about making sure we celebrate the joy of being back together and how special live performances are."
Here we dig into the various conversations being had about the state of UK theatres—from diversity and inclusion concerns to how screen productions are affecting staged ones.
Debates Over Shifts in UK Theatre Programming
Like Panter, Murray says mounting feel-good shows is the best way to rebuild. The Watermill's autumn–winter programme features two familiar—and pragmatic—titles: Brief Encounter and The Jungle Book. "We have to try to manage the risk and our finances so that we can continue to be as bold as possible in our programming in the future."
"It seems a bit bleak that the moment the doors open again, we're rushing back to a very traditional, ordinary theatre."
Others argue that now is the best time to be taking risks. Corey Campbell is the current co-artistic director and incoming creative director of the Belgrade Theatre in Coventry, which is coming to the end of its tenure as UK City of Culture.
"In terms of digital and reaching new audiences, the past year has propelled us 10 years forward," he says. "In a lot of ways the landscape has changed quite drastically, particularly around accessibility, so it seems a bit bleak that the moment the doors open again, we're rushing back to a very traditional, ordinary theatre." He adds that theatre has always been a battle between the traditional and progressive; the challenge is finding a balance. "My fear is that people begin to look at things as one or the other [either commercially viable or challenging]. They forget the responsibility to deliver both. I believe that Belgrade has that responsibility."
What the UK's Booming Film + TV Productions Mean for Theatre
Kate John, head of production workshops at the National Theatre, told The Stage recently that the venue is understaffed by as much as 50% in some areas. "Having three spaces open means there is more work, so we are now looking to recruit freelancers again," she says. "But we are struggling to find any, as everyone has understandably been able to secure work in the film industry."
Panter concurs that workers' shift to screen mediums is presenting a "real challenge" to producers trying to mount productions. "It's true that a huge number of folk have gone into the TV industry, leaving fewer people to work behind the scenes in theatre."
How Women and Marginalised Groups are Faring
A report from the Women in Theatre Forum, led by playwright Jennifer Tuckett, found that over 98% of the 387 women in theatre surveyed had experienced a decrease in freelance work (74%), an increase in unemployment (32%), as well as an uptick in domestic (38%) and childcare tasks (27%) during the previous 19 months.
In the report's introduction, Tuckett says the evidence uncovered "suggests that gender inequality in theatre urgently needs to be addressed," adding: "These combined findings suggest that gender inequality in theatre, and in the arts more generally, is likely to increase unless specific measures are put in place to prevent this."
Alarms have also been raised around diversity and class representation. Dr Joshua Edelman is a professor at Manchester Metropolitan University who is involved in the research project Freelancers in the Dark. "Many [respondents] say they are worried they will not work in theatre again," he says. "As this pressure is being felt most strongly by the least financially secure members of our community, including those from working class and minority backgrounds, it could also mean a sharp rollback in the gains in diversity that the field has worked so hard to achieve."
Programming will play a major part in redressing the balance. Campbell, who is Black, says he is "obsessed" with staging work at the Belgrade that "shows diversity in its truest forms." "I hope we manage to usher in a new wave, bring in fresh audiences, and keep our current audiences on along that journey. But most importantly, I just want to be able to serve the community and our artists."
Theatres and Safety Measures: A Mixed Picture
COVID-19 safety measures at UK theatres are currently varied; there is no legal onus on theatres or audience members to implement them. A handful of West End theatres require proof of vaccination to be shown prior to entry, including all Delfont Mackintosh venues, but the majority do not. The wearing of masks is sporadic at best, despite the Society of London Theatre (SOLT) urging audiences to do so in its See It Safely guidelines.
Since social distancing measures were dropped on 19 July, most venues have returned to full capacity, though some still have weekly distanced performances. The Watermill is among them, and Murray says tickets for these sell quickest, showing "an appetite from people to still have that reassurance in place."
She says they have stopped short of asking for vaccine passports until the government issues official guidance on the issue. But that could be a long wait. Is she nervous about the prospect of another winter lockdown? "We have to be pragmatic…. We're all living with so much uncertainty, but the truth is we just don't know. So we have to be as confident as possible and keep putting the work out there."
As cases continue to rise, there is growing unease going into the crucial winter months. Only this week, the Royal Shakespeare Company cancelled the extension of its West End production of Hilary Mantel's The Mirror and the Light, saying: "The ever-changing environment creates a level of uncertainty that does not support the risk involved."
What This All Means for Performers' Futures on Stage
Although it's hard to say anything with certainty at the moment, the pace of recovery so far and the number of new productions already announced for next year bodes well for actors in the long run.
"Keep your tools sharp," advises Campbell. "It's easy to be disheartened, but don't lose the craft. Stay in touch with your local theatre—they have a responsibility to you. Go and have a word with other actors who've been in the business a long time; get their advice. There are always opportunities to work."
Panter, whose portfolio of theatre business includes the actor training company Stagecoach, says demand is high. "We currently have more students than we've ever had. The appetite for people to come into the industry reflects the love that people have for it. We can't be sure what's going to happen economically, but I think it's actually an exciting time for people breaking in. I passionately believe young actors can still look forward to a very good career in theatre."