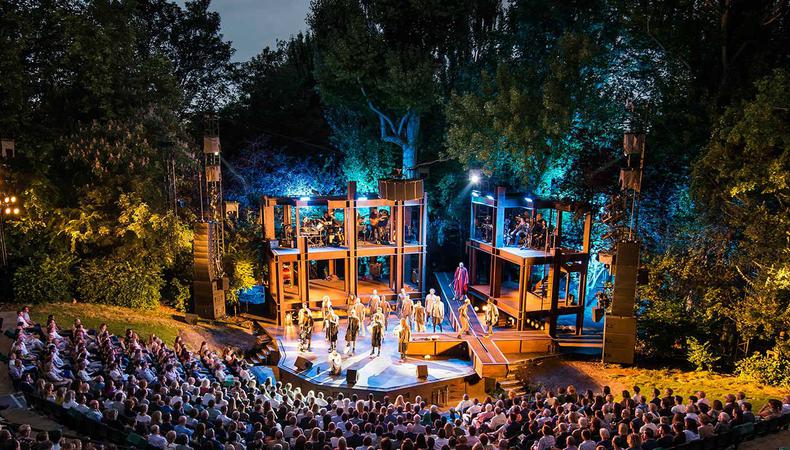 After over a year's hiatus, the UK theatre industry is finally opening up again and beginning the long road to recovery.
This marks the start of a turbulent transition period after 15 months of little – if any – work. Some people may already be getting auditions, while others are still waiting to be called in. Add the mental and emotional strain of the pandemic, and weathering this journey back to work presents an even greater challenge for our resilience.
So, whether you're anxiously waiting for your first audition back, or worried about returning to the rehearsal room, here are some tips to help you navigate the transition back to theatre work during Covid.
Looking for your next stage or screen role? Check out our UK castings
Resources
Firstly, some resources to help get your materials back in peak form:
Waiting for the Call
Waiting for your next audition can be hard at the best of times, especially after a long break. But here are some of things you can do to make the wait more bearable:
Clarify your career goals: This break may have shifted your relationship with your career and the priorities you have. Consciously thinking about your new goals will help you choose the most fulfilling work available once auditions start coming in. Read our article on setting your career goals for more advice on this.
Continue honing your craft: Learn a new monologue, spruce up your rep. folder or practice self-taping on your phone. Maintaining your skills will help you feel part of the industry and keep you ready for when the call eventually comes.
Be proactive: If you haven't already, start reaching out to casting directors and theatre colleagues. Don't worry about not having done much over the last year – most people haven't. Taking active steps will help you feel more motivated.
Talk to your fellow actors: You may feel like you don't want to burden your friends with your worries. But fellow actors will have a better understanding of what you're going through. And you can return the favour by being a listening ear for them when they need it.
Practice self-care: Self-care isn't just scented candles and luxury bath bombs (although those are highly recommended). It's also making sure you're drinking enough water, eating nutritious meals and moving your body every day – all vital things, but particularly for an actor returning to the fray. Make sure you check in on your emotional health as well. The mental health charity Mind has many resources, including a page to help manage your feelings around the easing of lockdown restrictions – and here's our interview with Mind counsellor Mary Burch BEM. Audition Time
Your first in-person audition may trigger worry or stress as well as excitement or relief. If you're nervous or unsure what to expected, here are some things you can do to prepare once you get that audition invite through:
Plan ahead: Some auditions may require a negative covid test to attend, so make sure you have lateral flow tests handy at home, or whichever requirement they have specified, including the NHS app for evidence of vaccinations. If you're worried about taking public transport, plan your journey well in advance. If you're in London, the TFL website has information about travelling safely on the network.
Ask questions: Make sure you know what the Covid procedures will be in order to make sure you won't be turned away at the door. If there's anything you need in place to feel safe, check that it will be there. If those needs can't be met, don't be afraid to ask if they would accept a self-tape instead. Asking for details will stop you being caught off-guard and put you more at ease to give your best performance.
Know your comfort level in advance: You might be asked to read with another actor or in a group. While some panels may have clear procedures regarding how close actors can be, others may leave it to your discretion. It can be hard to gauge your comfort level in the moment, so decide what you're comfortable with beforehand. This will help you feel more in control of your safety if you're put on the spot.
Keep your agent in the loop: If you have an agent, let them know how you're feeling. If you have an uncomfortable audition experience, tell them and discuss what you need to feel safe in the room so they can vouch for you in the future. Back to Work
Once you land that first job back, things may feel a little surreal. So here are some final things to remember:
Be prepared for things to be different: There'll likely be new procedures in place, especially whilst Covid is still around. Everyone else will be getting used to being back at work as well. This might make you feel a bit off kilter at first so give yourself time to adjust.
Check in with your emotions: Being back may bring up a lot of feelings as you get used to the physical and mental toll of rehearsing again. Company check-ins can be a good way of processing these within the rehearsal room. If not, talking to friends, meditating or keeping a diary can be useful ways of working through any worries or emotions that come up for you.
Enjoy it: You might feel guilty about returning to work for many reasons. But you deserve to be back in the room. It's okay to celebrate and feel excited and proud of yourself.
As theatres re-open, there's no right or wrong way to navigate this time. But whatever stage you're at, staying resilient by being proactive, asking for what you need and looking after your emotional wellbeing will stand you in good stead for when you return to performing work again.