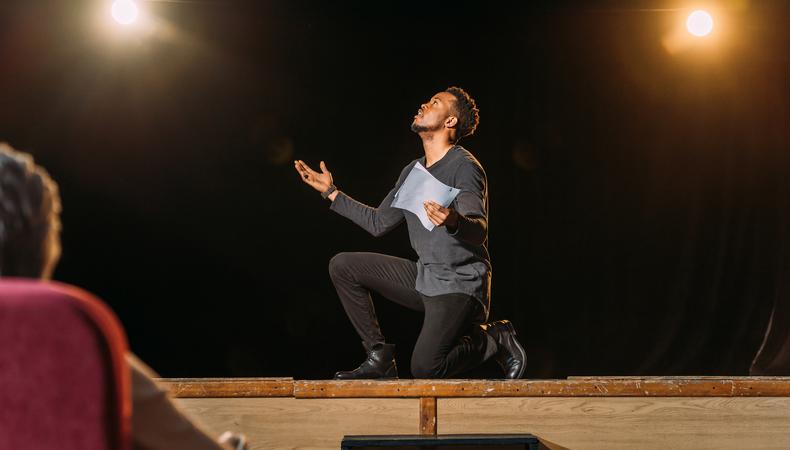 "You go to drama school for that end-of-year showcase," says Georgia Lewis, a musical theatre student who has decided to defer her place at drama school until next year. "I'm going because I want to develop my craft, but if I can't train with others or do a showcase, then what's the point?"
The end-of-year showcase or production is the event of the degree. It's when students put on a show that only industry professionals – casting directors, agents and directors – are invited to. This is a chance for musical theatre students to jazz hands more aggressively than normal, and for classical theatre students to hold the audiences' emotions in their palms.
With the world in lockdown, and social distancing measures still in place, end-of-year productions have had to be postponed, cancelled or moved online. Those in the industry know how crucial these performances are. And although not everyone will leave with an agent, it gives casting directors the opportunity to fill their books with new faces if they have gaps. What would a generation of drama school students do without one?
An entire year-group worried about their future
Zsara Jaeger has just completed her studies at the London College of Music, where she studied BA Acting and Theatre-Making. "I feel sad about the situation," she says. "It's heartbreaking seeing all the current and graduating students from all schools around the UK feeling totally helpless and worried about their future within the industry. It's wonderful that so many industry professionals are offering up their time for Q&As and free classes or words of advice, but in all the talks I have attended, everyone has expressed such sadness towards us and uncertainty as no one truly knows what or will happen."
Her showcase was meant to happen at Trafalgar Studios in London on 24 March 2020, but it was cancelled. Instead, there was a mad rush to film performances however they could. "It was really strange being ready to perform, having rehearsed for a few weeks prior and then being told it is cancelled. Being the film-maker in my class, I brought in my cameras, filmed, and later edited everyone's 'showcase reels.' The showcase-filmed scenes came in super handy as a quick fix. However, I really wish that I had gotten a professional showreel early on, knowing what I know now."
As lockdown has continued, creative people have put their thinking caps on. How to give recent grads the same opportunities they had when they left theatre school? How could the acting community help each other out when no-one has any work?
A new initiative: Showcase 2020
Showcase 2020 was one initiative that was meant to address this. It was founded by two actors, Olivia Beardsley and Isaac Stanmore. Beardsley tells us: "We started chatting about opportunities that were beginning to spring up online after lockdown started, and how awesome it would be if graduates were prioritised or had their own online centralised initiative. We thought: 'Why don't we do it ourselves?' We registered the domain the next morning, and 10 days later launched Showcase 2020."
Showcase 2020 is an online showcase for 2020 graduates which puts showcases and reels online, all in one place, for free. Graduates are grouped by their school and course, and each display a headshot, video and CV. Industry professionals can view hundreds of showcases at the touch of a button, making school showcases widely accessible. Beardsley says: "We entirely self-fund the site and give up our own time and resources to make it happen. It's just the two of us managing absolutely everything, which is naturally a lot of work, but the response to the site has made it all worth it."
The pair describe the response to Showcase 2020 as "incredible." Beardsley says: "Lots of industry folks are coming to us to say they feel it's a practical and really useful resource as it centralises graduates for them, meaning they can 'attend' more showcases than ever before."
Despite the setbacks, all the graduates they come into contact with have been "incredibly warm, positive and resilient, and all the creatives and the schools we have spoken to about our initiative and the situation realise how important it is for the graduates to be supported."
Lewis Snell, a recent graduate from London College of Music, demonstrates this resilience: "I feel more empowered to achieve more and better my craft. This bump in the road is something the industry has never really faced before, so it's something we have to unfortunately go through to get there, but there's always going to be a light at the end of the tunnel." He adds: "I would never want to change the fact I was in the class of 2020. The people who have surrounded me have made a huge impact on me."
How are the drama schools reacting?
Other organisations, including drama schools, are doing their best to smooth the transition. At Guildford School of Acting (GSA), principal Sean McNamara tells us a major effort was made to develop virtual end-of-year performances to ensure the work students had put in wouldn't go to waste.
McNamara describes how their Tam Williams-directed music and acting course students adapted to lockdown by creating a radio play and online concert, complete with entire original score and website, adding: "They're developing a new skill set that will continue beyond the pandemic."
Other drama schools, such as Mountview, have supported students by sending out virtual showreels to agents. The Royal Central School of Speech and Drama created their own database of taped songs and student monologues and tweeted them out, while the London College of Music helped students to remotely record self-tapes and create virtual showreels.
The Collective Creative Initiative
Casting directors James and Rosie Pearson have set up the Collective Creative Initiative as another way to support actors of all levels to continue to skill-share.
"We noticed on social media everyone coming together, and doing lots of free things. Q&As, acting classes, dance classes, and just being wonderful. We thought this was incredible, but ultimately it's just not sustainable," explains James Pearson. "The practitioners need to be paid for their skills but the actors literally weren't earning any money. We wanted to help bridge the gap, so we entered a competition for funding provided by UK's innovation agency, Innovate UK, which allowed us to pay those who ran tutorials and workshops while still offering them for free to students."
Pearson has given a lot of talks to students, and the most common question he hears is what he thinks the future holds. The advice, he says, is simple: "The world is on hold. The whole industry is on hold. It's not like your school is the only one that's stopped. In December and January, they'll still be the new grads and everyone will still want to meet them. Breathe. Don't even think about December, but just stay focused."
The future: 'Not worse – just different'
There's confidence among students and staff that the future will be different, but not impossible to navigate, despite theatres closing. After all, socially distanced filming has already begun. As Pearson says: "We've come through big tragedies and we're still here now. It's not going to be worse, it could just be different in the future. It will work out."
For grads though, it's not all goal-oriented optimism. Jaeger is more pragmatic about the future. "I am both optimistic and pessimistic. I feel optimistic about the industry re-opening, however far away that may be, and the knowledge that it will return and eventually things will be as they were (or hopefully even better) is comforting. However, I feel pessimism because the chances of acquiring work up against literally everyone else in the industry will be really hard to achieve. I wish my course was four years long so I could stay in the comfort of my brilliant teachers, who, by the way, have been absolutely amazing in these worrisome times."