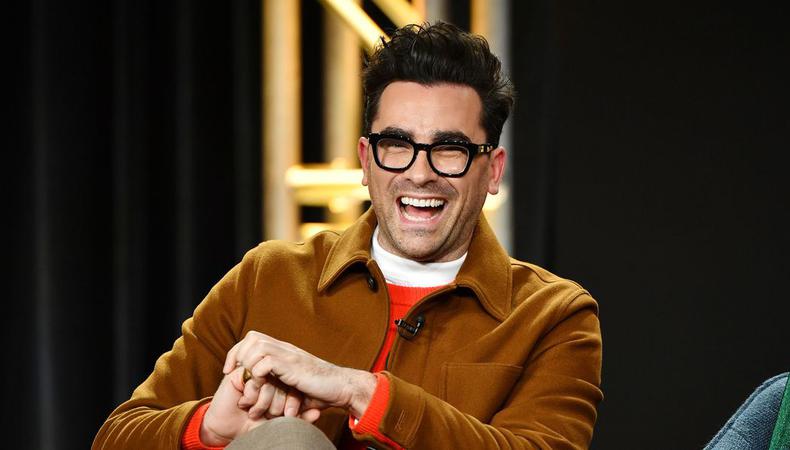 Greenlit means a project is officially a go, so all you have to do is follow these leads to stay up to date. You never know where you'll find an opportunity to land an audition!
Dan Levy Netflix Deal
From up "Schitt's Creek" to a major first-look deal: multi-Emmy winner and "Schitt's Creek" creator-writer-star Dan Levy has closed a first-look feature deal and an overall one in scripted content with Netflix, under which he'll write and produce. The multi-hyphenate will begin the new deal with an original untitled romantic comedy which he'll direct, write, produce and star in. Projects will begin in July 2022 when Levy's current three-year overall deal with ABC Signature ends. Until then, he will continue to be exclusive to ABC Signature where he currently has three live-action projects in the works, as well as the previously announced animated comedy "Standing By" which has a presentation order at Hulu.
"Wednesday"
"Game of Thrones" star Gwendoline Christie has reportedly joined the cast of Netflix's upcoming "Addams Family" spinoff series "Wednesday" as a series regular. The actor will play Larissa Weems, the principal of Nevermore Academy where Wednesday Addams (played by Jenna Ortega) attends and a longtime rival of Morticia Addams (played by the previously announced Catherine Zeta-Jones). Also guest starring will be the previously announced Luis Guzmán as Gomez Addams, as well as Issac Ordonez (Pugsley Addams), Victor Dorobantu (Thing), and George Burcea (Lurch), as well as Tommie Earl Jenkins (Mayor Walker), Iman Marson (Lucas Walker), William Houston (Joseph Crackstone), Luyanda Unati Lewis-Nyawo (Deputy Santiago), Oliver Watson (Kent), Calum Ross (Rowan) and Johnna Dias Watson (Divina). The series will follow "Wednesday's attempts to master her emerging psychic ability, thwart a monstrous killing spree that has terrorized the local town, and solve the supernatural mystery that embroiled her parents 25 years ago—all while navigating her new and very tangled relationships at Nevermore." Al Gough and Miles Millar are the series creators and will showrun and executive produce. Tim Burton is on board to direct and executive produce. Sophie Holland and John Papsidera are the series casting directors.
"Luther" Movie
Luther is back in action and will be joined by a pair of stage and screen greats for his big screen close-up. Cynthia Erivo and Andy Serkis will star alongside Idris Elba in the Netflix feature film installment of "Luther" as it continues the story of the acclaimed crime series. Series creator and writer Neil Cross has written the script, which will be directed by Jamie Payne, who directed the last season of the series. The film is expected to follow Detective Chief Inspector John Luther, a brilliant London officer so obsessed with his work that he is willing to go down the darkest of paths and break the stringiest of rules, as he contends with a double threat. Erivo is playing a detective who is also Luther's nemesis while Serkis is the story's criminal villain. Filming begins in November for the Netflix and BBC feature. Andy Morgan is the series casting director.
"Maggie Moore(s)"
Coming off a major night for "Ted Lasso" at the Emmys, nominee Nick Mohammad has something else to smile about. The actor-comedian has joined the cast of John Slattery's "Maggie Moore(s)" opposite Jon Hamm and Tina Fey. As previously reported, the film takes place in a dusty desert town where nothing ever happens, as a police chief is suddenly faced with the back-to-back murders of two women with the same name. Mohammed will reportedly play "a part philosopher, part wise-ass who makes jokes in inappropriate situations but only as a defense mechanism to protect himself from the worst parts of his job as a police officer." This will be Slattery's second film after 2014's "God's Pocket." A casting director for "Maggie Moore(s)" has yet to be named.
"Bel-Air"
In both West Philadelphia and in Bel-Air, our new Will has found his family. The dramatic reboot of "The Fresh Prince of Bel-Air" at Peacock (titled simply "Bel-Air") has filled out the rest of its main cast. Starring opposite the previously announced Jabari Banks as Will will be Adrian Holmes as Phillip Banks, Cassandra Freeman as Vivian Banks, Olly Sholotan as Carlton Banks, Coco Jones as Hilary Banks, Akira Akbar as Ashley Banks, Jimmy Akingbola as Geoffrey, Jordan L. Jones as Jazz, and Simone Joy Jones as Lisa. Based on Morgan Cooper's popular fan film that re-envisions the original series, the new hour-long serial drama, which has already received a two-season order, is set in modern-day America and "leans into the original premise: Will's complicated journey from the streets of West Philadelphia to the gated mansions of Bel-Air." Jada Pinka Smith and Will Smith's Westbrook Studios and Universal Television will produce, and T.J. Brady and Rasheed Newson ("The Chi" and "The 100,") will serve as executive producers and co-showrunners. Morgan Cooper directs and serves as co-writer and executive producer.
"The Bodyguard"
A surprising twist for Tony nominee Matthew López ( "The Inheritance"), who has been hired to write a reimagining of the iconic Whitney Houston film "The Bodyguard" at Warner Bros. Inspired by the 1992 romantic drama that Starred Houston and Kevin Costner, the new version will be produced by Lawrence Kasdan of Kasdan Pictures (the writer-producer of the original) and Dan Lin and Jonathan Eirich of Rideback. Lin has been attached to the property since 2011, which has gone through the rumor mill in terms of casting since, with starring combos ranging from Chris Hemsworth and Tessa Thompson to Channing Tatum and Cardi B. (No cast has been set at this time, though Lizzo has already dreamcast herself in the role opposite Chris Evans.)
"The Yellow Tie"
First reported by Variety, John Malkovich will play legendary classical conductor Sergiu Celibidache in a new film titled "The Yellow Tie." Based on a screenplay by the conductor's son, Serge Ioan Celebidachi and James Olivier ("Octav"), the biopic will explore Celibidache's life as one of the world's most controversial conductors, who, after periods of homelessness, eventually won a competition to become the youngest ever conductor of the Berlin Philharmonic Orchestra and went on to become one of the most celebrated conductors of the twentieth century. Celebidachi will also direct. The feature is set to shoot in Romania in spring/summer 2022 with Malkovich playing Celibidache in the composer's later years. Says Malkovich, "I am thrilled and honored to be given the opportunity to play the conductor Sergiu Celibidache. A unique and singular talent, he is considered to be one of the great classical music visionaries of the last century. Playing him in his later years will be a challenging and fascinating journey." Casting is still ongoing for a younger version of the musician. Des Hamilton is the casting director.
"Jigsaw"
"Breaking Bad" and "Better Call Saul" star Giancarlo Esposito will soon be planning for the perfect crime. The veteran actor and Emmy nominee has joined the cat of the upcoming heist action drama series "Jigsaw" for Netflix. The real-life story centers the largest heist ever attempted—$70 billion in bonds that went missing in downtown Manhattan during Hurricane Sandy—and "the vengeance, scheming, loyalties and betrayals that surround it." Esposito will star with Paz Vega, Rufus Sewell, Tati Gabrielle, Peter Mark Kendall, Rosaline Elbay, Jai Courtney, Jordan Mendoza, and Niousha Noor in the eight-part series, which will reportedly take a "nonlinear approach to storytelling in a way where viewers are in control." "Jigsaw" is filming at Netflix Studios in Brooklyn, making it the first production at the company's new Bushwick studio. Jose Padilha will direct the first two episodes.