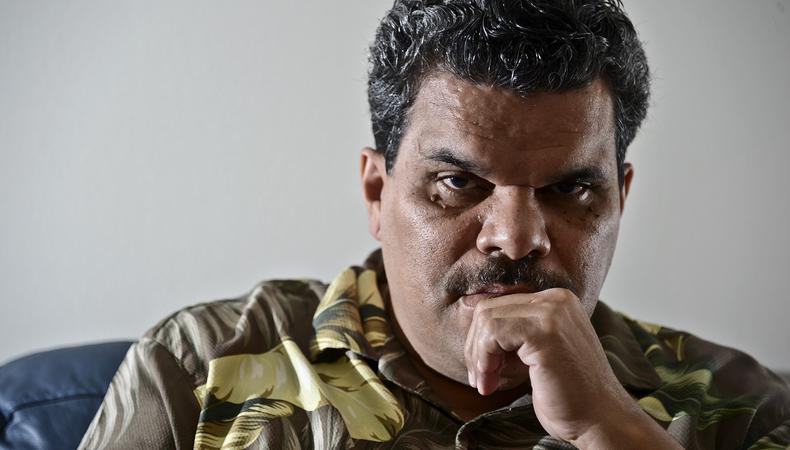 Greenlit means a project is officially a go, so all you have to do is follow these leads to stay up to date. You never know where you'll find an opportunity to land an audition!
"Wednesday"
Luis Guzmán is set to join the creepy and kooky cast of the upcoming "Wednesday" at Netflix, along with Catherine Zeta-Jones as Morticia. As previously announced, Jenna Ortega will star in the titular role in the "supernaturally infused mystery charting Wednesday Addams' years as a student at Nevermore Academy." According to the logline, the series will follow "Wednesday's attempts to master her emerging psychic ability, thwart a monstrous killing spree that has terrorized the local town, and solve the supernatural mystery that embroiled her parents 25 years ago—all while navigating her new and very tangled relationships at Nevermore." Guzmán will appear in a guest-starring role as the family patriarch Gomez. The series, created, showrun, and executive produced by Al Gough and Miles Millar, was given an eight-episode order back in February. Tim Burton is on board to direct and executive produce. Sophie Holland and John Papsidera are the series casting directors.
"Dead Ringers"
A standout in the already inimitable "Hacks" cast, Poppy Liu has pulled her next series role. The actor is set to join the cast of Amazon's "Dead Ringers," starring Rachel Weisz. Liu will also join the recently announced cast member Michael Chernus in the modern update of the 1988 David Cronenberg film of the same name. The series version will see Weisz playing the double lead role of Elliot and Beverly Mantle, "twins who share everything: drugs, lovers, and an unapologetic desire to do whatever it takes, including pushing the boundaries on medical ethics in an effort to challenge antiquated practices and bring women's healthcare to the forefront." Liu will reportedly play Greta, Beverly and Elliot's watchful and meticulous house manager who runs their lives with complete efficiency and her own hidden agenda. Alice Birch will write and executive produce the series with Weisz also executive producing. Amazon and Annapurna will produce. Susan Shopmaker is the casting director.
"Standing By"
The wait is over: "Schitt's Creek" co-creator, executive producer, and star Dan Levy has signed on for a new project. Hulu has ordered a presentation for "Standing By," an animated comedy from Levy, writer-director Ally Pankiw (a former "Schitt's Creek" writer), and 20th Television Animation. According to Deadline, Levy will voice one of the lead characters in the project, which is "a satirical look into the lives of a group of eternally bound, disgruntled guardian angels and the lessons they'll eventually learn from not only the dysfunctional humans they're in charge of protecting but also each other." Levy will voice Carey, the newly deceased, cynical spotter to the group who had a lonely, isolated life in New York City. The project falls under Levy's overall deal with ABC Signature. While no casting director or further casting has been named, Jon Comerford and Lisa Parasyn were the casting team for "Schitt's Creek," though the "Standing By" team may be looking at somebody who is an animation voiceover specialist.
"She Said"
First reported by Deadline, Patricia Clarkson will make headlines in the upcoming Universal Pictures/Annapurna/Plan B project "She Said." Based on New York Times reporters Megan Twohey and Jodi Kantor's best-selling book, "She Said: Breaking the Sexual Harassment Story That Helped Ignite a Movement," the film follows their award-winning investigation of the Harvey Weinstein sexual assault story in 2017. As we previously reported, Twohey and Kantor are set to be played by Carey Mulligan and Zoe Kazan, respectively. Clarkson will play Rebecca Corbett, the New York Times' investigations department editor who oversaw the reporters. Oscar winner Rebecca Lenkiewicz ("Ida") adapted the screenplay, and Maria Schrader will direct. A casting director has yet to be made public, so be sure to keep your eyes on the project for future casting news.
"Renfield"
Universal Pictures continues to bring the frights with its growing catalog of monster flicks. Next up, the previously announced "Renfield," which, announced last week, has tapped Nicholas Hoult as its star. Hoult, who also just signed on to Searchlight's "The Menu," will play the titular Dracula Henchman. "Tomorrow War" helmer Chris McKay is on board to direct from a script by Ryan Ridley from an original story outline by Robert Kirkman. "Renfield" joins Universal's high-profile slate of monster projects that include "Wolfman," a new "Van Helsing" feature, and more.
"Killers of the Flower Moon"
First reported by Deadline, Brendan Fraser is the latest to join the cast of Martin Scorsese's next highly anticipated project, "Killers of the Flower Moon." Produced by Paramount Pictures and Apple TV+, the crime drama, based on the bestselling book of the same name by David Grann, is set in 1920s Oklahoma and will examine the serial murder of members of the oil-wealthy Osage Nation—a string of brutal crimes that came to be known as the Reign of Terror. As previously announced, Robert De Niro, Leonardo DiCaprio, and Jesse Plemons will star in the feature that also includes cast members Barry Corbin, Lily Gladstone, Tantoo Cardinal, Nathaniel Arcand, Sturgill Simpson, and more. Eric Roth scripted the film. Filming is set to begin soon in Tulsa. Scorsese regular Ellen Lewis is the casting director.