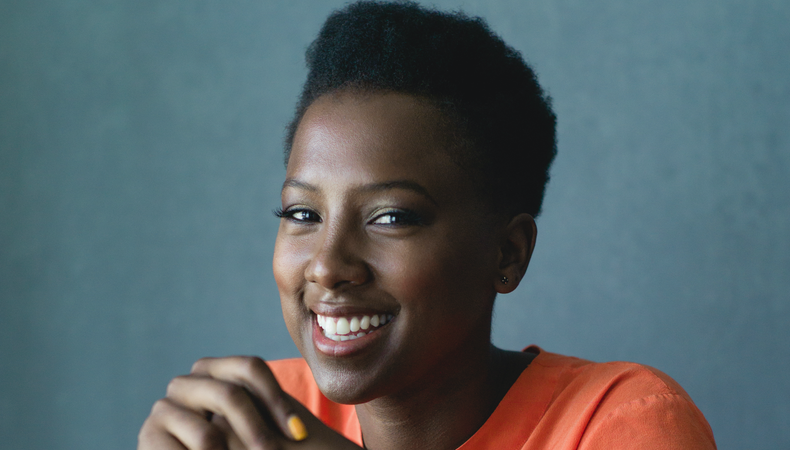 The following Career Dispatches essay was written by actor, writer, director, and activist Jade Anouka, who is set to star in the upcoming second season of His Dark Materials. As part of its Culture in Quarantine series, the BBC commissioned her to write and direct a film, which she shot entirely at home with her phone camera during lockdown. Here, she describes the journey that led to Her & Her.
March
All the theatres are shut and all the film sets have stopped shooting. We're all told to go home and stay there. I was in the middle of filming a TV project while also working on my debut play, which I was due to star in this summer, when lockdown happened. Luckily, I had writing to keep my mind busy. I like having stuff to do and if no-one's going to give me that then I need to create myself. I began focusing on writing more poetry and developing play scripts that had previously been put to one side. I scoured social media for opportunities to create. I made a video with some theatre pals who each took a line from Shakespeare's The quality of mercy speech that speaks of being kind to each other; it went viral. I performed a monologue: Bedlam Before The Burn Out by Aisha Zia for HighTide Theatre's Love In The Time Of Corona series. And I took my dog for late night walks every day, to avoid people.
April
Now it's the first week of April, and I see that the BBC are offering to fund 25 new projects as part of their Culture In Quarantine series. I complete the application on the day of the deadline (I wasn't sure if I should bother applying). In the end, the idea was a simple one. Well, I was stuck in a house with a musician and our dog. At this point, we were three weeks into lockdown and already it felt like the world had changed irrevocably, and the relationships of those quarantined together had new depth. My project would be about that – I just wasn't sure how yet. I sent a rough outline that it would be a short film written in verse and performed to music throughout (Grace is a BBC Radio 1-supported electropop artist and four-times UK beatbox champion). It felt like we had the skills to create something, and we've collaborated together before – she has accompanied me at poetry gigs. I sent evidence: a wonderful review of a gig at the Roundhouse Last Word Festival and some live recorded videos, along with the application, and thought nothing would ever come of it.
May
Nearly three weeks later I got the email saying we had been chosen. Shiiiiit! Now we had to do the thing – I had to make a 15-minute film: write the script, direct, operate the camera, and Grace had to score it. None of these things had we ever done before. Oh, and it had to all be completed and delivered to the BBC in 3 months' time.
So, I got to writing. My first impulse is always poetry. It comes easier to me than prose; it feels more free, somehow. I began writing on the topic of home, what home feels like now we are in it all the time. The safety of home when outside can be scary, where you chose home to be (if you are lucky enough to have a choice), and the question many Black people in the UK are familiar with: "Where are you from?" Like, where are you really from? Grace and I chatted about our very different upbringings. Hers in the countryside with English parents and relaxed rules and mine in the city to immigrant parents and strict rules. We spoke about the differences in our cultures and also the similarities in our wants and fears. We had great and sometimes difficult conversations about race and sexuality and how both those affect how we move in the world. All this fed the script. I created a fictional story with characters familiar to us. What if Her & Her were a new couple, what if they've just moved in together, what if one of them brings a dog, what if living in close quarters with someone puts a strain on the relationship, what if they aren't communicating, what if they then start to talk, what if they realise that the world looks at them differently because of their sexualities, what if they realise that within that the world looks at each of them differently because of the colour of their skin, what if they dance it out, what if they stay at home because the world needs to figure itself out first….
When I write, my main hope is that someone will read or hear the words and feel less alone in the world. My last public performance before lockdown was at the WoW Festival at an event celebrating Toni Morrison, so I'll use a quote from her: "If you find a book you really want to read but it hasn't been written yet, then you must write it." I don't see myself reflected on screens or in theatres in this country. There are plays, films, TV shows I want to see, but they haven't been written yet. So maybe I need to seriously get writing!
Once the script was done, it was Grace's turn to start on the soundtrack. She has an incredible way of portraying feelings through music. I guess it's her beatboxing experience and how she often uses vocal sounds and breath and layers and loops it to make a full track. We would talk about the vibe I wanted for a section, and then she would go off and do her thing.
Meanwhile, I had to work out what a film director really does – find out cinematography tips, and what gadgets might be best to make the most out of my chosen camera, my iPhone 11. It's a small flat, so I thought keeping the camera small would be a good start. Also, I know how to use my phone and I didn't have time to do a course in how to use a fancy video camera. Plus, I spent the next few weeks searching camera angles, lenses, and how the hell to light a scene. I also had to make a storyboard and figure out what we were going to wear in each scene, colours, vibes, moods. Thankfully, I have a good friend who's a film producer (Lizzie Brown of Bird Flight Films) and she came on as production consultant, guided me through and absolutely saved us with a shooting schedule, taking into consideration costume changes, set dressing, lighting set up, etc. – things I couldn't get my head around how to even begin working out.
June
The 7th of June comes around quick and we begin our five-day shoot. Which goes surprisingly smoothly – I think there were only tears once, maybe twice. We didn't account for how long it would take to upload the rushes in order to send to the editor. It added an extra three hours of work every night, especially after those 12-hour shoot days and often-missed meals. But we did it. We ended with an external shot of us performing the gig moments in the film in front of our pre-warned neighbours watching from windows opposite. Wrap was at 11.59pm, and as the clock struck midnight we popped a well-earned bottle of Prosecco, and I saw in my birthday to the relief of having shot my first film.
August
I don't know if I would do that again. I learned so much, and I feel quite proud to have created something as special as this during such strange circumstances. I really appreciate all the work that film crews do; I always did, but now to a new level. Makeup, costume, lighting, and everyone that helps tell a story on screen. Maybe next time I'll have a full team of these legends to guide me through. I really like directing, I really like writing; but for now, acting is still my love. But who knows what the future holds. So, watch this space.
Her & Her is now available to stream on the BBC iPlayer, and Season 2 of His Dark Materials, starring Jade Anouka as Ruta Skadi, arrives on BBC One in the UK and HBO in the US later this year.