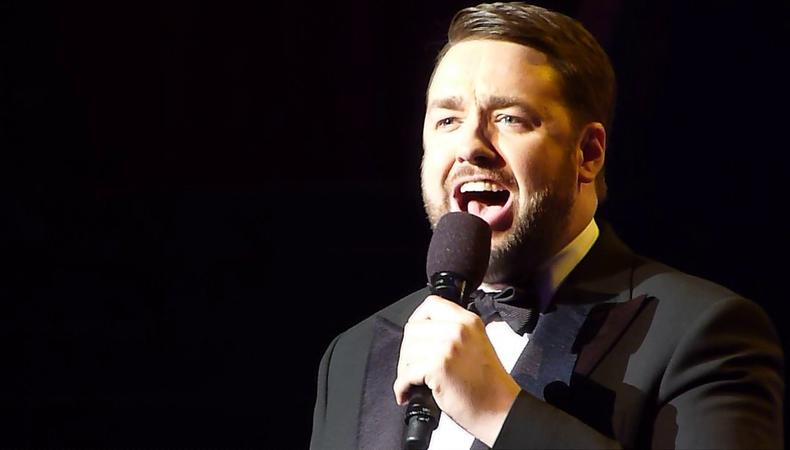 Developments in the business of acting are not always front-of-mind for time-pressed creatives, yet can have a major impact on how their careers develop. That's why we've created The Business, a series to help UK actors and performers stay updated on the key stories that will affect the nuts and bolts of their professional lives. This week, Jason Manford opens up about his battle with anxiety and depression, performers rail against the high cost of travelling to auditions in the capital, and BECTU launches its 1st Annual Future Filmmakers Film Festival.
Jason Manford opens up about battle with anxiety and depression
Comedian and musical theatre performer Jason Manford opened up to fans on his Facebook last week, sharing his story of a "health scare" involving struggles with mental health. Manford reported that a near-breakdown took him away from touring for a few weeks earlier this year and said: "I felt like I'd let my kids down and I couldn't work anymore. It's taken me this long to be brave enough to say it, it's been hard." The comedian also claimed that social media had contributed to his anxiety.
Manford, who is joining a tour of the musical Curtains, warned that the men were especially bad when it came to talking about mental health but that he took heart from the phrase: "Just because you're struggling, it doesn't mean you're failing." He's one of the many performers to have opened up about mental health in the industry, with actors Christian Edwards and Harry Long setting up regular sessions last year to give space to discussions about poor mental health in the industry.
For more information and access to support, visit ArtsMinds or contact the Theatre Helpline.
Train fares forcing actors to abandon London castings
Actors are reporting missing work to drive to London instead of forking out for "extortionate" train fares, with performers and agents warning The Stage of an "untenable" situation for regional performers. Speaking last week, performers claimed the price of train travel for short-notice auditions and multiple call-backs leaves them hundreds of pounds out of pocket. In response, Equity has promised to relaunch its Cast It Here campaign.
While self-tapes are increasingly common for first-round theatre auditions, things are less straightforward for productions involving movement or group work. Exacerbating the issue, regional theatres often cast in London. Manchester-based actor Chris Clarkson told The Stage he pays as much as £90 for a ticket to London and stressed that a West End show with six rounds of auditions would mean "£540 just to get a job." Clarkson said: "I now don't head to London for the cattle-market casting or those where the fee is stupidly low."
Major careers resource pushes for arts industry 'accessible to all'
The Stage has launched a theatre careers resource in an effort to break down barriers facing young people from under-represented backgrounds.
A 2016 report revealed the main barrier to young people from black, Asian and minority ethnic (BAME) backgrounds entering the industry was a lack of information about career options. In light of this, The Stage has developed Get Into Theatre with the support of the Andrew Lloyd Webber Foundation, UK Theatre, and the Society of London Theatre.
Focussing on opportunities and advice for young BAME people and those from lower-income backgrounds, Andrew Lloyd Webber described the site as a "one-stop shop," featuring careers guidance and information as well as a platform for opportunities from theatres and companies. He said: "I passionately believe a career in the arts should be accessible to all and that young people with an interest and passion for theatre are able to easily find information on the training and tools they need to succeed."
READ: Leading British Entertainers Propose Tax Incentives for Diversity
Foundation to help young performers 'achieve their dreams'
A new foundation offering financial support for young performers has been set up to honour the late choreographer Gillian Lynne, whose credits included Cats and The Phantom of the Opera. Announced last week, the trust is named after Lynne and her husband, the actor Peter Land. The Lynne and Land Foundation launches in July and will provide grants and scholarships to help performers working in choreography, drama, and musical theatre to "achieve their dreams."
Union launches young film festival
BECTU has launched its 1st Annual Future Filmmakers Film Festival in collaboration with BECTU Young Members. Now taking drama, documentary, or experimental submissions, the festival is open to members under 25 or those who join the union before 31 July. Celebrating emerging talent across the UK, the festival itself will take place in September, with screenings at The Cinema Museum in London.
London's next theatre
Nicholas Hytner and Nick Starr are to open another new London theatre after the success of their Bridge Theatre. Sharing a King's Cross office building with Facebook, the as-yet-unnamed theatre will feature 600 seats in an adaptable space. The programme, beginning in winter 2021, will be a mix of new writing and classics in a similar vein as the Bridge, where productions have included world-premieres and a promenade staging of Shakespeare's Julius Caesar. Read more here.
Equity nominations 2019
The union's nominations for new committee members are open until 10 May, offering performers and offstage workers the chance to make their voice heard. Elections are being held for the three industrial committees as well as supporting specialist and equality groups. Find out more here.
READ: What Is Equity + Why Should You Care?
Panel raises concerns of queer performers
Straight Talking, the Mono Box's panel discussion on the realities of being an LGBTQ+ performer in the industry, is now available online. Actors and artists discuss issues faced by queer performers, including the language of casting calls, visibility of performers and the lack of opportunities. Watch the panel discussion here.
Upcoming show development seeking mothers
Anna-Maria Nabirye and Jess Mabel Jones are looking for women of all backgrounds to help inform their new show Motherhood, commissioned by The Albany. Exploring the pair of thirty-something's "reproductive precipice" and creating a space to redefine notions of motherhood, workshops are being held on 12 and 19 May, which are free to attend and accessible. Find out more here.
For more from Backstage UK, check out the magazine.