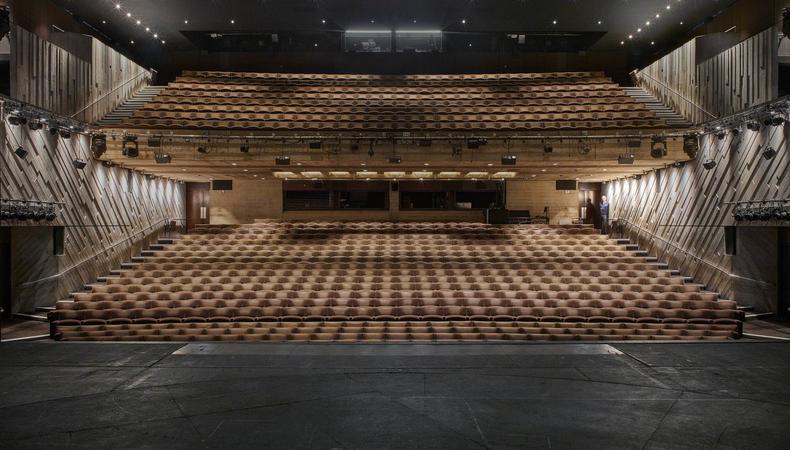 It's the sequel no one wanted. Boris Johnson's announcement of a second lockdown from 5 November to 2 December is another blow to a UK acting and production industry already struggling to get back on its feet. The mandatory closing of non-essential outlets and indoor leisure spaces, on top of recent testing rules, has complicated screen production, added complexity to auditioning, and means that theatres and cinemas across England are now closed, losing vital revenue in ticket and bar sales. And while this lockdown applies only to England, the other nations of the UK also have onerous restrictions in place.

While the official line stresses the definite end-date, others (including Michael Gove) suggest that lockdown could last longer if infection rates have not fallen sufficiently, leaving the future of live performance still seeming uncertain.
Theatre
One major casualty was the National Theatre's Death of England: Delroy. The Olivier's first post-lockdown production had its first and last night on 4 November, cutting short what was months of preparation and planning.

In Leicester, the Curve's planned production of The Color Purple never made it to stage and has been rescheduled for early 2021. After spending time and a significant amount of money making the space Covid-safe, the Curve's chief executive Chris Stafford told The Stage the current closure was "financially and artistically devastating."
In Manchester, The Hope Mill Theatre's highly lauded production of RENT also closed early. The 12-strong cast formed a bubble up in Manchester and were performing to rave reviews, but the already-rescheduled show has now shut (though a pre-recorded version will be available to stream on specific dates from 27 November–20 December).

The Southwark Playhouse production of The Last 5 Years has a similar option for audiences. The show was forced to close early for a second time this year, but thanks to a partnership with website stream.theatre, the production had already been captured and will be available to stream worldwide from 26 November.
Live-performance streaming
For productions with the budget and capability, streaming partnerships could prove an invaluable asset to theatre companies and provide a much-needed cash boost to help them navigate the coming months. Even productions already closed are offering online content, with an archive recording of Morgan Lloyd Malcolm's Globe transfer Emilia available to stream from 10 November at a pay-what-you-can rate. Proceeds will go to the actors and the team behind the Olivier Award-winning show.
A notable difference between this and the first lockdown is that although spaces must be closed to the public, performances themselves can often go ahead. Production company Tramp were due to show the world premiere of Philip Ridley's Poltergeist at Southwark Playhouse on 20–21 November, and this will still go ahead. In contrast to the pre-recorded streams, this show will be live-streamed to audiences from the space, offering up a more visceral experience for viewers.
Looking for your next role during lockdown? Check out our UK castings
Rehearsals can continue
Another difference between this and the previous lockdown is that some work can still continue to happen on productions due to allowances for workers who cannot carry out their job at home. Theatreland argued that rehearsals should be included in this, and culture secretary Oliver Dowden has confirmed they are. This decision could mean shows due to open after 2 December can still go up as planned.
Screen production
The effects a second lockdown will have on television and film will be different but likely just as complicated. Film London have confirmed in guidance published earlier this week that as per government guidelines, workers who cannot work from home should go to their place of work, meaning "film and television production can continue as long as they operate in a COVID-secure manner."

This is a welcome decision for production companies already operating well behind schedule, and who have spent the past months implementing difficult and costly new measures to restart after the last lockdown. However, many companies have to weigh up their options as a Covid outbreak on set could shut down an entire production and lose the companies millions.

With many productions also requiring two-week paid isolation periods before shoots, budgets could soar and become unrealistic for many. Similarly, with the new legal duty to self isolate if contacted by track-and-trace, crew booked in for multiple shoots might find themselves caught in a tangle if they're expected to be on set after being exposed to the virus. Expect a lot of particularly smaller-scale films and shows to push back filming plans once more.
Cinema
The new lockdown is, of course, grim news for cinemas throughout the country. We reported last month on the failure of Tenet to re-ignite cinemas, and the bombshell announcement of No Time To Die's postponement, which had the immediate effect of closing down Cineworld (the UK's largest and US's second largest cinema chain) – apparently temporarily, though the entire film-screening industry now faces an existential threat. This new lockdown is terrible news for movie theatres, though film production can theoretically continue. And while much depends on the length of this new lockdown, it will do nothing to slow the migration of film from cinemas to streaming platforms
Workforce grants
With the arts sector running on the work of freelancers, there is also the issue of furlough versus Self-Employment Income Support Scheme (SEISS) grants. The announcement of both being extended well into 2021 is welcome news, though the arts industry includes many of the estimated 3m people who have fallen through the cracks of all schemes; and by next year, many will have received no financial help for almost a year. The Excluded UK campaign continues, though there's no evidence Chancellor Rishi Sunak is engaging.
Amid the uncertainty, the arts community in England (as across the whole UK) is gearing up for another four weeks at least of potentially huge losses. If there's a silver lining to be had, it's that the acting, screen production, and theatre industry has already shown great resilience and adaptability to working in Covid times. But with the threat of closure still hanging over many theatres and cinemas, clearly a vaccine can't come soon enough.