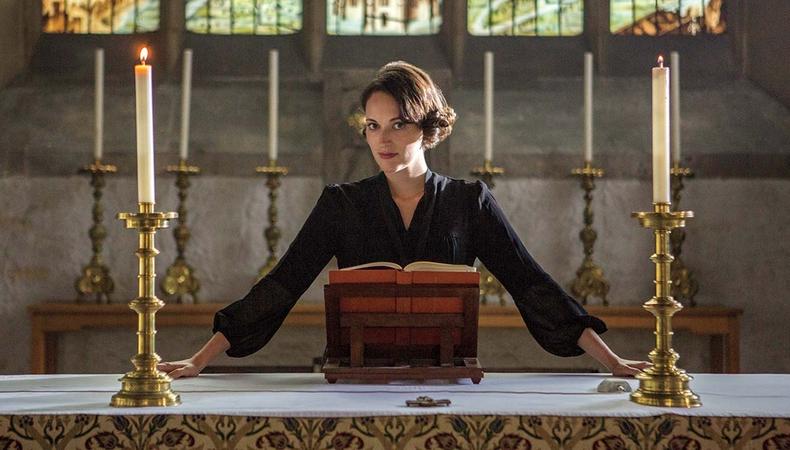 Hello, and welcome back to Week in Review, our roundup of industry-wide news. From stage to screens big and small, we've got you covered. It's everything you need to know and all you can't afford to miss.
Phoebe Waller-Bridge Signs Deal With Amazon
Fresh from sweeping the board at the Emmy Awards in LA this week, Fleabag and Killing Eve creator Phoebe Waller-Bridge has signed an exclusive deal with Amazon Studios. Amazon previously co-produced and distributed both series of Fleabag in the US, but the new deal will see Waller-Bridge create and produce exclusively for Amazon Prime. According to Variety, the exclusive contract is worth $20m (£16m) a year over three years. "I'm insanely excited to be continuing my relationship with Amazon," said Waller-Bridge. "Working with the team on Fleabag was the creative partnership dreams are made of. It really feels like home. I can't wait to get going!" Watch Waller-Bridge's wide-ranging Backstage interview here.
READ: Why Does Amazon Prime Video Matter to UK Actors?
Young people boycott RSC over fossil fuel sponsorship
School climate protesters from across the country are threatening to boycott the Royal Shakespeare Company (RSC) over its sponsorship deal with fossil fuel giant BP. In an open letter, the group of young people called BP's sponsorship "a stain" on the RSC and argued the theatre company "needs young people far more than it needs BP." The energy company currently sponsors the RSC's under-25s tickets scheme, which the boycotters say "makes up less than 0.5% of the RSC's income" but results in the company logo being on tickets. The letter calls on the RSC "to say 'out damned logo' and remove [BP's] sponsorship."
Following activism that included a millions-strong school strike last week, the group of young people applaud former RSC associate Mark Rylance's decision earlier this year to resign from the RSC over BP's sponsorship. The group said they would "lobby our schools to not run school trips to the RSC, and to instead support other theatre companies that put on Shakespeare performances without fossil fuel branding." They also requested a meeting with the RSC's leadership, who issued a joint letter ahead of the boycott. In it, artistic director Gregory Doran and executive director Catherine Mallyon said: "This subject is very much live at the RSC with our artists, staff, board and our audiences and we look forward to reviewing the contents of the letter."
Harvey Weinstein told Cara Delevingne to 'get a beard'
Model and actor Cara Delevingne revealed disgraced movie mogul Harvey Weinstein told her she'd never make it in the industry because of her sexuality. In an interview with Net a Porter, Delevingne said: "One of the first things Harvey Weinstein ever said to me was, 'You will never make it in this industry as a gay woman – get a beard.' " Delevingne, who identifies as "gender fluid", echoed recent comments from Kristen Stewart, who said she was told not to appear in public holding a girlfriend's hand if she wanted to "get a Marvel role."
Shakespeare festival folds, blaming Brexit
Shakespeare's Rose Theatre is to go into liquidation following "unsustainable losses" from their ambitious summer seasons in York and Blenheim Palace. Producers blamed the "economic uncertainty created by Brexit" for the collapse of the festival, which began in 2017. Lunchbox Theatrical Productions, who were also forced to cancel a tour of the RSC's Matilda to Hong Kong earlier this month, produced festivals in York in 2017 and 2018 before expanding to a second venue in Blenheim Palace, Oxfordshire this year. However, after a poor box office and the scrapping of a planned tour of East Asia, the producers said "the anticipated audience numbers needed to sustain a project of this scale were not achieved."
Kennedy Bloomer becomes artistic director of Hope Theatre
Kennedy Bloomer will become the next artistic director of north London fringe venue the Hope Theatre. Moving from a marketing role at the Jermyn Street Theatre, Bloomer will replace Matthew Parker in the role from January. Formerly artistic associate of the Hope Theatre and director of Edinburgh Festival show Jew...ish, Bloomer said she couldn't wait to lead "the little theatre with big ideas." Matthew Parker was named Best Artistic Director at the Off West End Awards 2017; his final production at the Hope will be The House of Yes, opening next month.
READ: London's New Theatre Boom: What You Need to Know
'One-stop-shop' careers service launched creative industries
A new "one-stop-shop" careers service has been launched to help young people discover roles in the creative industries. Discover Creative Careers supports students and young people wanting to learn about roles in areas including performing arts, film, and television, and helps them find opportunities. Read more in this week's edition of The Business
David Mitchell's West End debut
Comedian and actor David Mitchell is to make his West End debut in the stage adaptation of TV sitcom Upstart Crow. Ben Elton's critically acclaimed BBC comedy saw Mitchell play a "flowery, show off" William Shakespeare, in a semi-historic romp through early-modern London. Mitchell will revive the character next year for the stage version, starring alongside Game of Thrones actor Gemma Whelan as Kate. Mitchell said he was "delighted to have the opportunity to bring history's most famous balding dramatist to the West End via the amazing comic imagination of Ben Elton," who also writes the stage version. He said: "Theatregoers can look forward to a comedy steeped in authentic Shakespearean ambience in every way apart from the smell." Upstart Crow, written by Elton and directed by Sean Foley, will open at the Gielgud Theatre from February. Further casting is to be announced.
Cruella casting
British actor Kirby Howell-Baptiste has joined Cruella, Disney's live-action prequel to 101 Dalmatians starring Emma Stone. Howell-Baptiste is perhaps best known as ambitious would-be spy Elena in Killing Eve and as Sasha in US tragicomedy Barry. The live-action movie has begun production in the UK, helmed by I, Tonya director Craig Gillespie and with a script by Tony McNamara (The Favourite). As location shoots happened earlier this month, paps captured scenes of Stone playing a young de Vil with flame-red hair. Emma Thompson, Emily Beecham (Daphne), Paul Walter Hauser, and Joel Fry are also appearing in the film.
For more from Backstage UK, check out the magazine.