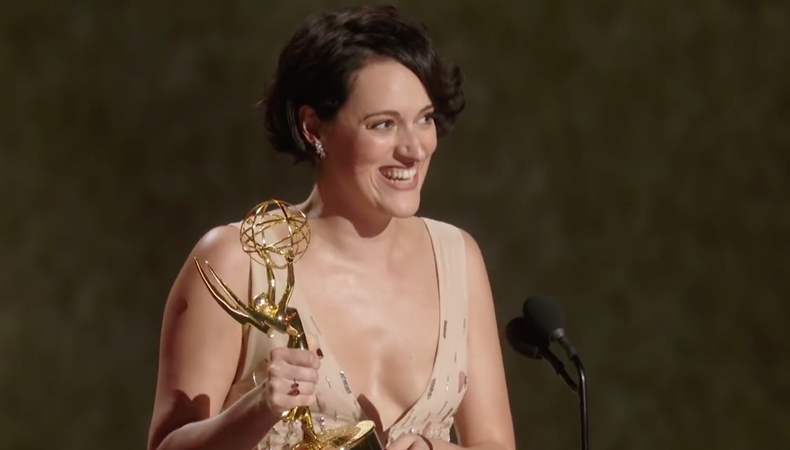 In what the US is calling a "British Invasion," Sunday's 2019 Emmy Awards was a storming night for UK talent and a welcome diversion from Brexit blues.
Fleabag and Chernobyl led the charge, with other British wins going to Killing Eve, A Very English Scandal, John Oliver, Black Mirror, Succession, and Game of Thrones.
In truth, national origin is not the easiest thing to determine with today's tangle of global production and project financing, but such details probably didn't trouble Phoebe Waller-Bridge, who accepted four awards for Fleabag, at one point announcing that "this is getting ridiculous." Waller-Bridge's awards included Writing for a Comedy Series and Best Lead Actress in a Comedy Series. Her shock on receiving the latter appeared genuine: the smart money had been on Julia Louis-Dreyfus for Veep, and the LA Times had noted beforehand that "Waller-Bridge with her exquisite comic timing and ace ability to convey grief and brokenness, would win in almost any other scenario… but she won't take this one."
READ: What Every Actor Can Learn From Phoebe Waller-Bridge
Game of Thrones picked up 12 wins, including Outstanding Drama Series. It's a testament to the goliath the series has become that this constituted a disappointment considering its record 32 nominations.
Other British actors to receive recognition include Jodie Comer, who won Lead Actress in a Drama Series for Killing Eve, and Ben Whishaw, who collected his Emmy for his portrayal of Jeremy Thorpe's lover Norman Scott on A Very English Scandal. On the programme creation side, Shropshire-born Jesse Armstrong won Writing for a Drama Series for Succession, and Charlie Brooker picked up the Outstanding Television Movie award for Black Mirror: Bandersnatch.
Chernobyl picked up three awards for direction, writing, and best limited series. A co-production between HBO and Sky, it exemplifies the nature of today's screen production with its largely British cast, an American writer in Craig Mazin, and mix of British and American executive producers.
READ: BBC's Plans to Fight Netflix Means Good News for Female Writers
Bryan Cranston said of the night that "television has never mattered more. Television has never been this damn good." And the recent feeling that television has usurped film's crown was evident in the line-up of last night's winners.
But it comes at a time of upheaval in the television industry: the old guard of broadcasters, cable, and satellite networks are still absorbing the streaming revolution, and now we are on the cusp of a new wave of fragmentation and competition as new players enter the market. It's revealing that while television content is considered better than ever, the Emmy broadcast itself had its worst-ever ratings – perhaps clear evidence that scheduled shows and "event" programming are gone for good.
None of that was front-of-mind among the surprises and celebrations at the 2019 Emmys. But perhaps the most poignant moment of the night belonged to Michelle Williams, who picked up the award for Outstanding Lead Actress. Her speech touched on pay inequality and the revelation she'd earned drastically less than her All the Money in the World co-star: "The next time a woman, and especially a woman of colour – because she stands to make 52 cents on the dollar compared to her white male counterpart – tells you what she needs in order to do her job, listen to her."
For more from Backstage UK, check out the magazine.