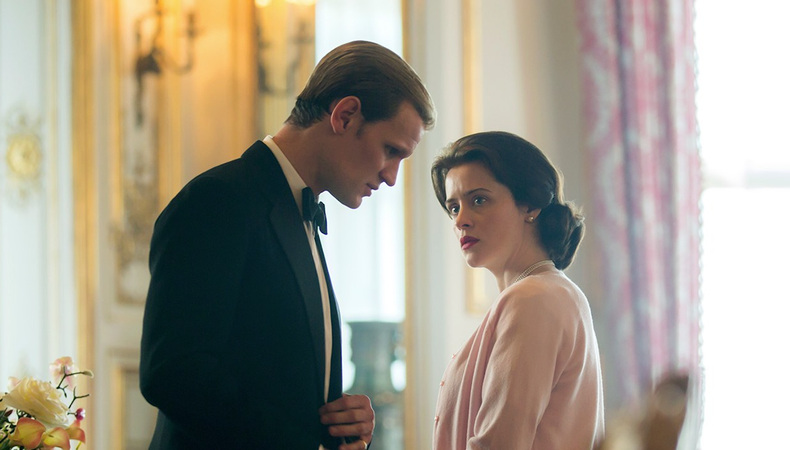 Hello, and welcome back to Week in Review, our roundup of industry-wide news. From stage to screens big and small, we've got you covered. It's everything you need to know and all you can't afford to miss.
Claire Foy and Matt Smith reunite as a very different couple in Old Vic's new season
The Crown's Claire Foy and Matt Smith are to reunite and make their Old Vic debuts as part of the theatre's new season, it was announced last week. Foy and Smith worked together for the best part of a year as the Queen and the Duke of Edinburgh in Netflix's The Crown before handing over to a new cast in 2017. The pair will now star as neurotic would-be parents in a new production of Duncan Macmillan's "emotional rollercoaster" Lungs, directed by the Old Vic's Artistic Director Matthew Warchus. The two-hander, following a couple deciding whether to have children, originally premiered in the US before an acclaimed UK production starring Alistair Cope and Kate O'Flynn.
Elsewhere in the season, Alan Cumming and Daniel Radcliffe star in a double bill of Samuel Beckett's Endgame and Rough for Theatre ll, directed by Richard Jones. The musical adaptation of the cult film Local Hero journeys to London after a successful opening at Edinburgh's Royal Lyceum. And there's a world premiere of a new play by Lucy Prebble (Enron) based on Luke Harding's book A Very Expensive Poison as well as a "return by popular demand" of Jack Thorne's version of A Christmas Carol. Read more here.
Brexit most important factor affecting screen industry
Brexit is the most important factor affecting the screen industry according to a new survey, with 55% of respondents saying the looming break with the EU is "the biggest issue of the moment" and 70% reporting a negative impact on business. The ScreenSkills Quarterly Barometer revealed a majority of industry professionals said economic conditions were damaging growth, despite 39% reporting a boost in activity across the screen sector. Overwhelmingly, research showed skills shortages, with 68% of respondents suggesting it was difficult to recruit and 88% reporting skills gaps among the existing workforce. Read more here.
READ: Is the UK Film + TV Industry Brexit-Proof?
The Father takes to the screen
Oscar-winners Anthony Hopkins and Olivia Colman are to star in The Father, Florian Zeller's film adaptation of his play, first staged in English in 2014. The black comedy sees Hopkins take on the role of Andre, an ageing man who refuses any assistance from his daughter Anne, played by Colman. Following Anne's decision to move to Paris, Andre tries to make sense of his changing circumstances, doubting his loved ones and even his own mind in the process. Zeller directs his own screenplay, co-written with Christopher Hampton (Atonement), and the film shoots in the UK later this year. Read more here.
Prince of the West End
New musical The Prince of Egypt is to premiere in the West End next year. After a London industry reading last year, it's been announced the stage show based on the 1998 animated film will open at the Dominion Theatre in February 2020. Having opened in the US in 2017 and making a European premiere in Denmark in 2018, the musical is to have a major refresh ahead of the West End run. A full set of 10 new songs will feature in the upcoming production, alongside musical numbers from the Oscar-winning film soundtrack. Direction is by Scott Schwartz with music by Stephen Schwartz and a book by Philip LaZebnik. Casting is ongoing.
READ: So You Want to Act in the West End?
Complaints about street performers mean it's time to move on
A code of conduct drawn up earlier this year looks set to hit buskers at some of London's most visited attractions with a set of strict new rules. After a rise in complaints from 243 in 2014 to 1,013 last year from residents in Kensington and Chelsea, the London borough is now looking to impose a £1,000 fine on street performers who perform for longer than 45 minutes, don't move on to a new location after a set or "ensure a full and varied repertoire." The council has also introduced zones outside many tourist attractions which would ban instruments or larger scale performances. Read more here.
Alan Bates Award 2019
The winner of the 2019 Alan Bates Award was announced last week, with Bristol Old Vic Theatre School student Moronke Akinola taking away the prize for the most promising actor. Awarded to students in their final year of drama school, Akinola and five other finalists will receive mentoring and professional development after drama school. Read more here.
For more from Backstage UK, check out the magazine.