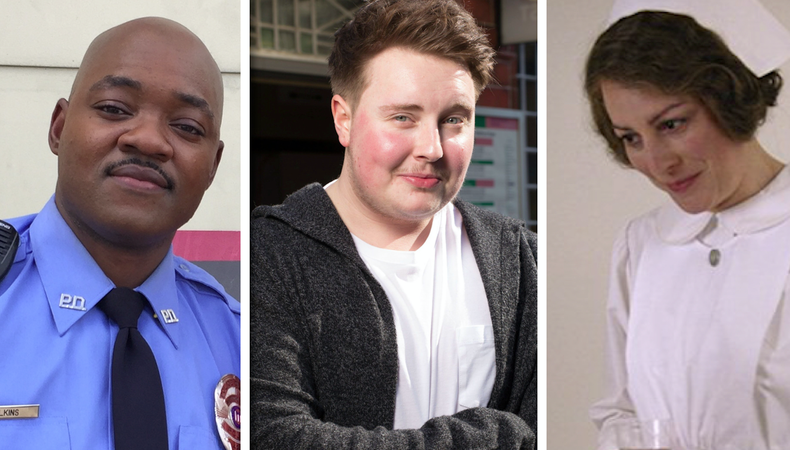 Progress has been made in the UK and beyond towards acceptance of trans and gender non-conforming actors in the acting industry, as evidenced by the careers of actors like Riley Carter Millington and Rebecca Root; yet challenges remain, particularly in creating roles that move beyond clichés.
When news broke last year that Scarlett Johansson would play a trans man in upcoming crime thriller Rub & Tug, the social media backlash was as swift as a slap to the back of the head.
For years now, cisgender actors have played trans characters – from Hilary Swank (Boys Don't Cry) to Jared Leto (Dallas Buyers Club), Eddie Redmayne (The Danish Girl) and Jeffrey Tambor (Transparent) – each benefitting greatly from doing so both career-wise and on the awards circuit. But with trans rights now more visible than ever before, Johansson, a cisgender actor, being cast in a trans role felt reductive and as if a privileged Hollywood actor was stealing a role from someone within the LGBTQ community, who would be much better placed to channel the trans experience.
It would be tempting to look at Johansson pulling out of the controversial role as a victory, telling Hollywood directors they can no longer get away with lazy casting decisions. The fact there's been a boom in trans stories over recent years, with hit TV shows such as Transparent and Pose, may also suggest we're making progress towards a more representative industry. Yet for trans actors on the ground, there's a fear that these kinds of opportunities are already starting to fizzle out and that work still needs to be done.
READ: What to do When Your Politics Clash With Your Work
A box-ticking exercise
"The conversation [about Johansson] alone doesn't show that there's been any progression in Hollywood trans casting," says British trans actor Riley Carter Millington, who has been hugely influential in driving equality in the UK acting industry since being cast as trans male character Kyle Slater in the BBC's iconic soap Eastenders in 2015. He cites the Royal Shakespeare Company's Hannah Miller as one of the UK casting directors leading the way in terms of getting more trans representation.
He tells Backstage: "We all know that TV and film should represent this diverse world we live in and the day that trans people are being cast for leading roles in the first instance as opposed to next option after an outcry or debate, well, that's when true progress will start to be made."
Actor Ian Harvie is one of the stars of the first season of Transparent, where he played Dale, a teacher's assistant who goes on a date with Gabby Hoffman's Ali character. He's also had roles on Will & Grace, while his stand-up show, in which he touches on what it's like to be a trans man, is consistently hilarious (one joke sees him tell his audience: "I am a trans man – I am a man with a vag. And Trump is a man who hates women but he loves pussy so I'm thinking I'm the perfect guy for him.") According to Harvie, the progress we've seen over recent years might actually be starting to fade.
"A lot of producers think that just because Transparent happened then, oh well, that's already been done! They think they've ticked a box and can move on," he explains. "But it's like, no – there's a million other trans stories so stop being so lazy! It's important that society sees more trans characters and I'm not sure they always understand that."
Harvie credits trans actors such as Laverne Cox (Orange Is the New Black) and Alexandra Billings (Transparent) for making trans people more visible in the mainstream over recent years. But he senses there's still not enough trans people in the writing rooms or in casting director roles, and that this lack of representation could prevent any long-term change from occurring. "It's important that people watching these stories know that it's trans actors playing these roles and they're not just an actor who goes home and takes off their costume," he tells us.
"There's a false narrative that trans people just play dress up, that when we're at home, we're different people, and having people like Johansson cast in trans roles only reinforces that. But trans people need to be writing, producing and directing too. Simply casting us isn't enough if Hollywood is to achieve proper representation."
Writing better trans characters
One of the better written trans characters over recent years has been actor Brian Michael Smith's powerful performance as Toine Wilkins, a trans police officer and high school friend of the show's principal character, Ralph Angel, on Ava DuVernay's critically acclaimed TV drama Queen Sugar. He says the role has been an important part of his career, giving him the confidence to come out as a trans man and educate the masses through a character that's both warm and relatable. He says this is vitally important, citing a stat from the GLAAD, which suggests 84% of Americans learn about trans people from what they see in the media.
However, when speaking to Smith, you also sense that he feels roles such as Toine Wilkins are a rare thing and that writing is still too weighted on the "big reveal" of a trans character's gender identity, a cliched narrative arc that's still going strong 27 years on from The Crying Game.
"When I first started acting you couldn't get trans roles unless they involved sex work or being some kind of victim. There's definitely been progress, but I'm not sure if there's been enough," he says. "Girl is getting a lot of awards buzz right now, but it's a cis actor playing a trans role and there's lots of extreme graphic violence that only perpetuates this idea that every trans person naturally suffers violence. It's a film that's going to reach a really large audience and that could be very problematic."
Instead of films like Girl, Smith would like to see more stories told that focus on trans characters after their transition: "So much in life happens after transition and that area is still largely unexplored! That's when trans people live their best lives, so why not focus on those years? Trans people are not a monolith, we have so many different stories to tell." One thing that fills Smith with hope is US casting directors such as Jenny Ravitz, Jen Euston, Aisha Coley and Caitlin Jones, with each championing diversity. He also credits the Casting Society of America for hosting more events to learn about the trans community and improve their rights in Hollywood.
Much like Smith, Carter Millington would also like to see more thoughtful trans roles, particularly in the UK film industry. He credits the recent ITV drama Butterfly for raising awareness for parents of young trans children, but says it was still weighted in a sombre tone.
"I'd personally like to see more happy stories, normalising the situation and more humour too. Trans people do have lives beyond being trans and I think focusing on things post-transition is an angle we should be storyboarding now!" he ponders. Carter Millington believes casting decisions should also go beyond what someone identifies as.
He explains: "Since starting my acting career in EastEnders back in 2015, I have played both trans and cis-gendered roles. I would like to think that my trans identity doesn't hinder me for being seen for roles.
"Of course, as actors we all fit a certain type of character and are seen for roles that we match in description and then we do have those castings where the role is open to interpretation, depending on what is brought into the casting room, but I would always want to be cast in a role based on my acting ability rather than my gender identity."
Dealing with transphobia
When asked whether Smith, Carter Millington and Harvie have ever experienced any transphobia in the writing room, the three's response is reassuring. As trans actors, they say they've even been cast or considered for cisgender roles, with their gender rarely getting in the way.
Instead, they believe the biggest issue is getting the film industry to write trans roles that move beyond lazy stereotypes. But Harvie admits being a trans woman, particularly in Hollywood, can be a completely different ballgame: "It's more difficult for a trans woman to transition. I'm not speaking for every trans man out there, because I'm sure a lot of them have had a difficult time in society, but it's just not as difficult being a trans male in Hollywood.
He adds: "People don't give a shit; they tell me: 'You're a man, great!' If you want to be a woman, the reaction is more like: 'Why would you want to do that!?'
Rebecca Root is a trans female actor building an impressive film portfolio with recent roles in films such as Colette, The Sisters Brothers and The Danish Girl, where she plays the nurse who helps Eddie Redmayne's character, Lili, as she transitions. She admits she has been looked over in castings for cisgender actors.
One that particularly grates is Hit & Miss, a six-part Sky Atlantic drama about a transgender assassin; Root lost out on the main role to Chloë Sevigny. "That still hurts," Root concedes. However, she attributes this decision more to star pulling power than transphobia.
"At the end of the day, I'm nowhere near close to the star power of a Redmayne or Sevigny, and that's just a fact. The public need a name to sell the movie and that's just the nature of the industry," says Root. "Trans actors, just like cisgender actors, need to build experience before getting lead roles."
For The Danish Girl, she says she had no issues with Redmayne's casting as a large part of the film features the character transitioning from male to female. Root has never experienced transphobia in castings or on set and she believes there are already signs that we're headed towards a future where gender is irrelevant in the film industry.
READ: How to Survive In London as an Actor
The same way cisgender actors have consistently played trans actors over the years, she believes this is starting to happen in reverse. "I've been given a lot of parts that have no reference to my gender identity and I can just get on with telling the story of being someone sick in the hospital or being bullied by their boss. It's in that respect where I see progress being made because if producers, and by extension, the audience can see a trans person playing those cis roles and not flinch then that really starts to level out the playing field."
She says it is heartening to see UK casting directors such as Fiona Weir and Amy Hubbard who have a long-term approach to casting more trans actors in clever roles. Root is also glad that the National Theatre recently initiated a casting workshop for trans actors to be held in April in conjunction with Spotlight and Equity. Yet, of the latter, she warns: "You would have thought that if a theatre was truly desirous of being inclusive of trans people, they would at least have seen some trans actors for actual jobs – not a general workshop. Real inclusiveness begins with employing people in actual jobs – not just having them in for a chat and cup of tea. It is, however, a step in the right direction."
But even if things are improving, the rest of society still has a long way to go. According to Stonewall, one in 10 trans pupils in the UK have received death threats at school, 84% have self-harmed and a staggering 45% have attempted suicide. This reinforces why it's so important the film industry aspires for more trans representation, according to Queen Sugar star Smith.
He concludes: "If young trans people see trans actors on screen in well-written roles that move beyond cliches then it's incredibly encouraging. It shows them that trans people can be accepted and not just stereotyped, and it makes them feel more comfortable in their own skin. That's important."
For more from Backstage UK, check out the magazine.