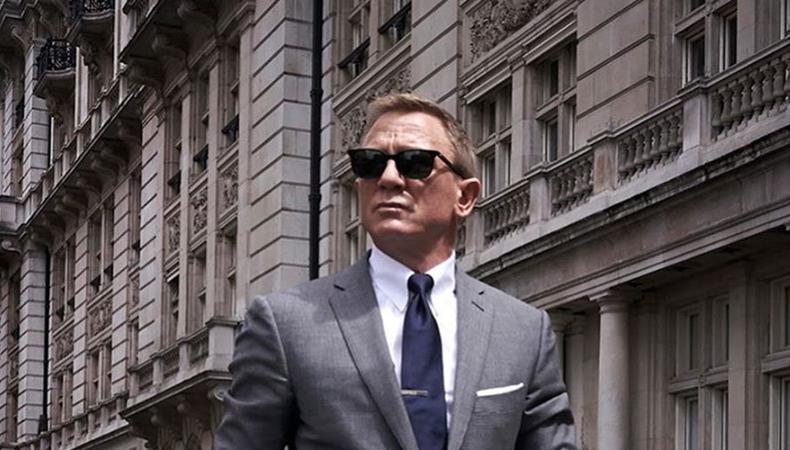 Hello, and welcome back to Week in Review, our roundup of industry-wide news. From stage to screens big and small, we've got you covered. It's everything you need to know and all you can't afford to miss.
UK TV & Film Boom Beats Brexit Dip
An update from the Office for National Statistics (ONS) on the UK's economic performance has demonstrated impressive last-quarter growth in the screen industry of 9 percentage points (pp) – all the more dazzling when weighed against a contraction in most other sectors. The heavy lifting from TV and film has managed to secure an overall 0.3pp increase in the UK economy, staving off recession.
The ONS credits major screen projects like the upcoming Bond film No Time to Die, and a slew of major TV dramas as accounting for the growth. John McVay, chief executive of screen trade body Pact, said: "Once again, TV and film production in the UK demonstrates the importance of the UK's creative industries to the economy. Our future success is built on our world-class skills and creativity and government should ensure that more priority is given to our cultural and creative industries in future budgets and strategy."
The exceptional strength of the UK industry has long been noted, and contributing factors include the global demand for screen content, the UK's skill base, and a highly beneficial – and effective – tax credit regime.
READ: Screen Boom Offers 'Unprecedented Opportunities for Actors'
Former dancer sues Disney over injury
A former dancer and gymnast is suing Disney for £80,000 after claims that an injury sustained on The Lion King put an end to her stage career. Now a personal trainer, Jodie Standish was working as backstage crew on the West End musical in 2015 when she claims a falling lighting tower damaged her shoulder and forced her to drop a lucrative performing job in Dubai. Standish argues the accident at work put her back to "square one," with her career as a gymnast and acrobat having to be abandoned. It is understood Disney will fight the claim in a trial next summer.
High-profile cases of actors claiming compensation for injuries are rare. In 2013, actor David Birrell was blinded in one eye after an onstage accident with a prop gun at the Donmar Warehouse. Birrell, who had been appearing in the musical Passion by Stephen Sondheim, settled out of court with the Donmar Warehouse with the backing of Equity.
READ: What Is Equity + Why Should You Care?
Drama Centre will 'stop being what it once was' after review
Students and teachers have taken to social media to criticise the suspension of two courses at Drama Centre, saying the decision to review teaching at the school will have "massive implications" on actor training in the UK. It has been confirmed that the BA Acting and MA Directing courses will not take on new students until both courses had been reviewed "in the context of contemporary teaching, values and acting practice."
However, past students and tutors have called out parent-institution University of the Arts London (UAL), arguing that the review is "the natural conclusion" to "swingeing cuts" in funding, resources, and teaching time at the school. The Stage described UAL's move as "dismantling [the school] in its current form." One former student said UAL had previously cut class length by half an hour and alleged: "management couldn't understand the nature of actor training and what was required."
A former course director warned courses were suspended to create a "firebreak" between current students and the new intake "for whatever course might emerge as a result of the review." They added: "This effectively moves these new students away from the tradition and philosophy of actor training that made Drama Centre the unique school it was. In simple terms, what they don't see, they won't miss."
RELATED:
Yamin Choudury: pace of change in UK theatre is 'pathetic'
The artistic director of Hackney Empire has called the pace of change around the representation of minorities in British theatre "pathetic" and revealed plans for the venue to champion diverse talent and audiences. Yamin Choudury, who has worked at the Hackney Empire since 2003 and took over leadership of the theatre last year, now aims to put community and outreach programmes at the heart of its programme.
Arguing that venues attach an unhelpful "stigma" to community-led theatre, Choudury told The Stage a lack of commitment to outreach and audience development in the industry "means potential future creatives aren't being warmed up" for stage careers and that this was slowing change. "Leaders and creatives...are becoming more diverse and more representative, but the pace at which that is being allowed to happen is still pathetic."
Audience removed from immersive experience after attacking actors
Variant 31, Europe's largest immersive experience, was forced to remove two audience members after they attacked staff. Producer Dalton Dale said the pair had failed to follow the rules of the performance and became "physically aggressive." He added that safety measures inside the production "worked tremendously well" and stressed that although immersive theatre blurs or removes the line between audience and performer, it should still be a "safe space" for all involved.
The production's Twitter account posted an announcement saying they have a "zero-tolerance policy for aggressive and intimidating behaviour" and "reserve the right to remove anyone at any time for any reason, especially if you pose a threat to our staff or actors." As the number of immersive theatre shows has increased, the genre has come under increased scrutiny from Equity, who raised concerns about the safety of performers.
Old Vic's new toilets cause a stink
The revamp of the Old Vic's foyer has ignited an argument over the provision of toilets for women that resulted in The Stage removing two opinion pieces on the subject after "strong responses" from readers. Following a £100,000 fundraising effort to increase the number of women's toilets at the Old Vic, the number of toilet cubicles has doubled to 24 and there are now a total of 42 toilets front of house. Many have applauded the decision to label toilets as gender-neutral which benefits trans people and parents/carers, and the theatre reported "queuing times have greatly reduced" by the move. However, the gender-neutral toilets have ignited a storm of criticism, with some commentators arguing the decision discriminates against women.
READ: London's New Theatre Boom: What You Need to Know
Sandman gears up to film
Neil Gaiman's The Sandman, an "'unfilmable" epic story of eternal spirit Dream regaining his powers after being wrongly imprisoned, is gearing up for a screen adaptation. The major new Netflix series marks the second time a character from Gaiman's comic book gets a series adaptation after the success of US series Lucifer for Fox in 2016. Gaiman's 1989 comic book has seen many earlier attempts to bring it to the big screen stuck in "development hell" and scrapped. The Hollywood Reporter have described the deal between Netflix and The Sandman's owner Warner Bros as "massive" and "the most expensive TV series that DC Entertainment has ever done." The story is set in both America and Britain, but given Netflix's recent investment in a major production hub near London, it looks likely it will film in the UK.
ATC aims to 'redress the balance' with female-only playwrights
Actors Touring Company (ATC) has committed to only commissioning female playwrights for the next three years to "redress the balance" of male-dominated theatre productions. Artistic director Matthew Xia told a panel discussion this week that for the first three years of his leadership he'll be handing new commissions "almost exclusively to women of colour" and hopes "it sets a precedent" for other theatre companies. "We have the power to start telling new stories. There are so many brilliant writers in this country who don't come in the form of white men." Read more here.
More for UK actors? Check out the magazine.